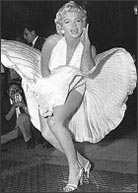 Throughout her career, Marilyn Monroe participated in several nude photography shoots, including the now famous Tom Kelley "Red Velvet" Calendar shoot and the Vogue Magazine "Last Sitting" session with Bert Stern at the Bel Air Hotel in Los Angeles in 1962. In that shoot, the actress posed for some 2500 photos behind a semi-see-through, silky cloth that did little to mask the seductress's beauty.
No one would could have possibly known the impact these photos would have on popular culture at the time. In fact, one of the Kelley photos would go on to become Playboy Magazine's first centerfold, and would launch the publication into worldwide consciousness with a total of 54,000 copies sold. It is so iconic, many fans still prize the highly desired photo on the internet some 50 years later.
Unfortunately, Marilyn Monroe would die from a drug overdose less than a year after posing for the Bert Stern photos
Another "birthday suit" episode that occurred shortly before Marilyn Monroe's death was the filming of Something's Got to Give in which the actress unexpectedly traded her skin-colored body suit for, um... nothing during the film's pool scene. You can watch the video and see a couple of stills from the film below. Though relatively tame by today's standards, one can only imagine the stirrings on the set during those three days filming? Monroe reportedly ran the film over budget due to her incessant tardiness and absences. But not to let the diva get the upper-hand, the studio promptly fired Monroe from the film and replaced her with Doris Day and James Garner. Something tells us the new film wouldn't have nearly the same appeal.
You can view some of Marilyn Monroe's nude pics below.
Scroll down to see some naughty, nude photos of Marilyn Monroe. But be forewarned, they are not safe for work!

























Another movie still of Marilyn Monroe in Something's Got to Give.
The nude pool scene from Something's Gotta Give. Watch the documentary 'Marilyn Monroe: The Final Days' (2001) for a fascinating look at the once-thought-gone-forever 9 hours of footage from the filming of Something's Gotta Give.