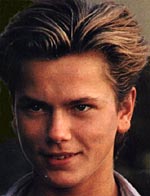 Stand By Me
Having broken into show biz with TV's Seven Brides for Seven Brothers that ran during the 1982-83 season, River Phoenix would follow up with his feature-film debut as a somewhat bookworm-ish kid in Explorers (1985). But it would be the huge box-office success and eventual cult following of Stand By Me in in 1986, based on a Stephen King novella, that would launch the young actor's appeal into the stratosphere.
He would follow the success of that film with a turn in The Mosquito Coast (1986) in which he starred with Harrison Ford as the son of a man anxious to take his family back to a primitive life. Set in the jungles of the South Atlantic, the film's plot carried remarkable similarities to River Phoenix's atypical upbringing, having been reared in a log cabin in rural Oregon. But River accepted his rising star reluctantly, happy that he could help his family by bringing home a paycheck.
Atypical of the existing Hollywood fete set, Phoenix was shy, somewhat reclusive and held a disdain for the spotlight. The Hollywood hype machine left a bad taste in the actor's mouth leading him to once proclaim, "I've kept my ego and my happiness completely separate from my work. in fact, if I see my face on the cover of a magazine I go into remission. I shut myself out and freak."
Hollywood Begins to Take a Toll

Following a string of appearances in such well-known films as Indiana Jones, Sneakers and My Own Private Idaho, friends and professionals began to observe major changes in Phoenix's personality. He was once known for his innocence and wholesomeness. He was a very devout vegetarian, refused to wear leather clothes and jackets, and who so cared for the now diminishing rain forests in Costa Rica, he began buying up large swaths of it to protect it from encroaching development. Phoenix even once publicly denounced drugs like cocaine, heroin, and alcohol. But his typical behavior had begun to change, and people wanted to know why.
Many felt River Phoenix's about-face was because of a deep-seated dislike of the difficult world of Hollywood and filmmaking. Others speculated it was just his way of lashing out against the unorthodox way in which he was raised. Still others resigned themselves to the idead that Phoenix was past the point-of-no-return and would never be the same again.
By the time 1990 rolled around, River Phoenix had had enough. He would give up his acting gig and move back to Gainesville, Florida to reside with his family. He would go on to form a band called Aleka's Attic with his sister Rain, in which he sang, played guitar, and wrote songs. He also strengthened his resolve as a staunch environmentalist and strong activist for the rights of animals.
Things are Looking Up Again

But as the mid '90s approached, Phoenix was back in the Hollywood game working on a film called Dark Blood. He had also just recently signed on to star with Tom Cruise in Interview With the Vampire. While working in Hollywood, he would usually stay at the St. James Club and Hotel on Sunset Blvd. Things were beginning to look up and his star was about to launch again.
That Halloween Night
On the eve of halloween in 1993, Phoenix would join his friends at Johnny Depp's club, The Viper Room, at 8852 Sunset Boulevard. It was about 1:00 am, Phoenix was in the bathroom of the club doing some drugs with several of his drug dealer friends, when one of them would offer him a hit of heroin. It was pure-grade Persion brown. Almost immediately after snorting the heroin, Phoenix would begin trembling and shaking violently. He then turned to one of his friends and vomited. Another of his friends decided it would be a good idea to give him a valium to calm him down.


After taking the valium, Phoenix would stagger back into the bar area and approach actress Samantha Mathis who was sitting with his sister, Rain Phoenix. Upon complaining that he could not breathe, Phoenix passed out. When he awakened, he begged his friends to take him outside the club where he quickly fell to the sidewalk and went into seizures until a photographer, Ron Davis made a 911 call on a nearby payphone, as did River's brother, Joaquin. Cell phones were not in the mainstream by then.
"He looked like a fish out of water," said Ron Davis, who happened to be standing outside the club. He was "thrashing spasmodically, his head flopping from side to side, arms flailing wildly." By this time, his sister had exited the club and threw herself on top of him to try and stop the seizures. Suddenly Phoenix's body would become motionless, at which time his brother thought he had stopped breathing. River was wearing striped brown pants and black and white Converse high tops and socks.
It was now 1:14 am and Phoenix had gone into full cardiac arrest. Paramedics would arrive (after a 911 call by his brother, Joaquin) and medic Ray Ribar of the L.A. County Fire Department began administering CPR. Phoenix was immediately rushed to Cedars Sinai Medical Center and arrived at 1:34 am. As they reached the hospital, his skin was blue, but his body was still warm. The emergency room doctors tried everything to resuscitate the actor, but he was pronounced dead at 1:51 am on October 31, 1993.
Married With Children star Christina Applegate was also at the club that night and witnessed Phoenix's seizures, which she later reenacted at an anti-drug dance piece.
A Whole Medicine Chest of Drugs
River Phoenix's autopsy showed deadly levels of cocaine and morphine (heroin shows up as morphine, as it's metabolized by the body), Valium, marijuana and ephedrine. Ephedrine is the main ingredient found in crystal meth. Official cause of death was Acute multiple drug ingestion. River Phoenix was just 23 years old.
The Funeral
River Phoenix was placed in a blue coffin for his funeral (click to view the River Phoenix Death Coffin Photo - warning extremely graphic!!!!!!), and on November 4, sixty mourners would show up at Milam Funeral Home for the viewing. His usual fair hair was dyed jet-black for the film he was working on at the time. The mortician would cut his shoulder length hair, and place the shorn lock beside him in the coffin, at his mother's request.
He was dressed in a black t-shirt with the logo of his band, Aleka's Attic on it. His mother put a single carnation in the coffin. As mourners passed his coffin, many placed things like notes and necklaces in the casket.
The Memorial Service
There was also a memorial service held on the Paramount Studios Lot on November 18, 1993. Sidney Poitier, Rob Reiner, Peter Bogdanovich, Richard Benjamin, Christine Lahti, John Boorman and River's mother, Heart, attended it.
---
Listen to the Joaquin Phoenix 911 call - click to hear the 911 call made from the payphone by Joaquin outside The Viper Room the night River Phoenix died.
---
More River Phoenix Stuff:
The Sunset Tower (formerly The St. James Club and Hotel and formerly The Argyle) at 8358 Sunset Boulevard where River liked to stay when in LA. In fact, River was living here at the time of his death. He was checked in under the name Earl Gray.
The Joaquin Phoenix 911 phone call as his brother, Phoenix lay dying on the sidewalk outside the Viper Room. You can listen to the 911 call in its entirety here.
8800 Block of Sunset Blvd. The Viper Room is the dark storefront above.
Another shot of The Viper Room.
River Phoenix was a talented singer as well. Here's a video of him singing Lone Star State of Mind from The Thing Called Love with Samantha Mathis.
There's tons more information of The Viper Room over at www.seeing-stars.com -
External River Phoenix Links
The River Phoenix page over at Wikipedia
Rio's Attic - River Tribute Site
The River Phoenix page over at Findadeath.com
River Phoenix Quizzes and River Phoenix Trivia -- FunTrivia
---