The Full Throttle Life and Untimely Death of Chris Farley
They All Died at 33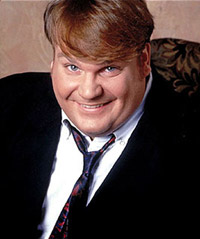 Christopher Crosby Farley, who was born on February 15, 1964, grew up in Madison, Wisconsin. He studied theatre and communications at Marquette University. After his time at Marquette, Chris was in the cast of the Second City Theatre, where he was discovered by the producer of the great comedy-show Saturday Night Live, Lorne Michaels. After working on "Saturday Night Live" (1975), he acted in some movies, like Wayne's World (1992), Coneheads (1993), Billy Madison (1995) and finally Tommy Boy (1995), with his comic partner David Spade. The duo later made one more movie called Black Sheep (1996). From that time on, Chris was one of the big comedy stars, and his fame was growing and growing.
A few years later, he made another "lone" movie. Beverly Hills Ninja (1997), that made him even more famous.

Was to be the Voice of Shrek
Chris finished filming "Almost Heroes", a.k.a. "Edwards and Hunt" with "Friends" star Matthew Perry (Chandler) in 1997. "Heroes" was continously delayed by the studio (for close to a year), but was finally released to theaters in late May 1998. It was released for video rental late 1998. Chris' final project was to be the voice of "Shrek" for Dreamworks Studios' major animated feature of the same name. The movie and the title role were in fact originally created specifically for Chris. Chris' work was still in progress, however and will forever remain forever unused as his voice role was taken over by Mike Myers. That makes Chris' starring role in "Heroes", and his hilarious cameo appearance in Norm MacDonald's "Dirty Work" the last chances for Farley's thousands of loyal fans to see him star on the big screen due to his untimely death on December 18, 1997 at the age of 33.
With his growing fame, his problems got even bigger. He didn't want to be the "fat guy who falls down" any more. But Chris had several other problems, too, namely with alcohol and drug dependency.
Moves to Chicago
Farley bought an apartment in the iconic John Hancock Building (didn't know people lived in there) on Michigan Avenue in downtown Chicago. His apartment was on the 60th floor.
Heidi The Hooker
He spent his last day, December 17, 1997, primarily with a hooker named Heidi. Seems he was really into hookers. Heidi the hooker was hired for Farley by a friend for $2,000 (yeah right...a friend. wink! wink!) She joined Farley at a party in Lincoln Park (in Chicago) at 11am. There were plenty of drugs at the party. Later that day, Farley would accompany Heidi t back to her apartment where they would continue to smoke crack and snort heroin. Chris claimed he'd been up for four days straight, without sleep. They tried unsuccessfully to have sex, but Chris couldn't (giggle). Then at 11pm Chris and Heidi returned to Chris' apartment in the Hancock building. She was growing angry because she wanted to get paid, but Chris continued to claim that a friend was supposed to pay her. They reportedly tried to have sex again, and again were unsuccessful, so finally at 3:00 am she left his apartment. Farley was so inebriated he collapsed about 10 feet from the door as Heidi was exiting. Heidi claimed she could hear that he was experiencing labored breathing. He said to her, "Don't leave me." Assuming he had finally passed out, she took a photograph of him lying on the floor and then left.


Farley was discovered the next afternoon by his brother, John. Chris's body was still lying just ten feet from the door, clad in pajama bottoms and a button-down shirt that was unbuttoned. In his hand he was clutching a baseball cap and some rosary beads. Emanating from his nose was a blood-tinged fluid, and a white, frothy foam was coming from his mouth. John immediately called 911. Chicago Fire Fighters would receive the first call just after 2:00 pm. Farley was pronounced dead at the scene by paramedics. He was 33 years old. The same age as John Belushi upon his untimely death.

Accidental Morphine and Cocaine Intoxication
Some reports say that a search of his apartment failed to turn up any illegal narcotics, but many prescription drugs were found. But other reports have it that bottles of booze (both empty and half-full) were strewn about the apartment, as were bags of a suspicious white powder. After failed attempts to save him, Chris' body was immediately taken to the county medical examiner, where he was given an autopsy, and tissue samples were sent to the labs for toxicology testing. When the lab results were revealed, his death was ruled as accidental. "Farley died of opiate (morphine) and cocaine intoxication and his death was determined to be an accident." There were other drugs in his system that were ruled to not have contributed to his death, including marijuana, morphine, and fluoxetine hydrochloride (Prozac).
This from Morbidly Hollywood Friend George R.:
Chris Farley attended a rehab center called Father Martin's Ashley a very upscale treatment center. Father Martin had become very fond of Farley throughout his treatment and was extremely saddened by the news of his death. Shortly before Farley completed his treatment he told Father Martin the following "I cannot wait to leave here so I can go and get high."
---
More Chris Farley Stuff:
Lincoln Park in Chicago - where Farley met up with Heidi the hooker.
The John Hancock Building. Farley's apartment was on the 60th floor.
Street level view of the Hancock Building (where Farley lived) in downtown Chicago.
Farley probably parked his car down in this parking garage of the Hancock Building.
---

Have additional information or don't agree with something we said?
Read and post messages in the Death of Chris Farley Discussion Forum