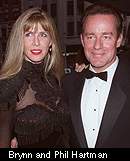 Phil Hartman Bio
Phil Hartman shot to TV stardom with Saturday Night Live, joining the cast in 1987, where, he poked fun at the likes of Ed McMahon ("Yesss! You are correct, sir!") and Frank Sinatra ("Hey, bald chick!"). In 1989, he even won an Emmy along with the show's writing staff. But he left the show in 1994 after eight seasons.
Hartman then went on to costar in 1995's NewsRadio, a critically acclaimed comedy that surprised pundits by eventually sneaking onto NBC's new fall schedule. He played news anchor Bill McNeal in the series. The show never found an audience however.
As a member of The Simpsons' voice crew, Hartman did frequent voice-over work for the show, bringing life to characters such as the washed-up actor Troy McClure and ambulance-chasing lawyer Lionel Hutz.
His film work included: Jingle All the Way, Coneheads, and Houseguest, he cowrote the screenplay to the 1985 comedy hit, Pee-wee's Big Adventure, with Groundlings alum Paul Reubens, aka Pee-wee Herman. Hartman was also a familiar face as a TV pitchman, hawking everything from toll-free phone calls to M&M's candy.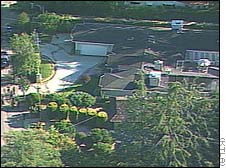 Less known however, was Hartman's gift for art. He designed the logo for Crosby, Stills & Nash and created album covers for Steely Dan, and America among others.
Hartman was the second SNL alum to die within a 12 month period. An accidental drug overdose felled Chris Farley, 33, in December of 1997.
Emmy-winner Phil Hartman, the versatile, smooth-talking performer of Saturday Night Live and the NBC sitcom NewsRadio, and his wife are dead, the victims of an apparent murder-suicide, Los Angeles police said.

What went down that unfortunate night:
In 1986, Phil Hartman married his third wife, Brynn, the former model who aspired to be an actress and screenwriter, but eventually found herself relegated to the role of housewife and mother to their two children. Despite Brynn's growing feelings of discontent, almost every one of Hartman's close friend's believed that Phil and Brynn were the perfect couple. They were always happy and seemed to gaze adoringly at one another. They led a low-key, non-celebrity type of life in their modest ranch style home in Encino.
Brynn apparently did not feel safe there, however. She purchased several handguns and had them placed around their home. She believed that they needed protection from any crazy celebrity stalkers that might come after her husband and their kids. It is unknown whether Phil conceded to this armament.
According to close friends of the couple, their dreamy existence slowly began to fade away as Brynn apparently became addicted to several types of prescription drugs, and also took Zoloft, an anti-depressant used to curb extreme emotions. She was also hooked on booze and loved the cocaine. Phil would eventually become frustrated with Brynn's addictive behavior and even threatened to leave her several times.
On the evening of May 28, 1998 Brynn set out with a friend for a night of drinking Margaritas, snorting cocaine and popping Zoloft at the Buca di Beppo restaurant on Ventura Boulevard. Earlier that day, Phil had threatened to leave her for good and this did not sit well with Brynn. Oh yeah, another thing, she was packing a pistol that night as well. She arrived back at their home at around 2:00 AM, entered the bedroom where she crept up beside her sleeping husband who was clad in his purple T-shirt and boxer shorts with cartoon Dachshunds purchased from The GAP. She placed the gun near his head and face and pulled the trigger several times striking him in the forehead, neck and forearm. Their two children were asleep elsewhere in the house.
Brynn then calmly walked across the street to the home of her neighbor and friend, Ron Douglas. She confessed her crime to Douglas who comforted her for a while before they went back to her house to retrieve the children.
The police respond:
At about 6:20 a.m., police responded to a 911 call that shots had been fired at the family's home at 5065 Encino Avenue, in the suburban Encino section of Los Angeles, a house Hartman had dubbed "The Ponderosa."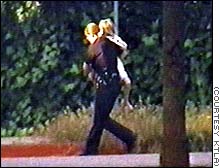 When they arrived, police found a 9-year-old boy and a 6-year-old girl, believed to be the Hartmans' children, unharmed in the house. As they were moving the second child out of the residence they knocked on the bedroom door where Brynn had barricaded herself in. Officers then heard a single shot.
They entered the bedroom where the shot originated and found the bodies of the couple, motionless on a king size bed. She was wearing a white cotton T-shirt with the number 9 on the chest (also from The GAP), and brown argyle socks. Phil Hartman was lying on his right side, Brynn's head was resting on a pillow.
A small service was held on June 4, 1998 attended by their children. The bodies were cremated at Forest Lawn Glendale and the ashes scattered off Catalina Island, per Phil's will.
---

Have additional information or don't agree with something we said?
Read and post messages about The Death of Phil Hartman in the Phil Hartman Discussion Forum
---
More Phil Hartman Stuff:
Transcript of Hartman shooting 911 call:

Police dispatcher: "Emergency operator 614."

Ron Douglas: "Yeah, hi, this is 5065 Encino Blvd. And, um, I was called over to the residence. I think there's been a shooting here."

Dispatcher: "OK, do you see a victim?"

Douglas: "Yes."

Dispatcher: "OK, hold on for the paramedics, OK? One moment."

Douglas: "OK."

Dispatcher: "I want you to stay on the line."

Douglas: "OK."

Fire dispatcher: "Fire Department emergency operator, how may I help you?"

Douglas: "Yeah, hi, there's been a shooting at 5065 Encino Blvd."

Fire dispatcher: "How many people are shot?"

Douglas: "Just one, and um ..."

Fire dispatcher: "Do you know what part of the body?"

Douglas: "I think around the head and the neck. I just got here."

Fire dispatcher: "The person who shot him, is he still around?"

Douglas: "Yeah, she's his wife."

Fire dispatcher: "(unintelligible) the wife shot him and they're both there?"

Douglas: "Yeah."

Fire dispatcher: "Is she hurt at all?"

Douglas: "I'm not sure. I'm trying to calm her down. OK?"

Police dispatcher: "Hello, sir?"

Douglas: "Yeah."

Dispatcher: "Did, uh, was this on purpose or was this an accident or what sir? Do you know what happened?"

Douglas: "I have no idea. ... She was drunk. She said she killed her husband and I didn't believe her."

Dispatcher: "OK, are they both there right now?"

Douglas: "You're right. Now, can you trace this address because I'm not sure?"

Dispatcher: "All right, where's the weapon now?"

Douglas: "It's in my hand because, um, she brought it to my house."

Dispatcher: "What's your name sir?"

Douglas: "My name's Ron, Ron Douglas."

Dispatcher: "All right sir, we're going to get the officers on the way."

Douglas: "OK."

The Aftermath: According to the executor of Hartman's estate, Zoloft manufacturer Pfizer Inc. and Brynn Hartman's psychiatrist, Arthur Sorosky, are at fault for Hartman's death. The executor, Gregory Omdahl, Brynn Hartman's brother, has filed a wrongful death suit against Pfizer and Sorosky. The suit alleges that Sorosky did not properly warn Mrs. Hartman of the potential for violent and suicidal side effects of Zoloft and that Pfizer has not properly reported such side effects to the public.

Update on the Zoloft Case: The makers of Zoloft eventually settled the case out of court and the Hartman children were awarded a monetary settlement.
---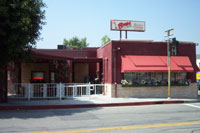 "Bucca di Beppo" restaurant on Ventura Boulevard in Encino, CA, where Brynn Hartman spent a little time boozing it up before killing her husband.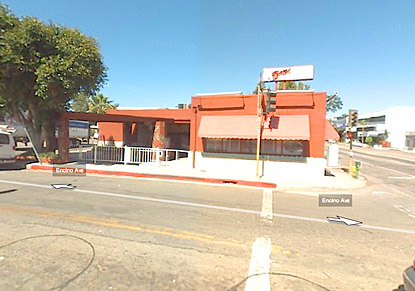 Another view of the restaurant at the corner of Encino Ave. and Ventura Blvd, in Encino, CA. Just down the street from the Hartman place.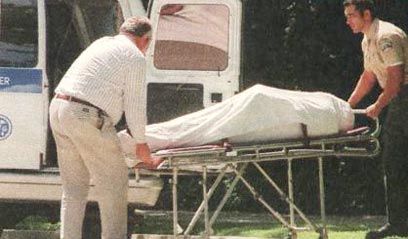 The bodies were removed from the residence and transported to the medical examiner for an autopsy.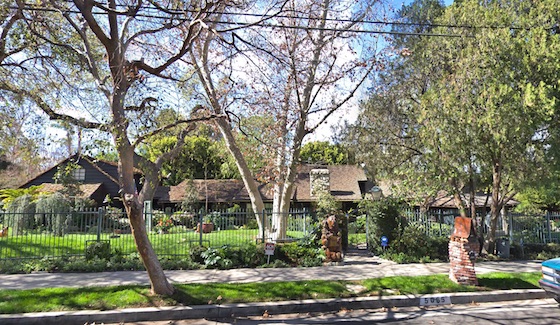 The Hartman residence at 5065 Encino Avenue which Phil dubbed "The Ponderosa."