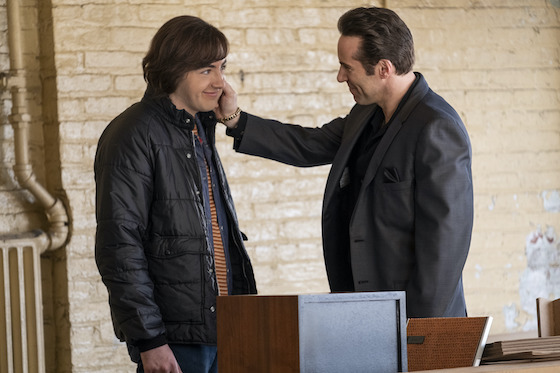 If we are to believe the film's promotional materials, namely its poster which asks "Who Made Tony Soprano," then The Many Saints of Newark is an origin story for the fictional gangster played by James Gandolfini in David Chase's groundbreaking, award-winning HBO drama series The Sopranos (1999-2007). While the film does answer the question, Tony Soprano is really just a peripheral character in a much larger tale of organized crime and mob culture in New Jersey's largest city.
"some of the most mundane conversations always find a way to end up with weapons drawn and plates of spaghetti thrown against the walls"
In a brilliant stroke of genius, he is played in his teenage years by James Gandolfini's son Michael, the spitting image of his late father. That he isn't the focus of this film certainly doesn't disappoint and even provides a much-welcomed "stepping out" of sorts from beneath the hulking shadow of the TV series as it deals with the period in Newark history before Tony's involvement in organized crime. As a result, the film works as a solid standalone piece. In fact, it might even make the most sense for Sopranos newbies contemplating a first-time binge to begin their journey here.
We meet young Anthony Soprano (played as an adolescent by William Ludwig) who is growing up in one of the most tumultuous eras in Newark's history. The "Long Hot Summer of 1967" sees the city being swept up in four days of rioting, looting, and property destruction. He is becoming a man as the city's gangsters rise up and challenge the all-powerful DiMeo crime family's stranglehold on the rife-stricken city.
Emerging from the commotion is the uncle Tony idolizes, Dickie Moltisanti (Alessandro Nivola), who struggles to manage both his professional and personal responsibilities - Sopranos veterans will appreciate the nod. Uncle Dickie's sway and influence over his nephew becomes the block from which the impressionable young teenager will be forged into the powerful mob boss we later come to know.
As this gripping drama plays out, we're (re)introduced to that lovable, colorful cast of characters we met in the TV series – show regulars like Uncle Junior (Corey Stoll), Tony's father "Johnny Boy" Soprano (Jon Bernthal), mother Livia (Vera Farmiga) and sister Janice (Alexandra Intrator), as well as soldiers Silvio (John Magaro), Paulie Walnuts (Bill Magnusson), and Big Pussy (Samson Moeakiola).
We also see some new faces in mafia made-man and Dickie's father "Hollywood Dick" Moltisani (Ray Liotta) who brings young nubile bride Giuseppina Moltisanti (Michela De Rossi) back from the Old Country. Your mental calculator will stay busy computing ages and confirming timelines as they relate to the original series, and for the most part it all works out. And that's a big part of the fun that comes from watching this thing play out. It's like a long-awaited reunion of dear family and old friends.
Hats off to director Alan Young who won an Emmy for his directing work on some of the TV episodes. Here he makes the film his own by taking the story to a completely new place while simultaneously nailing the familiar dark and sardonic tone of Chase's original. It's equal parts humor, danger, atonement and redemption.
As for that familiar Sopranos trademarked violence, it's all there. The film is very deserving of its R rating with lots of blood, scores of kill shots, and of course plenty of coercive torture scenes, especially in one that features a pneumatic lug wrench in a way you've never seen on film. I promise.
Another highlight is the dialogue from Chase and Lawrence Konner's ferocious script which always feels authentic and loyal as delivered by the skilled cast deploying their every-other-word-pluralizing Italian-American accents. We're rarely ever allowed a moment to catch our collective breath, as even some of the most mundane conversations always find a way to end up with weapons drawn and plates of spaghetti thrown against the walls. Welcome back old friend!
4K Ultra HD + Blu-ray Edition + Digital Code

Home Video Distributor: Warner Bros.
Available on Blu-ray - December 21, 2021
Screen Formats: 2.39:1
Subtitles: English SDH, French, Spanish, Cantonese, Korean
Audio: English: Dolby Atmos; English: Dolby TrueHD 7.1
Discs: 4K Ultra HD; Blu-ray Disc; Two-disc set; Digital Code
Region Encoding: 4K region-free; blu-ray locked to Region A
Warner Bros. steps into one of the most tumultuous eras in Newark's history with its release of the 4K UltraHD + Blu-ray + Digital Code 2-disc release of The Many Saints of Newark.
The black eco-case housed within a cardboard slipcover contains a 2160p transfer of the film on the UHD disc, and a 1080p transfer on the blu-ray disc. Also included is a digital coupon to add the film to your Movies Anywhere collection.
There are no supplemental materials on the UHD disc, however the blu-ray disc contains a couple of featurettes and deleted scenes.
VIDEO
The 2160p, 2.39:1 transfer is a crisply rendered delight that shows itself in nearly every aspect of the presentation, particularly in fabric, hair, and skin detail. There is a purposeful "period" tint to the color palette that tends to lean green and amber, dropping us smack dab in the middle of the lat 60s, early '70s. It's a nice touch and translates extremely well on the 4K transfer.
AUDIO
Included are a bombastic English Language Dolby Atmos track as well as a Dolby TrueHD 7.1 track that can described as appropriately alive with surround activity. Though there's nothing here that's going to blow your socks off, you'll experience a nice immersive circle of involvement from the sides and rears. Absolutely no problems with the dialogue which is always clear and mostly front-centered.
Supplements:
Commentary:
Special Features:
As mentioned previously, there is no bonus material on the 4K UHD disc but the blu-ray disc comes with a making-of featurette, a character outline featurette, and a handful of deleted scenes.
With a more robust slate of bonus material, this 4k UHD + Blu-ray + Digital edition could have been strong recommend. Certainly, there is a vast wealth of fascinating Sopranos background information out there somewhere and most assuredly, a bunch of people willing to talk about it. Oh well, maybe one day.
The Making of Newark (13:06)
Sopranos Family Honor (5:36)

Movie

Video

Audio

Extras

Composite Blu-ray Grade

MPAA Rating: R for strong violence, pervasive language, sexual content and some nudity.
Runtime: 120 mins
Director: Alan Taylor
Writer: Lawrence Konner
Cast: Alessandro Nivola; Leslie Odom Jr.; Jon Bernthal
Genre: Crime | Drama
Tagline: Who made Tony Soprano.
Memorable Movie Quote: "As far as your nephew goes... Stay out of his life!"
Theatrical Distributor: Warner bros
Official Site: https://www.themanysaintsofnewarkmovie.com/
Release Date: October 1, 2021
DVD/Blu-ray Release Date: December 21, 2021
Synopsis: A look at the formative years of New Jersey gangster Tony Soprano.