In Theaters
on Friday, 27 January 2017 14:47
Movie Review

Details

Blu-ray Review

Trailer

Art

Gold contains all the ingredients to be a powerful cautionary tale about the true nature of man: there's the always intriguing Matthew McConaughey with a combed-over balding head and a gut so big it barely hides his tightie whities; there's a classic adventure story about following your dreams; then there's the ominous cautionary tale of greed and gluttony and how they, if left unchecked, can rip a person apart and bring down everyone around them. Unfortunately, there are an equal number of reasons that Gold fails to reach its full potential.
That's not to say that Gold is a bad film. It isn't. In fact, at times we feel that same adrenaline rush we experienced from The Wolf of Wall Street or the fascinating wonder and amazement of a classic jungle adventure story. Then at other times, we're left broken hearted by the dreams of what it could have been.
Set in the late eighties, Gold is directed by Stephen Gaghan (Syriana) and tells the semi-true story of Kenny Wells (McConaughey), a Reno-based gold prospector who teams up with world-renowned geologist Mike Acosta (Edgar Ramirez) to search the jungles of Indonesia for what they believe is one of the largest untapped ore deposits in the world. After months of battling malaria, bad weather, and ton after ton of goldless dirt, the pair finally realize their dream when they hit a deposit so rich in gold that the Wall Street goons are soon banging on their doors with offers of fame, fortune, and the accompanying corporate riches.
It's not long before Kenny is living the extravagant life of Tony Montaña with thousand-dollar suits, a new high-rise dig, and enough booze to embarrass Arthur Bach. But as everyone fights for a slice of Kenny and Mike's gilded pie, the entire empire begins to crumble.
McConaughey delivers a fantastic performance as the loose cannon Kenny. In fact, his Kenny is such a compelling force with his chain-smoking, booze-swilling, self-destructive ways, he nearly saves the entire film. Kenny's arc follows that familiar trajectory of "lovable loser hits the big time, rejects those who love him, loses it all, then is forced to start all over." We've seen it many times, but darned if McConaughey doesn't make it all feel so fresh and entertaining. Maybe it's the costume and get-up, perhaps it's the fact that McConaughey will never be able to completely free himself from that intoxicating Texas drawl and that half-cocked smile. Whatever the case, Gold is a better movie when McConaughey is on the screen. And thankfully, he's in nearly every scene.
The supporting cast hold up well, especially Ramirez who turns his Mike Acosta into the perfect antithesis to Kenny's foolhardy bravado. We don't know much about Mike's personal life, but as a geologist and businessman he is as shrewd as he is reserved, making the twist ending all that much more convincing. Bryce Dallas Howard is underused as Kenny's girlfriend Kay, while House of Cards' Corey Stoll steps in expertly as sleazy Wall Street banker Brian Woolf.
Were it not for so many things the script gets wrong, McConaughey's performance alone might be enough to make Gold a recommend. But screenwriters Patrick Massett and John Zinman can never seem to get the tone of their film just right. With his previous films, Gaghan has shown he can jump from place to place and from character to character and never miss a beat. But each new setting – from Indonesia, to Nevada, to New York City – feels like it belongs to a completely different movie. The moods range from comical to serious, and caustic to compassionate… often in the same scene.
Gold is an intriguing tale of ambition, self-worth, friendship, and the sense of belonging, all wrapped up in a story about how greed reduces every one of us to our basest elements. It's a dreamer's tale, really. But it lacks the edge, wit, energy, and bold personality of more recent films that have taken on similar themes. McConoughey's performance adds a much-needed shine to the entire production.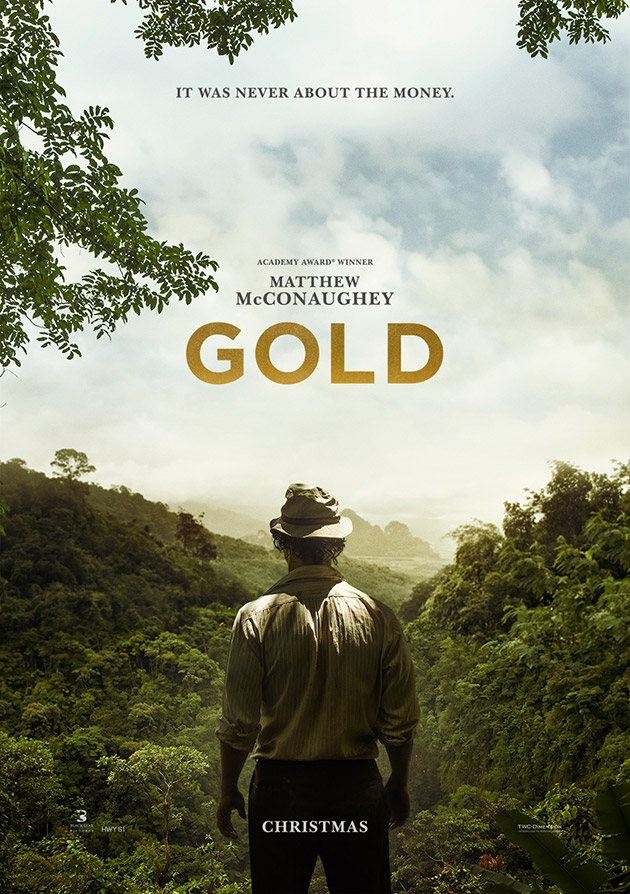 MPAA Rating: R for language throughout and some sexuality/nudity.
Runtime: 121 mins
Director: Stephen Gaghan
Writer: Patrick Massett, John Zinman
Cast: Matthew McConaughey, Edgar Ramírez, Bryce Dallas Howard
Genre: Drama
Tagline: Based on a too good to be true story.
Memorable Movie Quote: "We believe you're sitting on the largest gold find of the decade."
Theatrical Distributor: TWC-Dimension
Official Site: http://gold-film.com/
Release Date: January 27, 2017
DVD/Blu-ray Release Date: No details available.
Synopsis: Kenny Wells, a prospector desperate for a lucky break, teams up with a similarly eager geologist and sets off on a journey to find gold in the uncharted jungle of Indonesia.