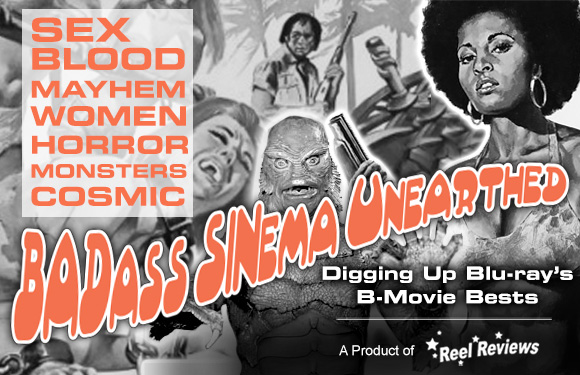 Produced by Roger Corman in what amounts to a marketing miracle, Howard R. Cohen's Space Raiders remains a cheesy kid's tale through space as a ragged band of pirates mistakenly abduct a small boy and allow him to join in on their merry fun. It is a film as fun as it ...
Director Fred Olen Ray's Biohazard is probably the best example of just how universally mutated the creature features coming out of the 1980s were becoming with their mix of gore, boobs, and lasers. I'm not saying Fred Olen Ray's film is completely dismissible in any sense (read ...
Read more: Biohazard: Specially Signed Edition (1985) - Blu-ray Review
The seldom travelled road. The hungry crow. The desert wind. The fire red Mustang broke down on a stretch of lonely road. Opening with the mysterious abduction of Kate Barrett (Catherine Hickland) by a sudden dust cloud and the thundering sound of hooves, Ghost ...
Opening with the familiar notes of Glen Miller's "In the Mood", Zone Troopers is a fresh take on the clichéd WW2 war movie with its combination of American soldiers, Nazis, and aliens. Charles Brand (Puppet Master) strikes again, right? Seriously. Once you climb inside this supersonic ship ...
Go ahead. Revoke my membership to the cool kids table at the lunchroom. I guess I simply don't care to hear anymore from anyone about how goddamn awful Cherry 2000 is. It's not. Not in the least. I originally saw this during a summer film fest when I was younger. ...
Pam Grier. Yaphet Kotto. Carl Weathers. Scatman Crothers. Eartha Kitt. All directed by Arthur "Detroit 9000" Marks. Need I say anything more about this film's potential for mass appeal? And yet most people do not know about the savvy adventure of Miss Friday Foster as ...
While it features an extended car chase via dirt bike and subsequent police car pileup to rival the one found in The Blues Brothers, Lee Frost's The Thing with Two Heads is a serious head-scratcher of a Blaxploitation flick. Interestingly enough, visual effects artist ...
Please Hammer, don't hurt 'em! Former NFL player, Fred "The Hammer" Williamson, stars as a low-ranked boxer who takes on the mob in this Blaxploitation flick from the early 1970s. With little suspense and some shoddy action scenes, Hammer manages to earn some ...
Bloody brilliant! Unfolding in a style not unlike a typical primetime reality show, What We Do in the Shadows treats the day-to-day struggles of blood-lusting vampires in a very amusing way. It is a mockumentary in the satirical style of Christopher Guest (This is Spinal Tap,...
Read more: What We Do in the Shadows (2015) - Blu-ray Review
Rescued from the vaults of obscurity by Kino Lorber Studio Classics, famed B-movie producer Harry Alan Towers' House of 1000 Dolls has reopened. While the title sounds promising, House of 1000 Dolls, directed by Jeremy Summers, is a place you might visit but definitely ...