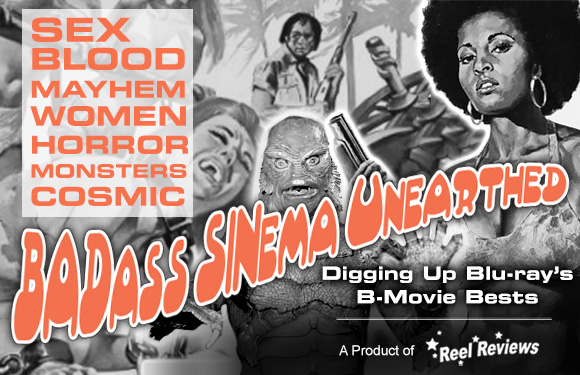 Bad Acting. Bad dialogue. Bad movie, right? Not quite. There are exceptions. The Majorettes, starring Kevin Kindlin, Terrie Godfrey, Mark Jevicky, and Thomas E. Desrocher, is one of those. This psychosexual charged flick owes much of its creative prowess to its creators' ...
Never fear, Doc Savage is here!
With that joyous announcement, one of the campiest flicks to ever hit the 1970s leaps off the screen and into the hearts and minds of cinephiles everywhere. Let's get something straight first. Doc Savage is completely ridiculous. Full of knowing winks to the camera ...
Read more: Doc Savage: The Man of Bronze (1975) - Blu-ray Review
With funding provided by the Packard Humanities Institute, the members of the UCLA Film & Television Archive have worked tirelessly to restore a small black-and-white crime potboiler that was thought long lost due to the unforgiving ravages of time. The edgy film is a prophetic ...
Read more: Private Property: Limited Edition (1960) - Blu-ray Review
Zombie is not finished with Halloween just yet, Boils and Ghouls. Rob Zombie's 31 is not nearly as good as you'll want it to be. It's also not as bad as other critics are suggesting it is. The film does EXACTLY what it needs to do, but without establishing any real purpose ...
"Get me off this FUCKING show," mutters one contestant on the television game show Live or Die. With contests like Dance of the Seven Boners and one involving transporting two heavy gas canisters through rings of fire, it is the most controversial show to ever be filmed ...
Reputation Road, here we come! With that sentence, a young man's wildest sexual fantasies come true. Overlooking Los Angeles from high in the hills, Kyle's (Steven Boggs) attempts to get laid finally come to fruition thanks to the support of those zany fantasy-fulfilling ...
Now, THIS is how you successfully pull off a B-movie. The Waxwork series of movies - Waxwork & Waxwork II: Lost in Time – were made during a very special time in the horror genre, all thanks to the video market. Celluloid magic was everywhere and distribution deals ...
Read more: Waxwork/Waxwork II: Lost In Time: Vestron Video Collector's Series (1988 -1992) - Blu-ray Review
When Canadians do horror, good things tend to happen. The Pit, directed by Lew Lehman, is a great example of that statement. Released in 1981, this low budget horror film tells the tale of a weird kid who stumbles upon something stranger than himself deep in the ...
There are few moments in the 1980's output of horror titles as effective as the opening minutes of Tom Holland's Child's Play. Serial-killer Charles Lee Ray (Brad Dourif), wearing a righteous brown trench coat, is being chased through the dingy streets of south Chicago ...
Read more: Child's Play: Collector's Edition (1988) - Blu-ray Review
To this day, there remains something insanely special about director Brian De Palma's Carrie. It is based on the once-discarded novel by Stephen King, but was painstakingly adapted for the screen by Lawrence D. Cohen. Cohen got everything about King's first novel right ...
Read more: Carrie: Collector's Edition (1976) - Blu-ray Review