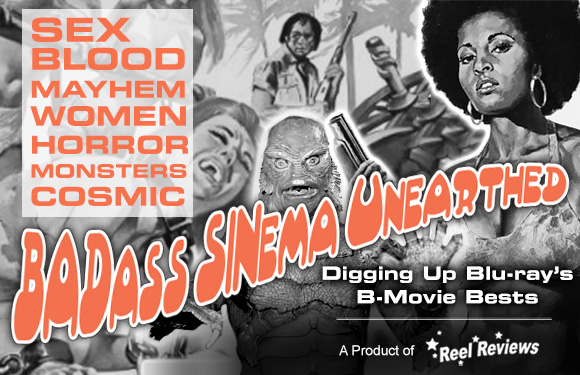 Riddle me this. Besides being movies I like, what do Evil Dead II, Moontrap, Army of Darkness and John Woo's Hard Target all have in common? It's not Bruce Campbell. It's the not the splatterific amount of gore either...but close. It's special effects artist Gary Jones ...
Read more: Mosquito: 20th Anniversary Edition (1995) - Blu-ray Review
Operating along the same guidelines as a raging bull in a china shop, James Roday's directorial-debut Gravy, now appreciating a solid release on blu-ray thanks to Scream! Factory, is a gonzo-spirited horror-comedy that definitely does not disappoint. This freewheeling comedy ...
With the release of Jackie Chan's Rumble in the Bronx and First Strike on blu-ray this week Warner's back catalog of New Line titles finally begin their much-delayed martial arts HD rollout. These are, mind you, bare-boned releases with a 2K visual upgrade and no special ...
Read more: Rumble in the Bronx (1995)/First Strike (1996) - Blu-ray Review
Hailing from the early years of the Blaxploitation movement in cinema, Jim Brown in 1972's Slaughter is one helluva serious bad ass. He never smiles and puts EVERYONE in his or her place. The film – as its blu-ray arrives this week courtesy of Olive Films – remains ...
With strong hues of murderous reds and neon blues, Tobe Hooper's follow-up to The Texas Chainsaw Massacre has always been regarded as a stylized mess. It is neither good enough nor horrible enough to dismiss without a second thought, though. It is a movie that ...
While most of sexploitation director Pete Walker's films (Die Screaming, Marianne, The Flesh and Blood Show, House of Whipcord) have been greeted with disgust and condemnation, House of Long Shadows is his – as far as the horror genre goes – his most noteworthy. Check ...
…in which we meet Invader ZIM's inspiration. While perfectly harmless, Spaced Invaders is a kid's movie that had the potential to be something a little bit more than a silly Teenage Mutant Ninja Turtles knockoff. Halloween night. A War of the Worlds rebroadcast ...
The directorial debut from Brian Yuzna simply will not be silenced. It is, at once, disgusting and gratuitous and demented; however, its message about wealth and excess expands out beyond the yuppie influence of its origins and speaks volumes here in the golden age of ...
Sometimes shit is shit. Writer/director Ryan Bellgardt's Army of Frankensteins is being advertised as a horror/comedy. It is neither. It's just a bad film that – even with its intriguing premise of a time travelling Frankenstein trapped in the Civil War – goes nowhere fast. Released by ...
While not remarkable, Lost After Dark is a somewhat effective throwback to the heydey of Slasher flicks that once made the drive-in rounds while knocking off Friday the 13th. This Canadian feature played well at festival circuits last year and, thanks to Anchor Bay ...