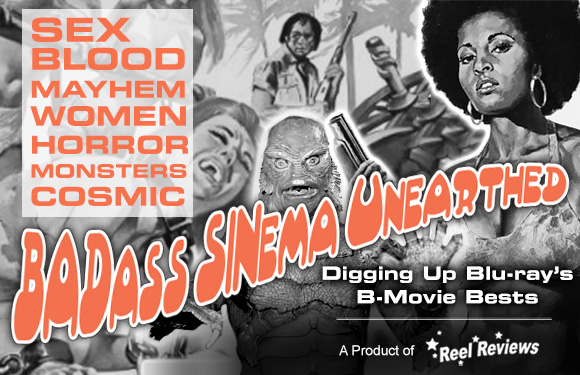 Fashion models know a thing or two about being stalked. The paparazzi are always present and that camera they hold is always snap, snap, snapping away. Every photo could be the one to make them a million bucks. It is not everyday; however, that these models are ...
Read more: Death Walks at Midnight (1972) Special Edition - Blu-ray Review
If the final few moments of director Donald Cammell's Demon Seed don't disturb you, then you are probably dead. The reveal of just how twisted the computer controlling the house at the center of this tale is a dire warning that, obviously, we did not heed. In fact, there ...
The carnival might be closed, but the freaks are still running around. At least that's what the two detectives in 1976's Drive-In Massacre have to say about all the murders that are plaguing one town's drive-in theater. The purveyors of cinematic filth and cheese over at Severin ...
Let the seduction begin!!! Director/writer/producer/editor Anna Biller (Viva) has put together a marvelous horror film of psychodrama and seduction. Full of "mod" Technicolor fetishes caught within its bold and colorful print shift dresses, The Love Witch is intoxicatingly refreshing ...
Stories about obsessive collectors have always fascinated me. From the book-hoarding stories I wrote during my undergraduate studies to the volumes of the weird and twisted objects I now own, it could be suggested that the fascination with collectors has become intrinsic ...
Generation Xers called it cyberpunk. During the 1990s, it was the "thing" that happened and we saw the early warning signs. William Gibson locked it down on paper. Even Billy Idol sang about it. Few science fiction films pouring out from Hollywood ever got the subgenre ...
Drive-in flicks are as badass as they are clueless. I will argue to the death that it definitely takes talent to successfully pull off the B-movie. If you listen carefully to director Paul Kyriazi, it sounds like the cast and crew he assembled for Death Machines knew enough about ...
And another caveman classic is upon us. Writer/director Val Guest's When Dinosaurs Ruled the Earth gets the Warner Archive Collection treatment for its blu-ray debut. Essentially, all that means is that the film gets an HD transfer because the big boys still don't know how ...
Read more: When Dinosaurs Ruled the Earth (1970) - Blu-ray Review
Make no bones about it, Horror Hounds, The Gate is a MUST-HAVE release from Lionsgate's handling of its on-going Vestron Video Collector's Series. Written by Michael Nankin and directed by Tibor Takács, The Gate was an unexpected success for New Century Vista Film Co. ...
Read more: The Gate: Vestron Video Collector's Series (1987) - Blu-ray Review
Most people are offended by the slaughter of animals. They like their bacon, mind you, but simply cannot deal with a defenseless pig being stunned, shaved, and then sliced and diced into tasty little strips of bacon. Yummy! For a lot of people slaughterhouses represent ...