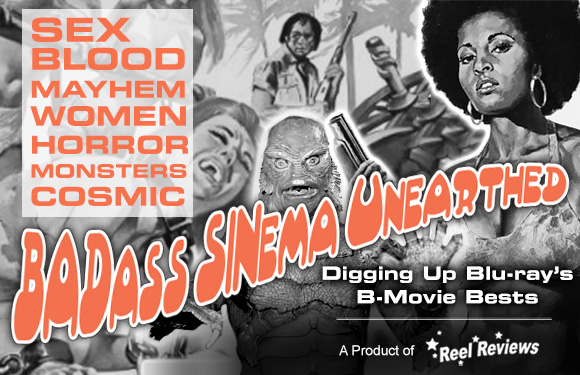 There is an unsettling darkness that washes out over the lake at the center of this haunted tale. With plenty of warnings and a bunch of drawings thanks the talents of a small child, we shouldn't really be surprised when a strange figure emerges from the water and ...
Nebraska. Springsteen territory. Think the howls in the dark songs featured on his album of raw demos. This is your auditory entrance into the bleak horizon that overlooks Children of the Corn and the outside world, represented by the sudden arrival of the unsuspecting ...
Hells Bells! That kinky night of S&M you've always wanted finally has its soundtrack thanks to composer Claudio Natili's devilish use of the saxophone. One taste of The Devil's Honey and, sweetie, you're going to be coming back for more and more. I promise. ...
When done correctly, the giallo can be quite the cinematic experience. And Italian filmmaker Lucio Fulci has his fair share of effective thrillers. He also can't escape the occasional dud either. That's not what we have here, though. Not at all. Combining a mood-stirring ...
All praise goes to writer/director Australia's Shane Abbess (Gabriel, Infini). Remember that name, genre fans. It's going to mean something to you (if it doesn't already) because what this artist has assembled with his latest release is going to stand the test of time. The Osiris ...
Read more: The Osiris Child: Science Fiction Volume One (2017) - Blu-ray Review
"Son of a bitch." Those are the words mouthed by the freshly decapitated head of a gore-gore dancing member of a punk band called The Killer Barbies. They aren't your average brand of punk but she, after being chased naked through a dense spot of trees for the night ...
To this day, there remains something insanely special about director Brian De Palma's Carrie. It is based on the once-discarded novel by Stephen King, but was painstakingly adapted for the screen by Lawrence D. Cohen. Cohen got everything about King's first novel right ...
The release of the fully restored 110-minute version of director Harry O. Hoyt's The Lost World on Blu-ray is a big fucking deal. For the longest time, the original version of this silent film had long been thought destroyed and missing. It was as if the film had simply been ...
A patient wakes up in a hospital room. It is cold and sterile. This is definitely not his mob-funded home. The confusion wears off when he realizes he should be dead. A vampire – his boss – devoured him last night. So how is this possible? His eyes begin to glow ...
This is the story of what happened when Joe met Kate ... and then rented the Debbie Reynolds workout tape. Psychos in Love is a fully realized version of Annie Hall by way of Psycho. It is, from beginning to end, a very funny film. Forget the horror aspects, man, this is an ...