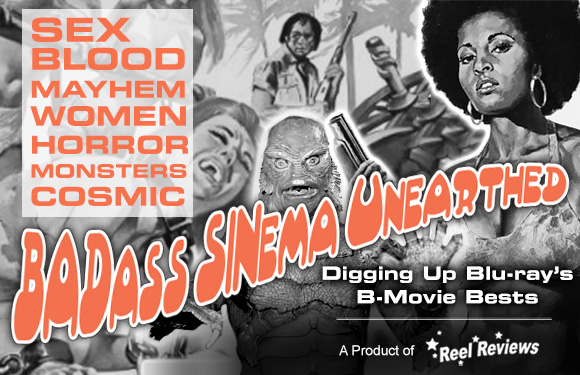 With more tits and ass than actual plot, Hollywood Boulevard is probably one of producer Roger Corman's goofiest films. We know it was his cheapest. That was the agreement made when (then) editors Joe Dante and Allan Arkush presented him with their idea for a movie to ...
If there's one thing striking about Being Different, it's the sheer amount of compassion that it presents viewers with concerning its primary subjects. The documentary might be about bearded women, legless men, and long distance runners with no feet, but there's no cruelty ...
There's a cave in the dense forest at the center of this movie. A deep, dark hole where a man in a shirt and ripped pants, baseball hat and all, looking very much like a truck driver, sits … IN A ROCKING CHAIR. There's a campfire next to him. He's been eating something. Well ...
Because there is an art to murder. That's why the films of Dario Argento continue to register with audiences. His films – no matter how brutal or kitschy – are beautiful portraits of horrible things. To merely describe one of the director's films does so much of what he is capable ...
Read more: The Bird with the Crystal Plumage (1970) - Blu-ray Review
Writer/director Charles B. Pierce (The Town that Dreaded Sundown, The Legend of Boggy Creek) really likes small town horror. I don't disagree with his tastes either. I live in a small town – with no local police department – and, let me tell you, some of my neighbors, well ...
The theatrics of actor Paul Naschy made him an unstoppable tidal wave of terror in the genre. Horror, as seen through the eyes of this legend, was quite expressive and always lurid. It's easy to see why he was considered, among his many legions of fans, to be the ...
"The hell with radiation. Let's go." This right here, where horror and space travel had one of their silliest hook-ups, is probably the only safe place to be in the solar system … when plants attack. The Angry Red Planet is finally getting some respect and, honestly, it is about damn time ...
"Mind the doors!" One of the most absolutely terrifying scenes in underground horror occurs about 30 minutes into Death Line (aka Raw Meat). In a dingy, unused space of the London Underground network, we hear a bizarre moaning sound. Maybe it's sobbing. The camera ...
Once upon a time there was a guy named job who had a very lousy job… …and, with those words, the very first Tom Hanks and Meg Ryan romantic comedy was tossed out into theaters in March of 1990 and … bombed. But the comic intelligence of Joe Versus the Volcano, ...
Low-grade exploitation – shot on VHS – is a damn funny thing to sit back and review. You pretty much know what to expect. Shoddy SOV quality, undisciplined filmmaking, blurry images, static shots, and – as this one features murderous scarecrows on the loose across ...