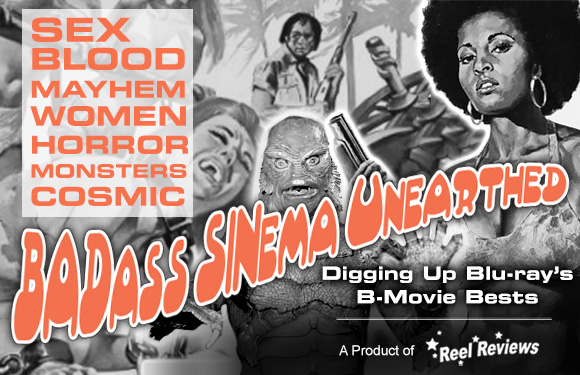 Slaughter High, even for a b-movie, just barely gets a passing score. Written and directed by George Dugdale, Mark Ezra and Peter Litten and co-starring Carmine Iannaccone and Gary Martin, this cult flick favorite survives the passing of the VHS-era of home ...
Read more: Slaughter High: Vestron Video Collector's Series (1986) - Blu-ray Review
Opening by ripping off Evil Dead with its own talking book of the dead, Evil Toons announces itself early on as a dead end b-movie as David Carradine, looking all sorts of wizardly, hides in the shadows. With a grim face and white straw-like hair, he casts a spell with his undead ...
"Thou shall not steal! Thou shall not steal!" For anyone long overdue for some nasty revenge by way of a supernatural phone call, this is the film, warts and all, for you. And all you have to do is pick up the phone and dial seven digits....
There's something funky tasting with the meat in this bowl of chili. The owner of the restaurant wants to find out why. He pours the vat of chili out into the sink. It plop, plop, plops with thick gumminess as it hits the silver, trickling slowly out in clumps. He sees nothing wrong ...
If the opening moments of Kill, Baby, Kill aren't enough to set you on edge, then I suppose nothing else in Mario Bava's bloody good movie will either. Move along, kid. There's literally nothing for YOU to see here if you remain unaffected by its suspense. This film ...
Pay attention, fools! When a horse – broken, trained, and otherwise tame – has a nasty reaction to a person and then, later, breaks free from its pen and charges the same person, trying to stomp them into the ground, it usually means something. That's what happens to ...
Model-turned-actress Isa Jank (Forbidden Love), with her stunning looks, is good at getting attention. The camera, at one time, really loved lingering on her high cheek-boned ways. Considered hot property by the late 1980s, she was pretty much leveled to a pillar of ash ...
Few of us can say that we've been baptized by a hot stream of piss. That's probably not something people list when asked about their individual life goals. I'm sure there's someone out there that thinks being on bended knee in front of a gigantic pagan God as he ...
There's something wrong with Karen (Tara Chung). She's dry humping the beach again. Truthfully, while she does display a whole hell of a lot mental instability during writer/director Roberta Findlay's skin flick, she's not as fucked up as the people around her. And ...
Beyond the Seventh Door, on its string bean budget and with its Jigsaw-like way, is every bit the very definition of a cult classic. And any negative thing you can say about it merely adds to the film's growing fandom. That's power right there, folks, and, truly, this bizarre ...