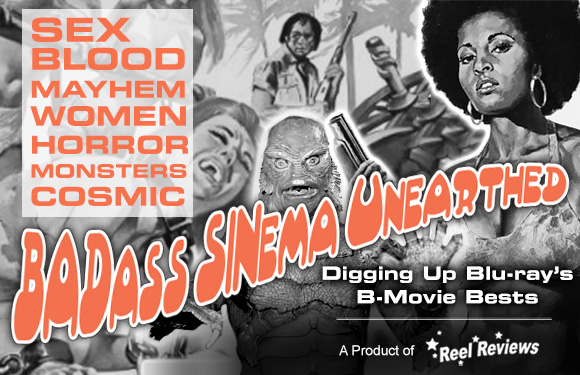 While director Luc Besson is often times all about the flash and dazzle of the movies, it wasn't always that way. Think of 1988's The Big Blue or Léon: The Professional from 1994. He's kind of been all over the genre scene and usually – in spite of the critical condemnation ...
Read more: Valerian and the City of a Thousand Planets - Blu-ray Review
Because even a natural born talent as wicked smart as Stanley "Stan" Winston's has to start somewhere. That's why this drive-in flick, originally distributed by American International Pictures, continues to be resurrected from time to time. ...
Or when B-movies, that don't realize they are one, attack!!! was a year out of high school when Species was originally released. In the years since originally watching it, all I could remember of the movie was that Model-turned-actress Natasha Henstridge definitely knew ...
Read more: Species: Collector's Edition (1995) - Blu-ray Review
Holy Hell! The St. Agnes church is cursed. It was Father Dennis who fell first. The second, Father Collins, got his throat ripped out right after burying his shiny head into a pair of magnificent bare breasts. Let's hear it for redheads! ...
Read more: The Unholy: Vestron Video Collector's Series (1988) - Blu-ray Review
Star Crystal, with its point of origin stemming from the bad end of 1986, is as useful as liquid flatulence. If this is what happens in 2035 on the surface of Mars, then I hope I'm long gone. Because I. Just. Can't. ...
Holy Smokes, does The Man from the Planet X ever rock! This drive-in cult classic is a solid slice of gooey space age silliness and yet its unsettling ending suggests so much more…
Lesbians in space! Well, maybe, I mean – at least – the women do a lot of talking about it. So, yeah, Star Slammer (aka Prison Ship) definitely teases zero gravity space sex with the nastiest of Hollywood Hookers. Unfortunately (or...), it can only deliver on hokey hip-shaking ...
It's not everyday that you find a severed head floating in the pool of water you just splashed on your face. Cue the shrieks and screams because there's no safe way back home after trespassing onto the mysterious island of this rich man's daughter. She's hiding someone ...
I originally saw this b-movie under the creepy title of Cemetery Girls. And, yes, there are quite a few girls in it – Karen (Kaydee Politoff), Senta (Rosanna Yanni), Marlene (Ingrid Garbo), and Elke (Mirta Miller) – that Dracula gets to "taste" as they succumb to their new roles as his ...
Read more: Count Dracula's Great Love (1973) - Blu-ray Review
Writer/director/actor/producer Larry Fessenden is still a dark apocalyptic mystery to me and, if I am being honest, I appreciate him for that. He's an artist who prefers to work outside of the studio system. His films are personal and deeply moving; they also deserve a far wider ...
Read more: The Larry Fessenden Collection (2015) - Blu-ray Review