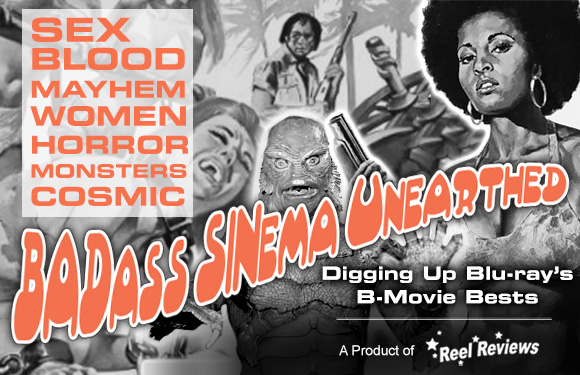 In the middle of the 1960s, Toho's special effects maestro, Eiji Tsuburaya, was on quite a roll. As Ultra Q finished, the Tokyo Broadcasting System wanted a new television series with him at the helm. But this time they wanted something in color; something ...
Read more: Ultraman: The Complete Series (1966) - Blu-ray Review
28 episodes. 30 minutes. That's all it took to change the world . . . or should that change be limited to just the airwaves? Because special effects director Eiji Tsuburaya definitely did that with Ultra Q, the black-and-white television series that gave us the first attempt ...
Read more: Ultra Q: The Complete Series (1966) - Blu-ray Review
Dudes named Diablo don't ever die. And you probably shouldn't fuck around with them either – especially when they, upon the eve of their death sentence being carried out, vow to return . . . to kill everyone who chooses Florida as their ...
It's Crocsploitation Cinema at its feistiest! The cheese! The chomp! The charm! What is this movie JAWS that you speak of?! And this Steven Spielberg, too? Apparently, the Italians have never heard of him or his pet shark. When it comes to fierce predators of the ...
Read more: Killer Crocodile/Killer Crocodile 2 (1989, 1990) - Blu-ray Review
Lucky number seven? Well, just barely. The seventh movie in the ongoing The Conjuring franchise isn't the best of the series but, hopefully, it will be the final one involving that damn doll. She's twisted as hell and, as revealed here, is a sort of conduit for all sorts of evil spirits, not just ...
If all the padded nature shots won't kill you, then maybe the monster in the woods will! If I told you that this slasher was made in just two weeks, you would probably believe me. Every single detail (and edit for that matter) suggests ...
To this day, Gremlins remains director Joe Dante's most successful movie. That seems pretty damn incredible when you consider Dante's inspired body of work. For my tastes, there's not a dud in the bunch. From Explorers to Small Soldiers, The Burbs and ...
If you are ever offered a place to live in called Casa Fortuna, just say no. If you don't, then the wig wearing witch inside it might just swallow your soul and no amount of voodoo chants can reclaim it back from her laser-shooting ...
Zombies from San Jose! Oh, snap. Is Oakland next? James Hong is a Hollywood Legend. Never heard of him? Well, you aren't paying close enough attention to the voices and characters on your television screen. And, if you ...
Jack Crow is on a mission. He wants to destroy ALL vampires. It's a constant act of revenge. For him, it must be done. Without question. That's the cost all these bloodsuckers pay for the deaths of his parents. And Crow, as the leader of a group of ruthless mercenary killers known as Team Crow, takes no prisoners. ...
Read more: John Carpenter's Vampires: Collector's Edition (1988) - Blu-ray Review