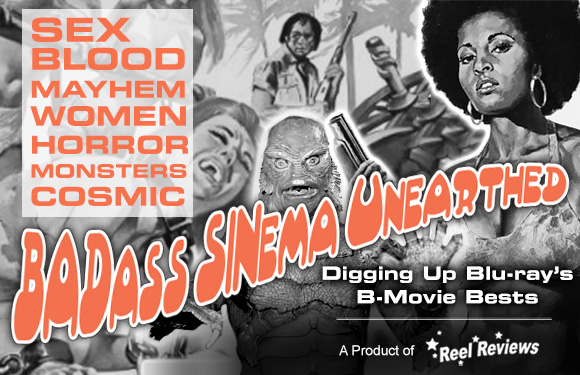 The blood! The guts! The wiggling limbs! I bet Artie (Bennett Liss) and Charlie (Johnny Doran), those poor souls, never expected to lose their heads and their legs when they decided to pull a prank on one of their friends one shadowy night. One gets microwaved and the ...
To this day, there remains something insanely special about director Brian De Palma's Carrie. It is based on the once-discarded novel by Stephen King, but was painstakingly adapted for the screen by Lawrence D. Cohen. Cohen got everything about King's first novel right ...
Completely mad. Absolutely bonkers. Those are some descriptions that are often used to describe this New Age-inspired flick of voodoo hoodoo transmissions. The Manitou is EXACTLY the pile of rock and schlock trash that you want it to be and now, thanks to Scream ...
"Isn't it gorgeous, babe?!" That's the pervading sentiment in Hard Ticket to Hawaii, a bleach-blonde action flick in which hot babes do their best thinking in Jacuzzis and, after insulting a bunch of horny men, start kicking lots of ass ...
Clash, Killer Fist! A legend has returned. If you are not yet one with the madness that is the martial arts film, then let this release be your starting point. Why? Because from the years of 1973 to 1976, at the height of the martial arts movie and its influence of sheer insanity and nastiness ...
Read more: The Street Fighter Collection (1974) - Blu-ray Review
Being the ninth and final film in Hammer's Dracula series, The Legend of the 7 Golden Vampires definitely holds a special place in horror history. That's not the limit of its legacy, though. Not by a longshot ...
Read more: The Legend of the 7 Golden Vampires (1974) - Blu-ray Review
"I got my beer, I got my sex partner, what else do I need?" Blood Lake continues to exist because we all want to be like Little Tony. Fight me if you disagree. Having a camcorder doesn't necessarily make you a horror film director. The same can be said ...
Before Resident Evil, there was Warning Sign. Complete with an impressive synth score from Craig Safan, this thriller absolutely rocks and serves as the precursor to what would come in a lot of biohazard-themed flicks a decade AFTER its initial release ...
"God, I love the desert!" This is what is loudly proclaimed by the Sunday school teacher who is sitting squarely at the center of Murderlust. Steve Belmont (Eli Rich) is a pathetic human being. As a Sunday school teacher, he uses his post to ensnare pretty young women ...
When I was a young fool, my go-to movie was Forest Gump. I think I saw that damn film at least NINE times in the theater. I was graduating high school and leaving for college and that film just resonated with me. I was also lovesick and a complete idiot about it. This review ...
Read more: The Man Who Killed Hitler And Then The Bigfoot (2018) - Blu-ray Review