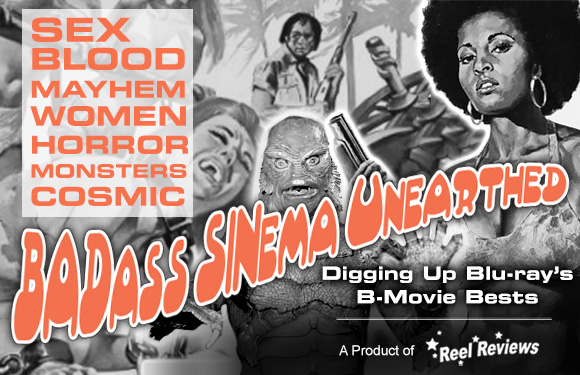 Talk about 1970s television star power! Everyone - from Kinky Friedman to Ruth Buzzi - is stocking the shelves at Record City. The familiar faces keep turning up in this store! ...
Tucked far enough away from civilization, the bleak desert that surrounds the ranch at the center of this independently made feature from 1955 makes for some unsettling moments. There's nothing around the ranch except sand and mountains in the distance. Its remote location is already changing the ...
Read more: The Beast with 1,000,000 Eyes (1955) - Blu-ray Review
No one screams like Jamie Lee Curtis. No one. Combine those ear-piercing screams with a creepy Groucho Marx mask, a young David Copperfield, a ghostly train ride, and you have sure fire success for a late October night full of terror and mystery. Rising above the typical ...
Read more: Terror Train: Limited Edition (1980) - Blu-ray Review
It doesn't take Night Key very long to kick into high gear. Boris Karloff, starring as an inventor of a bank alarm who gets pissed that he's not getting the money or the credit for his invention, finds himself in over his head with a group of gangsters who want to get rich quick. With nowhere to turn to ...
Read more: Universal Horror Collection Volume Four: Night Key (1937), Night Monster (1942), The Climax...
What happens when like-minded British and Hong Kong film producers get together to make a cheapo-depot sex film? They ride the success of Alien, amp up the sex, and make one of the strangest exploitation films of the early 1980s. Inseminoid is a horror film like few others. Thanks to ...
Giant-sized cockroaches in the Brady Bunch house?! Yes, please. What other secrets are those unclean Brady's hiding? With Bug, a film that locks its horrors upon fire-farting cockroaches, we find out! ...
Seven films into his career and Bong Joon Ho continues to impress audiences with dark and thoughtful material. This time, with Parasite, he delivers a film that is so topical and so well made that even Hollywood had to stop and take notice. Parasite is THAT memorable. ...
Ray Harryhausen and his stop-motion work is legendary. While his stuff is slow to trickle out on blu-ray, the high-def picture and the clarity the format provides is always insightful into his creative processes. The latest round of his work comes from Indicator, a UK company that offers their ...
Read more: The Wonderful Worlds of Ray Harryhausen Volume One: 1955 - 1960: It Came From Beneath the Sea, 20...
Ladies and Gentlemen, Richard Stanley is back! I have just been introduced to my new go-to movie. Color Out of Space is right up there with Mandy when it comes to imaginative tales of terror. The mixture of CGI and practical effects in this science fiction horror narrative is downright disturbing ...
Brewster's Millions remains a screwball comedy that simply knocks it out of the park. Home runs don't get much wilder than this ...
Read more: Brewster's Millions: Collector's Edition (1985) - Blu-ray Review