De Plane! De Plane!
Herve Villechaize, 'Tattoo' from TV's Fantasy Island
Herve Jean Pierre Villechaize was born on April 23, 1943 in Paris, France. His father, a doctor and resistance fighter during the German occupation of France during World War II, noticed early on that something wasn't quite right with his youngest* son. By the time he reached three, Herve was diagnosed with an acute thyroid condition. The malfunctioning organ would leave Herve at a full-grown height of just under 4 ft tall. Several surgeries and specialized medical procedures at Minnesota's Mayo clinic in America would prove extremely painful and unfortunately unsuccessful at correcting his condition.
Earning him much respect and a certain amount of fame in France, Herve studied painting and photography at the famed Beaux-Arts museum in Paris. At the age of 18 he became the youngest artist to ever have his work displayed in the prestigious Museum of Paris. Herve's road to further fame and success would take its first hairpin turn when, after a night of heavy boozing, he attacked a painting with a knife. In a morbidly prophetic twist, the painting was a self-portrait!
At the age of 21 Herve sailed to New York City to ply his artistic craft. After teaching himself English by watching American television and upon immersing himself in the New York City art scene, he would eventually land roles in several off-Broadway plays in the big city. In his first notable movie role, Herve would play 'Beppo' in the 1971 comedy The Gang That Couldn't Shoot Straight starring Robert DeNiro. He wouldn't experience his big break into show biz until 1974 however, when he landed the role of a tiny villain named Nick-Nack in the 1974 James Bond film The Man with the Golden Gun.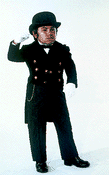 Fantasy Island
Hoping to capitalize on the momentum he experienced with the success of his role in the James Bond thriller, Herve would move to California, where he worked sporadically until he eventually hooked up with Aaron Spelling. Spelling would cast him opposite Ricardo Montalban on a 1977 ABC Movie of the Week pilot called Fantasy Island. The pilot proved to be so successful that a sequel in 1978 called Return to Fantasy Island was taped. ABC would eventually order a series of the show. Before it was finished, Fantasy Island would run for six seasons, from 1978-1983, making a household name out of his character known as 'Tattoo' and injecting his heavily accented "de plane, de plane" into American pop culture. Herve's newfound fame would lead him to command a whopping $25,000 per episode salary. He met stand-in Donna Camille* on the set and in September of 1980, the couple wed. The couple would move into his newly acquired 2 1/2 acre ranch in the foothills of the San Fernando Valley.
The Villachaize marriage would quickly go south however, leading Donna to file for divorce in December of 1981. It was reported that the divorce severely devastated Herve. He began to sense he was not being treated as fairly as other Fantasy Island cast members. He responded by demanding the same money as front man Montalban, prompting ABC to drop Herve from the show. Herve would tape his last episode of Fantasy Island in April of 1983.

The Beginning of the End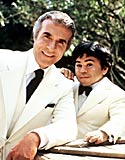 Leaving Fantasy Island would prove to be the push of the first domino in his teetering career. Herve, having blown through his Fantasy Island cash faster than a mouse through cheese, would find himself short of money and big on assets. He would eventually sell his Power Ranch in the Valley and move into a less than reputable rent-house in North Hollywood. His collapsing career and deteriorating health would eventually force Herve to explore a life with the bottle. It was reported that he would often consume two bottles of wine in a single night. While not that unusual for average sized humans, one must remember that Herve tipped the scales at a scant 90 pounds.
A series of phone calls in 1984 would lead to another act of violence by Herve. Assuming the caller to be a rival suitor for the affection of his girlfriend, Herve would eventually purchase a handgun. On one particular night, following another two-bottle bender, Herve became enraged, brandished his shiny new piece, and threatened to shoot it. It would take several friends and family members to eventually calm him down.
By late 1986, Herve had torn through the better part of his $3.6 million that he earned from Fantasy Island. He was now earning a meager $500 per week.
1990 would find Herve's medical condition worsenening. In increasing pain from internal organs that were too large for his body, Herve was taking upwards of 20 pills a day to alleviate the symptoms. He realized that his body was beginning to shut down, and found himself fending off frequent bouts of depression.

In 1993 Herve's luck would turn a bit towards the better. He found work in several TV commercials including a Dunkin Donuts spot that, despite his wishes to distance himself from his Tattoo days, would find him asking for "de plain" "de plain" donut.
On September 3, Herve, accompanied by his significant other Katherine Self, would attend a screening of The Fugitive at the Directors Guild Theater in Hollywood. They would later enjoy a dinner at a restaurant near their home at 11537 Killion Drive.
The End
In the early morning hours of September 4, 1993 his common-law wife (even though she didn't live in the same house) would find his body. It seems Herve had written a suicide note, grabbed his tape recorder and proceeded to his cluttered backyard. He turned on the tape recorder and spoke into the microphone, "Kathy, I can't live like this anymore. I've always been a proud man and always wanted to make you proud of me. You know you made me feel like a giant and that's how I want you to remember me" After a bit more rambling he said "I'm doing what I have to do...I want everything to go to Kathy...I want everyone to know that I love them."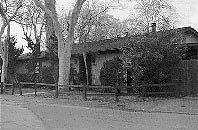 In a sitting position, Herve leaned back against the sliding glass patio door*, placed a pillow against his chest, and fired the pistol into the pillow. The bullet would travel through Herve's chest shattering the glass door, pass through a kitchen cabinet, and eventually end up lodged in a wall. The tape recorder caught the sound of Herve cocking the pistol just before the deadly shots rang out. As he lay slumped against the glass door he mumbled, "it hurts, it hurts...Im dying, I'm dying."
Kathy immediately rushed Herve to the Medical Center of North Hollywood. At 3:40 in the afternoon, Herve Villechaize was declared deceased by the attending doctors.
His worsening medical condition forced Herve to see death as a better option than enduring the severe pain. He was 50 years old. Herve's body was cremated and the ashes scattered at sea, off Point Fermin, California.
Ricardo Montalban, his co-star for many years on the cast of Fantasy Island, would issue the following statement upon hearing the news of Herve's death. "I considered his contribution to Fantasy Island one of the keys to the tremendous success that the show enjoyed."
---
Following are exerpts from Herve's suicide letter:
3 Spt 93

I have to do what's right. At 6 years old I knew there was no place for me. Who believed my (illegible) best friend girl will not call my mom to answer the Q's. I hope she does not hurt. I'm still alive. Please know Kathy has the right of attorney over my health and my belongings belong to Kathy Self including the right to a script and movie and writings, etc. I love you all too much, it's one of just of my problems. Mom! My brothers you didn't exhist to my heart you never care only about yourselves since 1955, you remember??? Kathy did her best, you didn't so she deserves everything.

3am I can't miss with a dum dum bullet - Ha! Ha! Never one knew my pain - for 40 years - or more. Have to do it outside less mess.
Update:
*We received the following update from Kathy Self who was living with Herve at the time of his suicide:
"I am glad that people are still interested in Herve but I found a few things that were quite wrong with your report. Some things are correct and yet you have the details wrong.

There is a film in the script stage right now called "My Dinner With Herve" and I an acting as a sort of technical advisor at this stage.

What I found wrong with your report of his death is for one thing, he was not leaning up against the sliding glass patio door when he shot himself. He was across the outside patio from the house, near the brick wall at the back of the yard. He had 2 pillows with him to muffle the sound of the gunshot. He did fire one round through the glass door, I think to wake me up. I was asleep in the media room next to the living room. He often slept in the living room, kneeling and leaning against the couch, so he could breathe clearly, so I slept near there so I could hear him in the night. Anyway, I woke when I heard the sound of the shot and the breaking glass and went outside to find him.

Also he was not the youngest child of Andre and Evelyn Villechaize. He was the second to oldest. Patrick is the oldest, then Herve, then Jean Paul and then Phillippe is the youngest. Only Jean Paul and Phillippe are from Andre Villechaize. He and his older brother were born to his mother ad another father, and she would never tell him who that was. Andre married his mother when Herve was about 2, and adopted both boys, although not legally, and he did give them both his last name. Later Jean Paul was born and then Phillippe, when Herve was about 11.

I believe these were the main mistakes I found in your short story about Herve, I will read it again and if I find something else, I will write and let you know. He was married twice, once to Anne for about 8 years, then to Camille who was a witch from hell and destroyed his life, for maybe 15 months, although he loved her very much. He and Anne stayed friends until his death, but he had not seen Camille for many years. I knew Herve for 14 years and I lived with him the last 4 years of his life. He had no children. Hope this helps. Feel free to contact me if you ever have any questions. Merry Christmas."
Kathy Self speaks about the audio recording Villechaize made of his death, which is still in police presence:
She believes he made the recording in order to protect her in his death. The audio begins with Herve walking out to the patio saying he has his pillows which he hopes will muffle the sound. He then says what is on his mind, that he loves everyone, and that this is no one's fault. His pain is just too great.
He then proclaims that Kathy Self will know what to do with his estate and that he was leaving everything with her. Then he's heard on the recording saying "now I guess I just pull this." A loud audible gunshot is heard. He moans, then there is a short pause. Then he says "well, I guess I just have to wait." Self is then heard coming outside to his aid and to ask what has happened. "I'm dying." Self is heard saying No, you're not." She leaves to call paramedics.
---

Have additional information, or don't agree with something we said?
Read or post comments about Herve Villechaize on the
Death of Herve Villechaize Discussion Forum

---
More Herve Villechaize Stuff:
The house at 11537 Killion Drive, where Villechaize lived at the time of his death.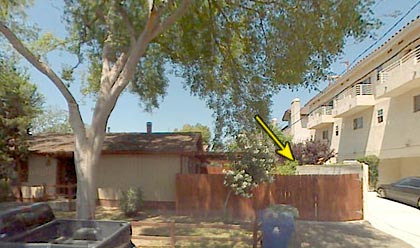 Villechaize's long-time partner, Kathy Self, confirms that Villechaize was leaning against this wall (yellow arrow) across the yard from the covered patio when he shot himself, not leaning against the sliding glass door as was originally reported.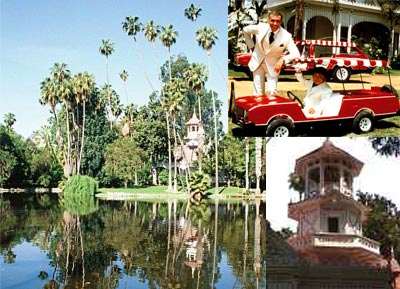 The Queen Anne style cottage depicted in the opening sequence of Fantasy Island television show is actually in The Los Angeles County Arboretum. The address is 301 N. Baldwin Ave. Arcadia, CA 91007. I understand that you can take a tour of the cottage on the grounds.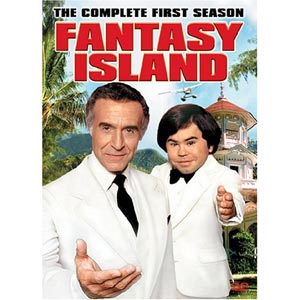 The cottage is also visible in the background of the Complete First Season DVD cover.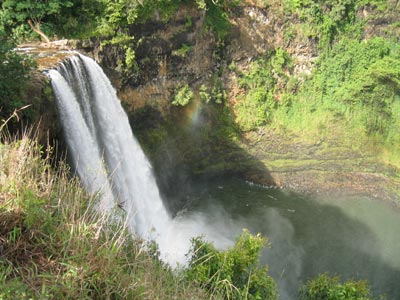 Wailua Falls in Hawaii - Where another portion of the opening sequence to Fantasy Island was filmed.
Herve Villechaize External Links:
The Los Angeles County Arboretum
The Fantasy Island page over at Wikipedia
The Herve Villechaize page over at Wikipedia
The Complete first season of Fantasy Island on DVD is available here
The Herve page over at IMDB.com
The Herve page over at findadeath.com
HalfBakery.com - where they propose that more people get the image of Hervé Villechaize tattooed upon their bodies. Better known as aTattoo tattoo.
A YouTube page that features a singing Herve.