An Accident on Catalina Island? Or Foul Play and a Massive Cover-up?
Natalie Gurdin was born in San Francisco in 1938, to Russian immigrants Nikolai and Maria. When she was just 4 years old, young Natalie appeared as an extra in her first movie, Happy Land, with her mother. Convinced her daughter had that special screen presence, Maria moved her family to Los Angeles and changed Natalie's named to Natalie Wood. Although she would eventually go on to appear in over 50 movies, Natalie Wood is probably best known for her role as little Susan Walker in the Christmas classic Miracle on 34th Street.
By the time she had reached 18 years old, Natalie Wood was already a veteran of the big screen with more than 30 movies in the can. In 1955, at a mere 17 years old, she starred in Rebel Without a Cause opposite James Dean. The Academy would honor her with a nomination for best supporting actress in the film.
Robert and Divorce
On her 18th birthday, Natalie would go on a studio-arranged date with Robert Wagner. After a year-long courtship, Natalie and Robert would marry on December 28, 1957. But Natalie would soon discover that juggling the fame of her movie-star lifestyle with her desire to lead a private life would be too much. She soon found herself confused and depressed. After her divorce brought about by the discovery of her husband's sexual indiscretions with another man (Robert would always deny this) and with the aid of therapy, Natalie would get her career back on track.
After starring with Tony Curtis and Frank Sinatra in Kings Go Forth in 1958, Natalie's Hollywood success could not be stopped. The roles would continue in such classics as Splendor in the Grass (1961) (for which she received a Best Actress nod), West Side Story (1961), Gypsy (1962) and Love With the Proper Stranger (1963) (which garnered her a third Best Actress nomination).
Natalie's Hollywood success would not only gain her fame and fortune. It also shot her to the top of the desired female list which brought rumors that she dated practically every Hollywood leading man, including Warren Beatty, Frank Sinatra and even Elvis Presley. In spite of her reputation, her friends claimed that Natalie was a simple woman who wanted to settle down with her family.
Attempted Suicide?
As her acting career began to wane, Natalie drifted from one affair to another but was not able to find happiness. She would become completely despondent on one summer night in 1966. She awoke in the hospital after taking an overdose of sleeping pills. Natalie would later admit, "I didn't want to live."
After a brief three-year hiatus from the big screen, Natalie would return to acting in 1969 as Carol Sanders in Bob and Carol and Ted and Alice. After that film, she made a few appearances on television, but mostly spent time with her family. By now she had found love again, this time with agent Richard Gregson whom she married on May 30, 1969. The following year she gave birth to her first child, Natasha. However, now experiencing the happiest moments of her life, Natalie's bliss would be shattered upon the discovery of husband Richard's affair with her secretary. Natalie would immediately file for divorce.
Robert Again
Subsequently, Natalie would reignite the flames with Robert Wagner. On July 16, 1972, Natalie and Robert remarried aboard a friend's yacht harbored in Malibu. Natalie, determined to make her third marriage stick, quit her acting career and had her second child, Courtney on March 9, 1974.
On Thanksgiving Day, 1981, the Wagners invited Christopher Walken, Natalie's Brainstorm co-star, to an informal thanksgiving weekend aboard their 55-foot cabin cruiser, the "Splendour" harbored at Marina del Rey. The one-man crew piloted the yacht to Catalina Island, off the Los Angeles coast of California. They anchored the boat and rode the yacht's dinghy in to Avalon. The others stayed on shore in the hotel as Wagner returned to the yacht and moved it to safer mooring because of rough water. The next day, November 28, the four returned to the "Splendour" that was now anchored at Isthmus Cove.
That Night
The evening began at about 4:00 pm as the trio dined at the Harbor Reef Restaurant. Witnesses claim that this is when things began to unravel. Waitresses at the restaurant saw the trio drink several bottles of champagne and state that the three patrons eventually caused a rude and rowdy ruckus with Natalie openly flirting with Walken.
They left the restaurant in a drunken mess, boarded a small dinghy and motored to the "Splendour." Exactly what happened from this point forward will probably always be a bit unclear. Walken, Wagner and Wood continued their partying as Captain Davern began his last rounds of shutting down the boat. At around 12:20 am Davern noticed that the dinghy was gone. Davern simply assumed Natalie had taken it, as was her custom, to view the evening stars. When she didn't return minutes later, Davern notified Wagner of her absence who immediately set out in another dinghy to look for her. At about 1:00 am Wagner notified the harbor patrol to scout for her. At around 3:30 am the Coast Guard was added to the search party. At 7:30 am helicopters would discover her body, floating face down some two hundred yards from the boat. The small dinghy was discovered adrift, with four life vests aboard, some two hundred yards from her body.
Several stories about the details of Natalie's death would begin to surface. Wagner's people continue to assert that Natalie drowned when she slipped into the icy water after becoming annoyed by the incessant pounding of the tied-up dinghy on the side of the yacht.
The Conclusion?
Police finally reached the conclusion that after changing into her nightgown, a pair of knee-highs and a thick down jacket, Natalie Wood got in the dinghy, perhaps to drive it to the hotel on shore. However while she was untying the dinghy, she likely slipped on the wet swim platform, striking her head on the side of the boat or platform itself and fell into the cold water of the harbor. Wood then succumbed after being dragged down by the now heavy, waterlogged coat.
Los Angeles County coroner to the stars, Dr. Thomas Noguchi had his own Natalie Wood theory. He concluded the actress did indeed escape in the dinghy. She then slipped and fell into the harbor waters. She attempted to crawl up the sides of the rubber dinghy, but the heavy coat, now weighing 30-40 pounds prevented her from lifting herself into the boat. As Wood struggled to get into the dinghy, she noticed it slowly drifting away out into the harbor. She became more and more frightened and began to scream but her yells were drowned out by the loud stereo of some local revelers. Natalie grabbed the side of the dinghy and began to steer it toward the shore. She eventually succumbed to the cold, and slipped into death shrouded in her nightgown and red down coat. Natalie Wood was 43 years-old.
The Aftermath
We'll probably never know what really happened that night. Wagner and Walken refuse to talk about it and eyewitness accounts don't really match up with all the facts. The official coroner's report states the following: a private searcher who located the dinghy says that the key was in the ignition, which was in the off position. The gear was in neutral and the oars tied down. It appeared the boat had not even been used.
The condition of Natalie's body created a need for a large amount of cosmetic work for her funereal presentation. The official coroner's report states the following about the condition of Natalie's body: body was taken from the ocean and placed in the hyperbaric chamber building for safe keeping. Upon the investigator's arrival at location, decedent observed Lying in "stokes litter" (military style stainless steel rescue cage). Decedent is wrapped in plastic sheet, she herself is dressed in flannel nightgown and socks. The jacket that she was wearing when found floating, is no longer on the body, having come off when she was pulled from the water. At the time decedent was pulled from water, sheriff's personnel says that body was absent of any rigor and they noted foam coming from mouth. Rigor is now present of a 3 to 4 throughout entire body. Decedent has numerous bruises to legs and arms. Decedent's eyes are also a bit cloudy appearing. No other trauma noted and foul play is not suspected at this time.
Natasha, Natalie's 11-year old daughter, requested that her diamond earrings be placed on her mother's ears. Robert Wagner insisted on burying her in a fox-fur coat that he had not yet given to her. Her gardenia-clad casket was buried in Westwood Memorial Park in Los Angeles on December 2, 1981. Attending her funeral were numerous celebrities including Sir Laurence Olivier, Rock Hudson, Gregory Peck and Elizabeth Taylor. Also in attendance were Robert Wagner and Christopher Walken.
UPDATE: Los Angeles 1/14/13 - More questions raised by coroner. In a supplemental autopsy report release today, the LA County coroner's office has determined that bruises on Wood's upper extremities could have been caused by a non-accidental mechanism and appeared to occur before she entered the water. Stay tuned!
UPDATE: Los Angeles 11/18/11 - There have been some recent developments in the push to re-open the police investigation into the Natalie Wood death - Prompted by new information detectives have received about the case, Los Angeles homicide detectives have re-opened their investigation of Natalie Wood's death nearly 30 years after the actress drowned in the waters off Southern California. Police plan to hold a news conference Friday, November 18, and anyone with information about the case was being asked to contact sheriff's officials.
---

Have additional information, or don't agree with something we said?
Read or post comments about Natalie Wood on the
Death of Natalie Wood Discussion Forum
---
More Natalie Wood Stuff: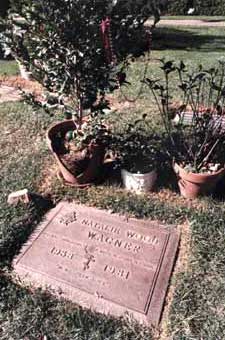 Wood's grave marker in Westwood Memorial Park in Los Angeles
Wood's grave marker in Westwood Memorial Park in Los Angeles
Natalie Wood's sister Lana Wood tells Piers Morgan her thoughts on the captain's testimony and what really happened.
Arrow points to the location of Wood's grave in Westwood Memorial Park
Various photos showing the dinghy and its position in relation to the much larger "Splendour." Also visible are Dr. Thomas Noguchi ("coroner to the stars"), Wood's burial services, and her gurney on its way to the morgue.
Natalie Wood's body being loaded into coroner van.
Isthmus Cove, where the "Splendour" was moored the night Ms. Wood died.
The Splendour was moored in Isthmus Cove. Wood's body was found floating face-down some 200 yds. off Blue Cavern Point.
Map showing the location of Catalina Island off the coast of southern California.
Blue Cavern Point, near where Wood's body was discovered floating face down.
The "Splendour" today. Being used as a sight-seeing attraction.
It has a hottub. Sweet!
A great shot of The Splendour
A shot of The Splendour around the time of the incident. Notice the dinghy tied to the side of the yacht.
These items came up for sale in February of 2016: the Splendour name board and coffee table from the yacht
A couple of shots below deck on the Splendour. Bottom: The captain's V-berth.
Take a video tour of the Splendour hosted by the current owner who has owned the boat since buying five years after the tragedy.
Another shot of the Isthmus Cove harbor.
Catalina Casino, which isn't really a casino. The casino can be seen in many movies, such as The Glass Bottom Boat with Doris Day.
Interior shot of The Harbor Reef Restaurant where Wood, Walken, and Wagner partied the night of Wood's death.
Another view of the "Splendour."
Natalie Wood's foot and hand prints outside Grauman's Chinese Theater on Hollywood Blvd.

External Natalie Wood pages and blogs:
Marti Rulli author blog - The author of Goodbye Natalie, Goodby Splendour, keeps a blog where fans can discuss facts surrounding the controversial, tragic death of Natalie Wood.
Natalie Wood Wiki - The Natalie Wood information page over at Wikipedia.com.
The official Natalie Wood Website - The Official Website of Natalie Wood contains everything you need to know about this legend of stage and screen. Read her extensive biography and browse the photo gallery.
Natalie Wood Filmography Page over at imdb.com.
The Natalie Wood autopsy report over at The Smoking Gun.