Mrs. Beasley Has Left the Building
Mary Anissa Jones was born in West Lafayette, Indiana to Purdue students John P. Jones and Mary P. Tweel on March 11, 1958. Pronounced (Uh-nee-suh), her name is Lebanese and means "Little Friend."
While Anissa was still a very young girl, her family would move to Playa del Rey, California with hopes that their precious little gem could hit it big in showbiz.
Her hard-driving mother enrolled Anissa in dance classes at the tender young age of four. By the time she was six, Anissa was hawking cereal in her first television commercial. A couple of years later, in 1966, Anissa's acting talents would catch the attention of television producers Edmund Beloin and Henry Garson. Beloin and Garson were preparing a new television sitcom called Family Affair and felt Anissa would be perfect as Elizabeth "Buffy" Patterson-Davis.
Her Star Shines Bright
Originally to be an older sister to Johnny Whitaker's character Jody, upon Brian Keith's (Uncle Bill) insistence, the role was rewritten to be Jody's twin sister. Anissa would play Buffy for the show's entire run. Her schedule was grueling, often requiring her to work on or for the show all year round and sometimes even seven days a week. But in June of 1969, Anissa's hard work would pay off. The show hit number 1 in the ratings, turning Buffy and Jody into household names. Buffy's doll, Mrs. Beasley, would also become the best-selling doll in America at one time during the show's run.
Anissa's fame would continue to grow, as she went on to appear in numerous television specials including Rowan and Martin's Laugh-In, To Rome With Love (TV series guest appearance), and as a presenter at the 1967 Emmy Awards. Merchandising deals, although not as lucrative as they are today, would eventually come her way as well. There were Buffy paper dolls, Family Affair coloring books and lunch boxes, a Buffy line of children's clothes, and a Buffy Cookbook in 1971, with Anissa featured on the cover.
Her Brother, Paul
Due to logistical concerns, Anissa's younger brother, Paul almost always accompanied her to the studio. Anissa was very fond of Paul and her love and kindness would often show while on the set. As the star of a hit TV series, Anissa naturally would quite often receive gifts. She always demanded that an identical one for her brother accompany any gift she received. If a gift were not brought for Paul, she would kindly give her gift away. Even at this very young age, Anissa's kind heart was beginning to show.

As further evidence of her kindness, upon the death of Earl Graham, a janitor on the Family Affair set, Anissa had her Mom take out a $400 ad in Variety Magazine allowing Anissa to say goodbye to her good friend. Although Earl was nothing more than a janitor, Anissa saw him as a kind friend.
The Affair is Over
Family Affair would go on for five seasons and 138 total episodes. But after the 1971 season the show began to slump in the ratings and was immediately cancelled. Surprisingly though, Anissa was thrilled that the show's run was over as it would now mean she could finally go to school, hang out with her friends, and just be a normal girl. But most of all it meant she could finally get rid of that stupid Mrs. Beasley doll that the producers insisted she continue to play with even though was now thirteen years old. Anissa had grown tired of show biz.


Looking Downhill

Once she left the show, Anissa's relationship with her divorced mother would continue to deteriorate. Anissa and her brother eventually moved in with their father. After their father's death, Paul and Anissa were forced to move back with their mother who lived at 100 Rees Street in Playa Del Rey, but Anissa often spent much of her time at a friend's house instead. This, along with the fact that Anissa's grades at Westchester High in L.A. began to slip, infuriated her mother. Her mother would file a police report denoting her daughter as a runaway. Anissa also spent some time in jail (juvenile detention) in hopes that she could get her life back together. But upon her release, Anissa again began hanging out at the beach, drinking and using drugs. Her life was spiraling out of control and little did she know, it would lead to an untimely demise some two short years later.
Royalties at Last
Hoping to make ends meet and to bide away time until her eighteenth birthday when she would receive royalties from Family Affair, Anissa took a job at Winchell's Donut Shop at 8139 Manchester Avenue in Playa Del Rey. After her eighteenth birthday, Anissa would receive her $70,000 trust fund and $107,800.00 in US Savings Bonds from her Family Affair earnings (paltry by today's standards). She and Paul moved into an apartment together. Anissa then went and bought herself a brand-spanking new Ford Pinto and her brother a loaded Camaro that cost twice as much as her own car. Anissa clearly had fun with her generosity.


With her newfound freedom, her recent wealth, and more drugs than she knew what to do with, Anissa would begin partying in the hardiest of ways. She also started seeing a guy named Allan Kovan who did nothing to stop her downward spiral.
Anissa's drug problem continued to escalate to the point that she was taking large doses of quaaludes, angel dust, cocaine, barbiturates, liquor, and marijuana. Buffy's life was on a one-way track to hell and Uncle Bill, Jody, Sissy and Mr. French were not there to pull her out.
Littler Lane

On August 28th, 1976, while attending a party at her friend Helen's house, at 2312 Littler Lane in Oceanside, Anissa would take one of her healthy doses of barbiturates, phencyclidine, cocaine and methaquaalone (what a party girl). Her boyfriend claims to have checked on her in the wee hours of the morning and she was fine. An hour later her friends would find Anissa dead. After putting clothes on her, they called the paramedics but it was too late. Anissa was declared dead from what the coroner would reportedly call one of the most massive overdoses he'd ever seen. Anissa Jones was just eighteen years old.
A friend, fellow student and partymate Steve Hanford recalled the following about Anissa's death. "The night Anissa died was wierd. She wasn't being very social. She and some other kids stayed in a bedroom taking angel dust and coke. When Anissa came out of the bedroom she said she and some friends were going down to Oceanside to visit her friend Helen Hennessey. The next thing I heard about Anissa was that she was dead. It blew my mind because I thought she was too smart to destroy herself with drugs. She didn't seem depressed the week before she died"


Kathy Garver, who played Buffy's older sister Sissy, said, "It's so tragic. As much as Anissa tried to disassociate herself from the little girl she played on the show, I still found her the same person. She and Buffy were the same wonderful person."
Her body would be taken to McCormick Funeral Home in Inglewood and then to the Pacific Crest crematory in Redondo Beach for cremation. On September 1, 1976 her ashes were scattered over the Pacific Ocean. Mrs. Beasley has left the building.
Eight years after Anissa's accidental overdose, her brother, Paul, would also die from a drug overdose. I guess it ran in the family.
---
UPDATE:
The following recollection comes from an anonymous posting on the DEATH OF ANISSA JONES Discussion Forum. Since the poster chose not to identify him/herself we must take the information with a grain of salt. But interesting nonetheless:

The death photo shows rigor had set in pretty solidly on the arm at least, that would be a little after 12:39 p.m. according to the date stamp. I am told that Deputy Coroner Thomas placed the time of death somewhere around 4:30 to 6:30 a.m. in his notes. D' C' Thomas also said (in his notes) that rigor was evident on the neck jaw and extremities. It was a much less exacting science in those days.

The juveniles claimed they did not know she was dead until sometime between 11:00 a.m. and 11:30. The weather was warm and dry. The house's air conditioning was on. The ambient temperature was 75 degrees. It looks like she was asleep although the arm may have been an attempt to reach out as much as a normal sleeping position. Could go either way.

Allen Koven took her keys and left at 9:30 a.m. Carla Machado testified that she found her dead after showering just before 11:30, however no phone call was placed to the paramedics until 12:29 p.m. (Hence Candy McGirr's recollection of the ensuing panic, phone calls, and call to her parents to come pick her up. She was just too stoned to place the time correctly and her recollections convinced her parents that it was much earlier than it actually was.)

Paramedic Unit #2192 and Engine #2113 were on scene at 12:34. Captain Imbilli followed by Paramedic Flanagan (not Officer Flanagan) found her face up and covered by a blanket and a sheet in the bed wearing only boxer shorts. Paramedic Meritt (a father himself,) took her for a much younger girl and frantically tried to resuscitate and found the arm was in rigor. They difib'ed her once and put on the electrodes but it was clearly useless, and Tri City Dr. Mitchell (jr.) gave the order to cease.

Officer Graf arrived at 12:37 p.m., I have been told he has posted in this forum under the name of Old Marine or something close to that and is a member of the other forum. He was also an old friend of Detectives Wagner and Krunglevich who were the investigating detectives (they arrived around 12:45 p.m.)

Note that Koven testified he went to breakfast twice once at 9:30 and again at 11:00, unusual for someone who had mainlined cocaine in the early hours of the morning.
UPDATE:
If you're interested in touring Anissa's old haunt or if you'd just like to read about where she used to hang out, you can visit here. It is a post from a friend of Anissa who was there and who knows all the details.
---

Have additional information, want to know what others are saying, or don't agree with something we said?
Read or post comments about Anissa Jones on the
Death of Anissa Jones Discussion Forum
---
More Anissa Jones Stuff:
Anissa Jones
(from left) Paul, Helen, Anissa, John
The Last known photo taken of Anissa?
Anissa at age 15.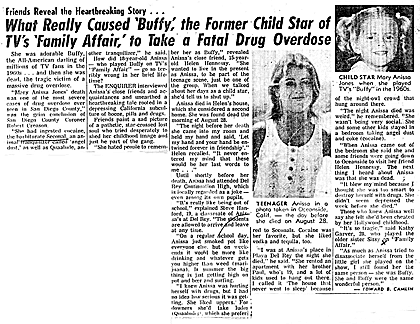 National Enquirer article about Anissa.
Taken in Oceanside, California the day before she died.
100 Rees Street, Playa Del Rey, California. Where Anissa and her brother lived with their Mom.
Dockweiler Beach State Park as Anissa might have seen it from her house.
The house where Anissa died at 2312 Littler Lane in Oceanside, California as it appears today. Looks like the place has been remodeled.
Anissa's House in Playa del Rey at 100 Rees Street.
A look inside Anissa's bedroom. It WAS the '70s!
Los Angeles County Juvenile Detention Center at 1605 Eastlake Ave in Los Angeles, where Anissa unfortunately spent a lot of time growing up.
Rare interview with Family Affair actors Johnny "Jody" Whitaker and Cathy "Sissy" Garver as they discusses how they first heard of Anissa Jones's death.
The Donut shop where Anissa worked at 8139 W Manchester Ave. Was a Winchell's Donuts at the time.
Anissa Jones' Westchester High School ID card
The apartment where Paul Jones lived. Anissa and Paul lived with him here for a bit until he passed away. They then moved back in with their mother/