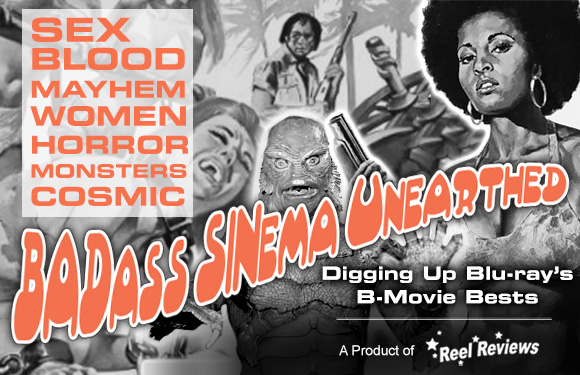 Details

Published:

21 January 2018

Written by Loron Hays
The House on Sorority Row (1983)
5 Beers
A killer cult classic gets cleaned up for its HD debut! And, no, I am not clowning around. Heh heh.
Written and directed by Mark Rosman (The Blue Yonder), The House on Sorority Row is a slasher film about a wicked prank gone horribly wrong by seven sorority sisters in law school. It was wildly successful on its modest budget at the time of its release and, in the years since its debut, has grown to become a certifiable cult classic and now, thanks to Scorpion Releasing, this underrated gem of slice and dice horror arrives on blu-ray.
Katey (Kathryn McNeil), Vicki (Eileen Davidson), Liz (Janis Zido), Diane (Harley Kozak), Stevie (Ellen Dorsher), Jeanie (Robin Meloy), and Morgan (Jodi Draigie) are celebrating the very end of their college journey. They plan, however cruel it may seem, a nasty little prank on their cane-crippled housemother, Mrs. Slater (Lois Kelso Hunt) after she catches one of them breaking the rules and decides to rip a hole in her waterbed as a consequence.
The prank winds up killing her and the girls, freaking out on the day of their graduation, decide to hide the body until AFTER the celebrations. They are in for one hell of a surprise because someone saw what they did and that someone – having to do with the film's black-and-white beginning will carry out Slater's revenge. Oh, yes, there will be blood and lots of floating things in the pool behind the house…like a fat boy in tighty whities who utters hilarious lines like, "I'm a sea pig."
With a hefty dose of humor and horror, The House on Sorority Row is easily right up there with the very best of the rest in the slasher genre. It simply does not disappoint in its thrills and its spills. Tight and economical, the film serves its audience a solid serving of freshly baked horror thanks to a mysterious killer that starts offing the party guests one by one as the incredibly shitty house band, Four Out Of Five Doctors, soldiers on with one new wave crooner after another.
And there will be no stopping the attacks. Several of which are memorable; the shadows against the boiler room wall kill being a standout. We see the girl slammed against the wall. We see the sharp object as it is thrust into her stomach and then her fore head. All brought to us by heavy, cascading shadows. It's a solid moment in a move that stands at the forefront of a lot of copycats. It's no Halloween, mind you. Hell, it's not even Friday the 13th but, as far as slashers go, this one goes the distance.
The girls think they run Theta-Pi sorority. They don't. The House on Sorority Row explains why. Time to get scared and do what sea pigs do and float away from the scene of the crime. The cult classic is now available on blu-ray thanks to Scorpion Releasing. It is the absolute best this movie has ever looked.
Blu-ray Specifications:
Scorpion Releasing presents The House on Sorority Row with a 1:78:1 aspect ratio and a crisp 2.0 DTS-HD MA sound mix. Both obviously have their limitations. Filmed mostly in interiors, shadows and details loom large. As most of the film is shot in the evening, it is important to note just how vibrant the black levels are throughout. Edges are clear and varied. Colors are strong. This release preserves the cinematic look of the film with a new crispness that used to be lost to time. Well, no more! The film looks bloody brilliant.
Commentary:
We get two great commentaries with purchase of the blu-ray release. The first
features writer/director Mark Rosman and actresses Kate McNeil and Eileen Davidson as they talk about the making of the movie. The second commentary features Rosman again. This time he is with host Katarina Leigh Waters. There is some repetition in the commentary.
Special Features:
This two-disc release is quite loaded with supplemental items. With extended interviews from cast and crew – some clocking in at over 45-minutes – we get quite the picture of the making of this movie. All the interviews are filled with candid recollections. Also included are storyboards, an alternate opening, a theatrical trailer and some television spots.
Disc 1 (Blu-ray)
Original Pre-Title Sequence (2 min)
Harley Jane Kozak Interview (42 min)
Alternate Ending/Storyboard Comparisons/Production Stills (7 min)
Theatrical Trailer
Three T.V. Spots
Disc 2 (DVD)
Kate McNeil Interview (14 min)
Eileen Davidson Interview (7 min)
Mark Rosman Interview (21 min)
Richard Band Interview (45 min)
Igo Kantor Interview (10 min)
Details

Published:

21 January 2018

Written by Loron Hays
Stigma (1972)
4 Beers
Don Johnson has A Boy and His Dog long before there was any idea of Sonny Crockett. It's only fair then, in those pre-Miami Vice days, that Philip Michael Thomas had an exploitative cult hit under his no-belted waist, too. Stigma, a movie that tackles a nasty sexually transmitted disease AND racism, is exactly that for Tubbs. It's also pretty damn good in its rollout, too.
Debuting on blu-ray thanks to the efforts (and fine taste) of Code Red, Stigma is the next film from director David E. Durston, who originally wowed audiences with I Drink Your Blood, a drive-in cult classic inspired by the Manson killings. This time, his low-key treatment of venereal disease caught the attention of the United States Navy who famously used the film to dissuade sailors from going overboard with their shore leave when it came to women.
Here, though, he tackles a deadly STD that is spread throughout an isolated community thanks to a lot of promiscuous pant-dropping teenagers with nothing better to do with their free time. Equal parts chilling and unnerving, Durston, once again on a nickel-and-dime budget, manages to achieve something far beyond what he should have been able to do. It's less obvious with its themes and plays down the horror in an attempt to be more critical of the current society with its racial misgivings.
It works, too. Low-key and managing a very active camera, the film benefits from headstrong performances and a strong POV shots thanks to the immediacy of its tense situations on the island locale.
We are introduced to Dr. Crosse (Thomas) upon his release from prison for an illegal abortion that resulted in a woman's death. Already, we are curious. He heads to a bar for a quick drink before moving on. He is first hit on by a gay patron and then another. "Mind if I drink," the coked-out woman sitting next to him eventually asks. "As long as you're payin'" he chuckles.
He even stands up for the homosexual man when the woman takes her issues out on him. Crosse is not a man who messes around. But upon his arrival to a small island community, he's run into nothing but trouble and it begins with the local law officer who warns him not to fool around in town or with their women, especially his daughter. Uh oh.
Practicing safe sex in an exploitation film is tough, you know? Co-starring Harlan Cary Poe and William Magerman, this film amps up the paranoia thanks to the discovery of the widespread disease. This is the wild subject matter of Stigma as it unloads upon one hated doctor to find the cure that will help this community of white privileged women and their big Moby Dicks.
The town hates him for his color and the good professor he's visiting had died due to a sudden heart attack. He was working on a cure for the epidemic that has plagued the small island community. And now, when he's not spying on them via telescopes, must save the people from themselves and the things they fondle in the dark of night.
Brainwashed. Whitewashed. And venereal disease. Stigma, now on blu-ray thanks to a brand new 2K scan from the original negatives by Code Red, holds nothing back. And it gets sicker with each and every kiss!
Blu-ray Specifications:
Code Red presents Stigma in 1080p with a 1.78:1 aspect ratio and a DTS-HD Master Audio 2.0 that doesn't disappoint. The island-bound film is full of color and crisp details in its green and pink trappings. Fabric textures in clothing are visible, especially in sweaters. Reds are bold. Blues are strong and so are blacks, with the shadows maintaining their depth. Most of the sequences are vivid and expressed with a new clarity thanks to HD upgrade.
Commentary
The disc comes with a new commentary from writer/director David E. Durston that is moderated by Jeff McKay.
Special Features:
Along with the fantastic commentary and the sparkling new 1080p transfer, fans of this feature get a new 18-minute featurette with the film's director and several trailers.
Featurette With Director David E. Durston (18 min)
TV And Theatrical Trailers
Details

Published:

20 January 2018

Written by Loron Hays
"You have no future," read the signs and flyers populating this flick. With those words, a whole new world of arm-wrestling, cyborgs, truck drivers, and low-flying helicopter chases over bridges begins. Hands of Steel goes rogue soon after it begins and concerns itself ...
Details

Published:

19 January 2018

Written by Loron Hays
Holy Frying Felines! How are YOU going to explain the C-A-T in the rotisserie? It is, of course, one of my favorite questions in this cat-centered cult classic that Scream Factory puts back into circulation this week. The bizarre film, with its lurking cats and mysterious music ...
Details

Published:

18 January 2018

Written by Loron Hays
Finally. With this release from Australian home video company Umbrella Entertainment, a long requested top 10 horror film arrives on blu-ray. Stephen King's Silver Bullet, starring Gary Busey, Everett McGill, Corey Haim, Anne of Green Gables' Megan Follows, and LOST's ...
Details

Published:

18 January 2018

Written by Loron Hays
"Yor's world! He's the man! Yor's world!" With these puzzling lyrics, Oliver Onions, a duo best known for their cheesy soundtrack work, perfectly matches their cosmic melody with a downhill (and hilariously goofy) introduction to our hero. He's trying really hard to be all ...
Read more: Yor, The Hunter from the Future: The 35th Anniversary Edition (1983) - Blu-ray Review
Details

Published:

17 January 2018

Written by Loron Hays
Sick thrills for hotheaded teenagers! The Cuban Missile Crisis! Bring in the nuked and still marching ants, too! My God, I love this film. I, too, have a serious crush on William Castle, the producer the film is based upon. His independently made horror films, no matter how ...
Read more: Matinee: Collector's Edition (1993) - Blu-ray Review
Details

Published:

16 January 2018

Written by Loron Hays
The boy wakes up. His hair is a mess that no comb will be able to contain. Dirk the Daring, the best knight in the kingdom of King Ethelred, stares back at him from his wall. The kid, a little pudgy around the middle, flexes in the mirror before slipping on his shirt. He goes down the stairs. His Big Dog ...
Read more: Greyskull's Eighties Kids: Nostalgic Ear Candy for Saturday Mornings (and NIGHTS!!!) of Smurf...
Details

Published:

13 January 2018

Written by Loron Hays
Eurotrash cinema by way of slinky and naked snake handling? Yummy. If gorgeous and exotic topless women dancing open-mouthed with a damn big snake wrapping around them as an organ soundtrack plays with a chorus of female voices chanting "Gee-gee-I" turns you on ...
Read more: Emmanuelle and the Deadly Black Cobra (1976) - Blu-ray Review
Details

Published:

11 January 2018

Written by Loron Hays
"Alright, ladies, from here on out your machete is your best friend. Keep it clean. Keep it sharp. And keep it well oiled." With those specific instructions, the burly guards of one sugarcane harvesting prison program in Costa Rica unleash Hell itself by arming the ...
Subcategories