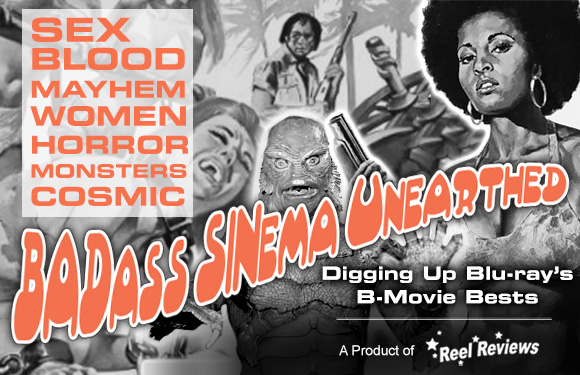 Record City (1977)
2 Beers
Transfer: 3 Beers
Audio: 2 Beers
Special Features: 1 Beer
Talk about 1970s television star power! Everyone - from Kinky Friedman to Ruth Buzzi - is stocking the shelves at Record City. The familiar faces keep turning up in this store!
Directed by Dennis (Land of the Lost) Steinmetz, this comedy is centered around the exploits happening in one day at a downtown record store as wacky people come in to shop and clock-in there. Everything is damn nutty here. From the sexually-charged manager (played by Michael Callan) to the sexually-repressed cleaning lady (played by Buzzi), everyone has eyes for everyone else.
But no one seems to see the would-be thieves and only accidentally thwart their plans to steal the vinyl.
Unfortunately, this Car Wash knockoff is one huge swing and a miss when it comes to comedic storytelling. Everyone in the movie is playing the shallowest form of a caricature and they often go for the lowest of the low when it comes to comedy. From the sexist store manager who finds his "Do Me" music being played over the loudspeakers in the store to all the "Tongue" references being tossed around by the staff, Record City's single lift when it comes to laughter arrives when you've had enough of all the absurdity and finally give in.
That's just about the time that Gallagher takes the stage, too. Yup, that's what this film has to offer: Gallagher smashing shit.
Because, in light of all the record store robberies in and around the Los Angeles area, it only makes sense for this motley crew of second-hand spinners to sponsor a radio-sponsored talent show contest featuring George Barris custom cars and Rick "Disco Duck" Dees in their parking lot. That certainly won't attract unwanted "shoppers" to their store.
Maybe it's when Sorrell "Boss Hog" Booke gets stuck in a toilet on his way to apprehend the thief. Maybe it's when The Love Boat's Ted Lange does his robotic voice as he educates viewers on Kinky Friedman's musical exploits, but there is some weird charm to this futile effort to cash in on episodic comedy.
Honestly, I think I laughed more than I thought I would as Ed Begley Jr. shoves his hand down his partner-in-crime's pants or when Larry Storch playing a deaf customer asks for Beethoven and then annoys the cashier with "what, what. What?" comments. So, to be specific, you've got. Jack Carter as the owner of the record store, Harold Sakata as a homosexual strong-arm, Alice Ghostley and Leonard Barr as an elderly couple who keep reacting to the whores outside the store and the dancers in the store, Jeff Altman as a Nazi-spouting engineer, and Frank Gorshin as the REAL thief.
It's madness times three in Record City. Silly and full of some bad slapstick acts, the film also stars Wendy Schaal, Tim Thomerson, and Stuart Getz. Rescued from the bargain bins by Scorpion Releasing, this HD transfer was newly minted from the best possible sources and is only available through Ronin Flix.
Get your rocks off?
Blu-ray Specifications:
Rescued from the bargain bins by Scorpion Releasing, this HD transfer was newly minted from the best possible sources and is only available through Ronin Flix. This madcap comedy chronicles the exploits of the employees at a record store as they get ready for a big talent contest.
Video:
This 1080p transfer, newly minted in HD, comes from a variety of sources. It's television quality indeed, but that doesn't necessarily mean that there aren't some nuggets of details to be found in this low budget affair. Black levels are unwavering and the images are less muddy than they could have been. The film is dominated with reds and cool blues that absolutely burst with color and, while the interior scenes suffer a bit, there is a nice vibrancy to what is happening in the streets outside of the store. The clothes are detailed and the backgrounds - featuring great detail-oriented album art - burst with new details and a nice level of clarity. Black levels are solid and skin tones are natural.
Audio:
A strong DTS-HD Master Audio track supplies the sound and the dialogue for this release.
Commentary:
None.
Special Features:
There is only one supplemental item, a theatrical trailer.
Theatrical Trailer
Tucked far enough away from civilization, the bleak desert that surrounds the ranch at the center of this independently made feature from 1955 makes for some unsettling moments. There's nothing around the ranch except sand and mountains in the distance. Its remote location is already changing the ...
Read more: The Beast with 1,000,000 Eyes (1955) - Blu-ray Review
No one screams like Jamie Lee Curtis. No one. Combine those ear-piercing screams with a creepy Groucho Marx mask, a young David Copperfield, a ghostly train ride, and you have sure fire success for a late October night full of terror and mystery. Rising above the typical ...
Read more: Terror Train: Limited Edition (1980) - Blu-ray Review
It doesn't take Night Key very long to kick into high gear. Boris Karloff, starring as an inventor of a bank alarm who gets pissed that he's not getting the money or the credit for his invention, finds himself in over his head with a group of gangsters who want to get rich quick. With nowhere to turn to ...
Read more: Universal Horror Collection Volume Four: Night Key (1937), Night Monster (1942), The Climax...
What happens when like-minded British and Hong Kong film producers get together to make a cheapo-depot sex film? They ride the success of Alien, amp up the sex, and make one of the strangest exploitation films of the early 1980s. Inseminoid is a horror film like few others. Thanks to ...
Giant-sized cockroaches in the Brady Bunch house?! Yes, please. What other secrets are those unclean Brady's hiding? With Bug, a film that locks its horrors upon fire-farting cockroaches, we find out! ...
Seven films into his career and Bong Joon Ho continues to impress audiences with dark and thoughtful material. This time, with Parasite, he delivers a film that is so topical and so well made that even Hollywood had to stop and take notice. Parasite is THAT memorable. ...
Ray Harryhausen and his stop-motion work is legendary. While his stuff is slow to trickle out on blu-ray, the high-def picture and the clarity the format provides is always insightful into his creative processes. The latest round of his work comes from Indicator, a UK company that offers their ...
Read more: The Wonderful Worlds of Ray Harryhausen Volume One: 1955 - 1960: It Came From Beneath the Sea, 20...
Ladies and Gentlemen, Richard Stanley is back! I have just been introduced to my new go-to movie. Color Out of Space is right up there with Mandy when it comes to imaginative tales of terror. The mixture of CGI and practical effects in this science fiction horror narrative is downright disturbing ...
Brewster's Millions remains a screwball comedy that simply knocks it out of the park. Home runs don't get much wilder than this ...
Read more: Brewster's Millions: Collector's Edition (1985) - Blu-ray Review