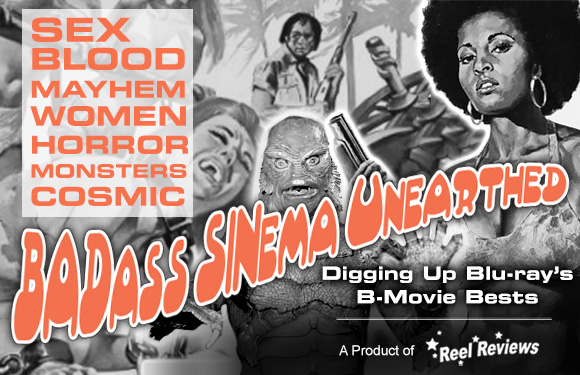 Blind Fury: Retro VHS Packaging (1989)
4 Beers
Transfer: 3 Beers
Sound: 3 Beers
Special Features: 0 Beers
It's time to unfocus your eyes! Forgive. Forget. And deal a mighty ass-whooping out to all those who would seek to do you harm! Blind Fury is back, baby!
Nick Parker (Rutger Hauer) isn't looking for trouble but trouble finds him wherever he goes. So when this blind vietnam vet takes his sword-wielding talents back to the states and discovers that his best friend, Frank Deveraux (Terry O'Quinn), has been kidnapped by a crime syndicate to make drugs for them in Reno, Nevada, he delivers a Blind Fury to all who get in his way.
Hilarious, charming, and absolutely bat-shit insane, director Phillip Noyce (Patriot Games, A Clear and Present Danger, SALT, The Bone Collector, The Saint) and actor/producer Tim Matheson team up to deliver the kick-ass, matinee-minded exploits of one mortar-blinded American soldier in 1989's Blind Fury who returns to the states after a 20-year absence to find and forgive his best friend.
The movie serves as a lightweight remake of one of the entries in the the Japanese Zatoichi film series, but coupling the familiar chop suey exploits with Daredevil-like abilities and a lot of humor works well for a character actor like Hauer and, thanks to the script from Charles Robert Carner, he's allowed to handle both his cane and his katana with some startling new abilities - such as heightened senses thanks to the supreme samurai training he received from the villagers who saved him back in Vietnam.
His finely-tuned abilities are the gifts that keep on giving as he returns to America and tries to locate his friend, only to discover that his friend's son, Billy (Brandon Call) is in mortal danger from a crime syndicate lead by MacCready (Noble Willingham), who wants to use the young kid as leverage in his plight to control all of Nevada. With Slag (Randall "Tex" Cobb) doing MacCready's bidding, Nick arrives in time to prevent Billy's kidnapping and two embark on a road trip to Reno in order to save Frank.
But it won't be easy.
Between all the shootouts and the blind swordplay, Hauer has his work cut out for him, but it all works (and continues to work) marvelously, making Blind Fury one hell of a blast from the past. Considering the amount of severed limbs there are in this cheap action flick, it's surprising to be reminded of just how earnest and sweet in nature Hauer keeps his character. Nick - or Uncle Nick as it were - is all about getting revenge - especially when Frank's wife (Meg Foster) dies in his arms. But his promise to her is sacred and, for us, the fun comes in watching him deliver vengeance time and time again as another meathead underestimates this blind warrior.
He's lucky he can't see what he's up against! Blind Fury is now on blu-ray thanks to Mill Creek and their ongoing retro VHS slipcovered series.
Blu-ray Specifications:
Rutger Hauer plays a blinded Vietnam vet who also happens to be an expert swordsman. Twenty years after the war, Hauer finds himself waist-deep in gangsters when he tries to help the son (Brandon Call) of an old army buddy. Along the way, he reforms an ex-comrade in arms (Terry O'Quinn) who was responsible for the accident that blinded him.
Video:
With an aspect ratio of 1.78:1, Mill Creek delivers a fairly robust visual punch with this scan. Nothing has been improved visually since the last release, but that doesn't mean their efforts shouldn't be ignored. The AVC MPEG-4 1080p offering is pretty solid. Colors pop off the screen in crisp arrays from start to finish. Blacks are a constant presence and are rich and inky, and perhaps a little crush seeps in, robbing some detail but it isn't to a detrimental level. Skin tones can't be referred to as natural, but they are detailed, holding their own in HD.
Audio:
There is a lossless Dolby Digital 2.0 soundtrack included with this release and it makes the ass-whooping a fun, two-channel affair.
Commentary:
None.
Special Features:
None.
Details

Created:

12 January 2021

Published:

12 January 2021

Written by Loron Hays
My daddy was a bank robber! I've said it before and I will continue to say it again and again and again: Liam Neeson is "The January Man". Ever since the success of Taken, he's been in just about every January-released action flick that you can imagine becoming cinema's own Winter ...
Details

Created:

07 January 2021

Published:

07 January 2021

Written by Loron Hays
This Italian-Spanish co-production is a shoddy-looking horror film. Know that first. Panic, also known as Bakterion) is also quite interesting in its own way, weaving a tale about scientists who create something they cannot even hope to control through failed bacteria experiments, as it has more ...
Details

Created:

30 December 2020

Published:

30 December 2020

Written by Loron Hays
The new comedy starring Anne Hathaway and Rebel Wilson called The Hustle is an almost identical remake of the 1988 classic comedy Dirty Rotten Scoundrels which starred Michael Caine and Steve Martin - itself a remake of Marlon Brando's Bedtime Story. I say "almost" because ...
Read more: Paramount Presents: The Golden Child (1986) - Blu-ray Review
Details

Created:

23 December 2020

Published:

23 December 2020

Written by Loron Hays
Ladies and gentlemen, we finally have a fitting conclusion to The Godfather. It might have taken us some time to get there, but with the release of The Godfather, Coda: The Death of Michael Corleone, that finale is upon us and what a much better film this cut is as it celebrates its 30th ...
Read more: The Godfather, Coda: The Death of Michael Corleone (1990, 2020) - Blu-ray Review
Details

Created:

21 December 2020

Published:

21 December 2020

Written by Loron Hays
"Fool! Your fare is the only thing stopping me from breaking your face!" Directed by Joel Schumacher (Lost Boys, Falling Down, 8MM, Batman & Robin), D.C. Cab is his blissfully unaware feature film which follows in the hilarious footprints of The Incredible Shrinking Woman, which ...
Details

Created:

13 December 2020

Published:

13 December 2020

Written by Loron Hays
Love it, hate it, or just leave this crazy fantasy flick alone, there's no denying that The Beastmaster, directed by Phantasm's Don Coscarelli, is a certified home-run when it comes to B-minded sword-and-sorcery romps. Magnificent muscles? Check. Nudity? Check. Magic? ...
Read more: The Beastmaster: Limited Edition 4K UHD (1982) - Blu-ray Review
Details

Created:

11 December 2020

Published:

11 December 2020

Written by Loron Hays
Give me some blood! Whip him! She Mob begins with an absolute BANG. Forget what you've heard about this film being utterly unwatchable. It isn't true. Sure, sure, the "adult" material goes on for far too long, but all of that simply adds to the weirdness ...
Read more: She Mob/The Girl from Pussycat (1968) - Blu-ray Review
Details

Created:

07 December 2020

Published:

07 December 2020

Written by Loron Hays
They don't make 'em like this anymore! Spanish director José Ramón Larraz offered some exploitation masterpieces in his time behind the camera. From the SIN-sation that is Vampyres to the unnerving brilliance that is Black Candles, Larraz was known for his fiery persona ...
Think you know street racing, son? If you haven't seen Harry Hamlin (Clash of the Titans), Dennis Hopper (Blue Velvet), and Dan Haggerty (Grizzly Adams) go at it beneath the twinkling stars of Los Angeles, then you don't know shit about driving fast on city streets. ...