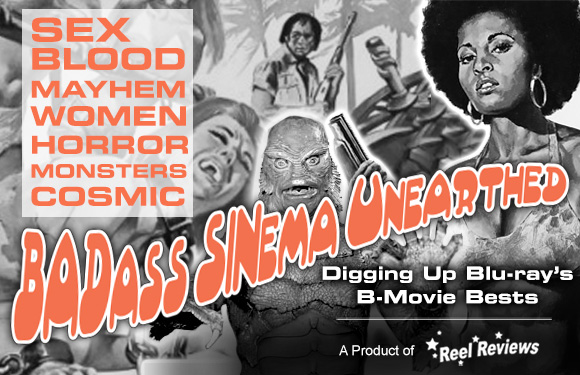 Cue the android ninjas! Ninjas make everything better, right?! Peter Weller wasn't ever going to do RoboCop 3. That's a fact. There was a twisted little movie called Naked Lunch that he was going to do instead. But that didn't ...
Read more: RoboCop 3: Collector's Edition (1993) - Blu-ray Review
Orion Pictures, the independent studio that got lucky from time to time at the box office, was in deep financial woes during the making of RoboCop 2. They needed Murphy's return to the streets to be a big hit. It wasn't. Scream Factory, providing the critically panned ...
Read more: RoboCop 2: Collector's Edition (1990) - Blu-ray Review
Monogram horror titles are interesting films to watch. Always cheaply made productions with shadows that plunge into the depths of the corners, these black-and-white films – spanning from 1940 to 1946 – feature known names in the genre, yet were nothing more ...
Ray Harryhausen's work doesn't age. That statement is best understood after viewing Warner Bros Archive's blu-ray release of The Valley of Gwangi. In the years since it's release, many have seen and appreciated it for the wild adventure that is. That was not; ...
When the dude recording the sound for your movie fucks up and every sound, squeak, dialogue, and fart has to be created in post-production, it's probably best to inject a healthy does of camp, camp, and more camp. Kevin Tenney, the writer and director of Night of the ...
Something powerful has been triggered deep inside a little girl. If not nurtured correctly, it could destory us all. When writer/director John Carpenter backed out of Firestarter, he took his adapted screenplay with him. It was probably a good idea. His version had ...
Read more: Firestarter: Collector's Edition (1984) - Blu-ray Review
Directed and co-produced by Luciano Ercoli, Death Walks on High Heels isn't quite the giallo film his next one, Death Walks at Midnight, would be. Ercoli and screenwriter Ernesto Gastaldi haven't found their rhythm together and it shows with scenes that are a bit too self-indulgent ...
Read more: Death Walks on High Heels (1971) Special Edition - Blu-ray Review
Fashion models know a thing or two about being stalked. The paparazzi are always present and that camera they hold is always snap, snap, snapping away. Every photo could be the one to make them a million bucks. It is not everyday; however, that these models are ...
Read more: Death Walks at Midnight (1972) Special Edition - Blu-ray Review
If the final few moments of director Donald Cammell's Demon Seed don't disturb you, then you are probably dead. The reveal of just how twisted the computer controlling the house at the center of this tale is a dire warning that, obviously, we did not heed. In fact, there ...
The carnival might be closed, but the freaks are still running around. At least that's what the two detectives in 1976's Drive-In Massacre have to say about all the murders that are plaguing one town's drive-in theater. The purveyors of cinematic filth and cheese over at Severin ...