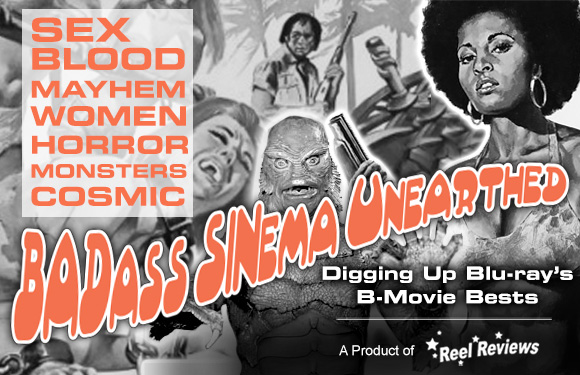 Homegrown terror returns with the release of Retromedia's The Wasp Woman/Beast from Haunted Cave. This black-and-white double feature is absolutely killing it in my blu-ray player as both films – one directed by Roger Corman and one directed by Monte Hellman ...
Read more: The Wasp Woman/Beast from Haunted Cave: Widescreen Double Creature Feature (1959) - blu-ray review
Hey batter batter batter! Swing batter!! Or is that, as Garth and Wayne used to suggest, schwing?! With the amount of boobs and blood on the screen in this homerun, it's hard not to see this tale of horror as anything but a win for the home team. Peelers, with one confident ...
Poverty Row brings it again! Vintage horror films rarely get as good as the jewel uncovered here with The Film Detective's release of a restored version of The Vampire Bat. There is so much happening with this forward-thinking film that watching it – especially on blu-ray – ...
Read more: The Vampire Bat: Special Restored Edition (1933) - Blu-ray Review
Director Sophia Takal's Always Shine is a disturbing tale of friendship gone wrong. It is a twisted tale where the horror is mostly psychological but always edgy. It is also the tale of female friendship and explores just how tense that territory can be, especially within ...
Zombies! Kung-Fu!! Stippers!!! Cannibals!!!! Monks? Raw Force, a raunchy slice of cinematic sleaze aimed at 12-year-old-boys, has it all. This poorly acted tale of high seas adventure to the burial place of great warriors is so amazingly oblivious to all of its flaws that it retains ...
Corporations largely suck. On that point, we can probably all agree. Corporations smuggling killer bees into the United States; however, suck a little bit more than the rest. Insanely goofy with random bee attacks and superimposed bee swarms causing planes to crash ...
The words "show me wonders" should probably never be uttered in a horror movie concerning an evil genie. The bloodbath that follows such a command is a gnarly one. Thank the maker for 1997 and its use of insane PRACTICAL effects. Limbs are lost, throats are slashed, and ...
Read more: Wishmaster Collection: Vestron Video Collector's Series (1997 – 2002) - Blu-ray Review
During the 1970s, overpopulation and pollution was one the minds of many. From scientists to audiences, the world was all-abuzz with the idea that too many people bumping into each other might just kill us all. It wasn't due to a concern of disease and infection; it was over ...
The fate of director Norman Lee's Chamber of Horrors (aka The Door with the Seven Locks) is forever tied with Great Britain's lifting of the Board of Censors' ban on all things ghoulish and unsavory. To say that the British response to the lifting of the ban was tepid is an ...
"I can see death staring me in the face," says renowned doctor Ludwig Weiss midway through The Man Who Could Cheat Death. It's one of many clever lines in this forgotten gem from Hammer Studios. The horror film doesn't have the Technicolor swaths of other Hammer ...
Read more: The Man Who Could Cheat Death (1959) - Blu-ray Review