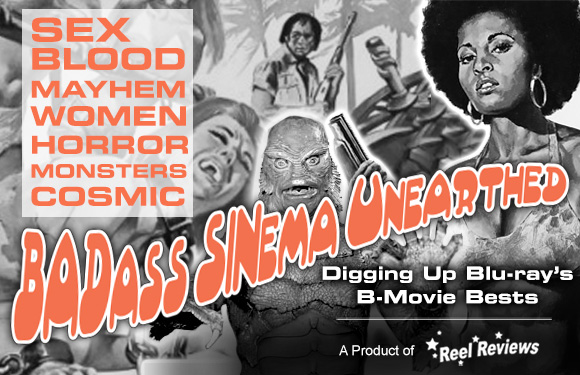 This film might kill you. Honestly, truer words have seldom been spoken. The banging window. The knocking on the door. Don't investigate it, Jenni (Peggy Webber), just leave it alone. Webber could be your plainspoken Auntie, folks, and you definitely don't want anything ...
Remember that time when famed Italian director Mario Bava co-directed a wacky tale of science fiction terror about a Mayan blob that tormented some researchers in Mexico? What's that? You don't remember Caltiki, the Immortal Monster or the pool of gold- ...
Read more: Caltiki, the Immortal Monster (1959) - Blu-ray Review
About twenty minutes into The Mephisto Waltz all hell breaks loose when a costume party literally goes to the dogs. With a human mask securely fastened to its head, a black dog strolls into the room. Don't adjust the picture. Yes, even the canines are into the devil's work ...
Being the obstinate fool that I am, I have had many run-ins with local law enforcers. I just can't help myself. Most of them – mustached or not – have been surprisingly accommodating, using zip ties instead of handcuffs and so on. Of course, there's always that asshole ...
"Sometimes I dare death to try to catch me. Grab me. Ya know what I mean," confesses a stuntman named B.J. (James Stacy). B.J., who lost his arm and leg on the left side of his body (along with his wife) after an unfortunate car crash, is just one of the many interesting ...
In which the real monsters are revealed to be us, brothers and sisters. Welcome to Hell, motherfuckers! My friends and I often have conversations about the horror movies released during the 1990s and what is so painfully wrong with most of them. And then we get to ...
Read more: Tales from the Hood: Collector's Edition (1995) - Blu-ray Review
Holy shit! Tree roots from Hell!! Edited together in such a way to kill any sense of forward momentum, the sheer lunacy of Contamination .7 (also released as The Crawlers, Troll 3, and almost any other title imaginable) makes this release from Scream Factory ...
"I'm the red queen. She's the black queen," chants Kitty's sister, Evelyn. The two siblings have grown up raised by their grandfather. The family mansion has been their playground, but the two sisters have always been fighting. His stories have often revolved around ...
Read more: The Red Queen Kills Seven Times (1972) - Blu-ray Review
Some men should never remarry. Alan Cunningham (Anthony Steffen, Django the Bastard), a milk-obsessed lover of ginger-haired strippers, is one of those poor, unfortunate bastards. Don't boo hoo him. He's lost his shit a long time ago. Plus, in this insane tale of lace ...
Read more: The Night Evelyn Came Out of the Grave (1971) - Blu-ray Review
Originally paired at the drive-in with 1,000 Convicts and a Woman, director Martin Scorsese scored a significant victory for producer Roger Corman with Boxcar Bertha, his take on the Great Depression's many ravages upon the downtrodden. Yes, even the great Martin ...