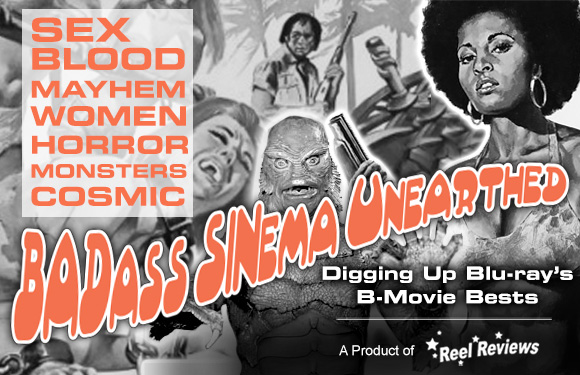 "You don't want to go out. You don't want to go home. What do you want to do, Andie?" The pink, volcanic ensembles. The cast - Molly Ringwald, Harry Dean Stanton, Jon Cryer, Annie Potts, James Spader, and Andrew McCarthy - bringing their best acting to a BRILLIANT script ...
Read more: Pretty in Pink: Paramount Presents Edition (1986) - Blu-ray Review
Classic film noir - with its emphasis on atmosphere and futility - simply doesn't get any more claustrophobic than in Cornel Wilde's directorial debut, Storm Fear. A classic thriller which has West (The Naked Prey) starring, producing, and directing ...
Read more: Film Noir: The Dark Side of Cinema, Volume I: Storm Fear (1955) - Blu-ray Review
It begins, hilariously enough, with some fairly shitty-looking stock footage of glaciers sliding off into the sea. Big budget this Yeti flick is not. Relatively quickly, we are whisked away to a fishing trip that quickly gets ruined by a ...
Read more: Yeti: The Giant of the 20th Century (1977) - Blu-ray Review
"You'll eat my dinner or one of you walks out of here with a bullet in his head." John Garfield, one of the original rebels in film cinema, is absolutely on fire in He Ran All The Way and, sitting right next to him, is Shelley Winters, a true partner in crime, as ...
Read more: Film Noir: The Dark Side of Cinema, Volume I: He Ran All the Way (1951) - Blu-ray Review
The "witness" in this film noir title is Barbara Stanwyck. The murderer is George Sanders. I'm not spoiling anything for those who have never seen Witness to Murder. In fact, we see the murder happen in the very first scene as Stanwyck as Cheryl Draper looks out her apartment ...
Read more: Film Noir: The Dark Side of Cinema, Volume I: Witness to Murder (1954) - Blu-ray Review
"No one would have believed, in the middle of the 20th century, that human affairs were being watched keenly and closely by Intelligences greater than man's. Yet, across the gulf of space on the planet Mars, intellects vast and cool and unsympathetic regarded our Earth with envious eyes ...
Read more: The War of the Worlds: Criterion Collection (1953) - Blu-ray Review
Never mess with another man's melons! Once that sick theme song from composer Charles Bernstein kicks in, you know that this film is going to be an epic showdown. It doesn't disappoint either. No clean window - be it in a car or a house - can stop him ...
The horror! The hilarity! The frauleins! Insanity follows in Horrors of Spider Island, a Z-grade schlockfest, from Germany! Released here in the United States as It's Hot in Paradise, with some cuts made so that all the girls keeping their clothes on, the horror film finally sees the light of day again ...
In the wake of composer Ennio Morricone's passing, there are few things as beautiful and as moving as his score set to the playful opening of prolific movie mogul Dino De Laurentiis' Orca: The Killer Whale! Sure, this is a JAWS rip-off, but watching those beautiful beasts hurl themselves out ...
The Dynamic Duo of silent AND sound comedy return! This release has been a long time coming, but finally - thanks to Jeff Joseph in conjunction with the UCLA Film & Television Archive and the Library of Congress - Stan Laurel and Oliver Hardy have arrived on ...
Read more: Laurel & Hardy - The Definitive Restorations: 4 Disc Special Edition Collector's Set (1927 - 1937)...