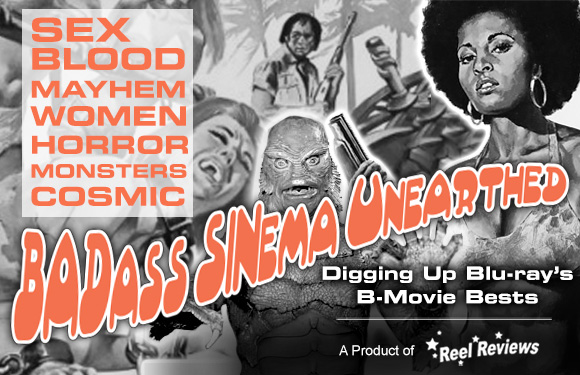 Cinephile Kiddies and Cretins, come gather round and let me tell you a story about two bumbling reporters who, on an assignment to Dracula's home turf, uncover the continuing reign of a bi-polar mad scientist who experiments on people, turning them into crotch-grabbing swamp monsters ...
Emperor Ming the Merciless (a very FUN Max von Sydow) of the planet Mongo is bored. In the famous opening of Flash Gordon, he admits of his boredom and decides to play with Earth and causes widespread destruction . . . like floods, heavy winds, and a hellish barrage of flaming meteors ...
Read more: Flash Gordon: Limited Edition Ultra HD 4K (1980) - 4k UHD Review
AS I have previously stated, Pre-Code Hollywood fascinates me. There are a lot of grand and wonderful films reflecting the true culture of the time period from 1930 – 1934. Man, it must have been a wild time. These films, featuring strong sexual innuendos, different races mingling ...
Read more: Universal Horror Collection, Volume Six: The Black Castle (1952), Cult of the Cobra (1955), The...
And with Pitch Black, Vin Diesel arrives! "They say most of your brain shuts down in cryo-sleep. All but the primitive side, the animal side. No wonder I'm still awake." That opening line of voice-over narration is our first introduction to criminal Richard B. Riddick ...
Read more: Pitch Black: 4K Blu-Ray Special Edition (2000) - Review
Suspense! Action! And GIANT telepathic crabs! What more could you ask for in a B-movie?!?! Absolutely nothing and that's why Attack of the Crab Monsters, now on blu-ray with a brand-new 2K transfer thanks to Shout! Factory, continues to rule when it comes to non-stop Z-grade motion ...
Read more: Attack of the Crab Monsters (1957) - Blu-ray Review
Shout Factory is back at it with their HUGE collection of Roger Corman titles and, while these limited releases are only available through their store (www.shoutfactory.com), the titles are definitely worth owning, making these releases a lot like crate-digging for jazz records. Fans obsess about them and for ...
Read more: Caged Heat/Jackson County Jail (1974, 1976) - Blu-ray Review
In what might be one of the most exploitative openings in Hammer's 1970 era, we see a grave robber (Doctor Who's Patrick Troughton) struggle mightily with a corpse in a grave and, after a police officer falls in the now-empty grave, we see a jar of gooey, squishy eyeballs (looking very ...
Read more: Frankenstein and the Monster from Hell (1974) - Blu-ray Review
Big gun! Number one! Maybe it's the heavy biker boots announcing his thunderous arrival to all lawbreakers in a post-global warming world. Maybe it's the dark, circle-framed sunglasses through which he sees all varieties of criminal behavior in ...
Read more: Split Second: MVD Rewind Collection (1992) - Blu-ray Review
Poor Ben (John-Paul Howard). No one believes him. No one. And he is seeing, as he has come in for the summer to work at his Dad's marina, a lot of strange shit that defies easy explanation. Unfortunately, no one believes in witches anymore ...
Eight discs, six stories, and 650 minutes of classic science fiction. That's what fans get with the BBC's latest Doctor Who release which features the fourteenth season of classic Doctor Who, constituting the third trip around the sun for Tom Baker in the titular role as everyone's favorite ...
Read more: Doctor Who: Tom Baker - The Complete Season Three (1976 - 1977) - Blu-ray Review