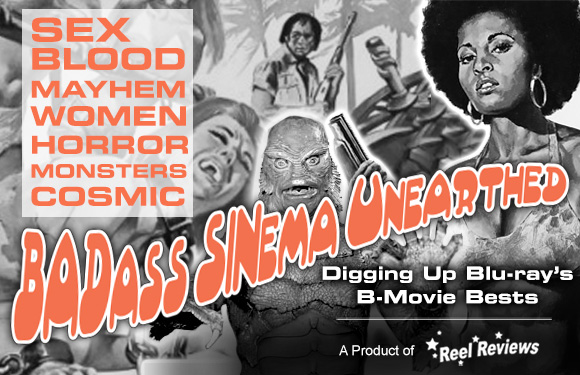 Mutant mayhem strikes doubly hard in Scream Factory's twofer release of 1977's Empire of the Ants and Jaws of Satan, originally released in 1981. One flick has mutant ants growing as big as people in it and the other features a morbid python possessed by Satan himself. Both ...
Read more: Empire of the Ants/Jaws of Satan (Double Feature) - Blu-ray Review
The B-movie. The Creature Feature. The Creepy Crawlies Double Feature. Whatever your name for the horror genre's offshoot is, Scream Factory – with their twofer release of Food of the Gods and Frogs – is who you'll want to thank if you are into (like me) these low-grade ...
Read more: Food of the Gods/Frogs (Double Feature) - Blu-ray Review
Writer, director, producer Roger Corman, the celebrated King of the B-movie, has very rarely let me down as a member of his audience. I found his book, How I Made a Hundred Movies in Hollywood and Never Lost a Dime, to be a sort of oracle guiding me across the California ...
Read more: X: The Man with the X-Ray Eyes (1963) - Blu-ray Review
Writer/director Robert Hiltzik's notorious slasherfest has returned to stalk the shelves right in time to celebrate the summer season. No need to pack your overnight bags, though. There's no coming back from this batshit crazy camping experience. What will be seen can ...
The films in the collection might be at random and, as a result, it might be incomplete but Shout Factory's release of The Vincent Price Collection is truly something any fan of classic horror can celebrate with cake, decorations, and nonstop parties this Halloween season ...
Welcome back to the Interzone. This is not a place for those unfamiliar with the lasting effects of strong narcotics and paranoia. It is a place for the sad and lonely or quite possibly the sad junkie walking around wounded in an uncaring world. He strolls ...
Read more: Naked Lunch: The Criterion Collection (1991) - Blu-ray Review
It. Has. Arrived. Plan 9 from Outer Space is believed to be the worst movie of all time. It was originally made in 1959, long before the days of M. Night's The Happening or The Last Airbender which are examples of the worst movies ever made ...