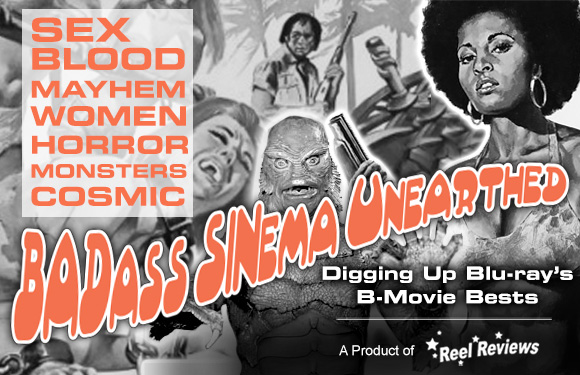 Written and directed by John McTiernan, Nomads is a film whose reputation as a disappointing film suffers solely because it was released way ahead of its time. Print critics simply killed the film with the pen and their negative reviews upon its initial release in 1986 but – ...
A professor, haunted by his own words of disbelief in the supernatural, runs across an empty beach as the surf crashes violently against a steady shore of rock and sand. He is frantic in his search for his wife who is convinced that the taking of her life will prevent the loss of his. This scene is one of ...
The Monster That Challenged the World might not be the smartest creature feature from the heyday of the atomic age but it is nonetheless enjoyable. It opens with a peaceful shot of what is supposed to be California's Salton Sea as a brilliant white light – emerging ...
Read more: The Monster That Challenged the World (1957) - Blu-ray Review
Grateful Dead. Janis Joplin. The Band. Buddy Guy. What do they all have in common? Well, other than being fantastic rock bands, artists, and live performers, they once upon a time in 1970 shared the same train as it traveled through Canada and played a series of ...
Produced by Roger Corman in what amounts to a marketing miracle, Howard R. Cohen's Space Raiders remains a cheesy kid's tale through space as a ragged band of pirates mistakenly abduct a small boy and allow him to join in on their merry fun. It is a film as fun as it ...
Director Fred Olen Ray's Biohazard is probably the best example of just how universally mutated the creature features coming out of the 1980s were becoming with their mix of gore, boobs, and lasers. I'm not saying Fred Olen Ray's film is completely dismissible in any sense (read ...
Read more: Biohazard: Specially Signed Edition (1985) - Blu-ray Review
The seldom travelled road. The hungry crow. The desert wind. The fire red Mustang broke down on a stretch of lonely road. Opening with the mysterious abduction of Kate Barrett (Catherine Hickland) by a sudden dust cloud and the thundering sound of hooves, Ghost ...
Opening with the familiar notes of Glen Miller's "In the Mood", Zone Troopers is a fresh take on the clichéd WW2 war movie with its combination of American soldiers, Nazis, and aliens. Charles Brand (Puppet Master) strikes again, right? Seriously. Once you climb inside this supersonic ship ...
Go ahead. Revoke my membership to the cool kids table at the lunchroom. I guess I simply don't care to hear anymore from anyone about how goddamn awful Cherry 2000 is. It's not. Not in the least. I originally saw this during a summer film fest when I was younger. ...
Pam Grier. Yaphet Kotto. Carl Weathers. Scatman Crothers. Eartha Kitt. All directed by Arthur "Detroit 9000" Marks. Need I say anything more about this film's potential for mass appeal? And yet most people do not know about the savvy adventure of Miss Friday Foster as ...