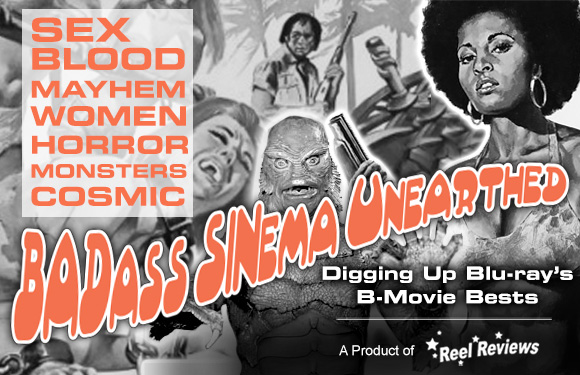 …in which the origins of American International Pictures are unearthed… B-movies, quite literally, do not get any worse than with the events depicted inside The Beast of 10,000 Leagues. Born from America's post WWII fears, the quick look at the nuclear-made ...
Read more: The Phantom from 10,000 Leagues (1955) - Blu-ray Review
James Brolin. A demonic car. Some Native American warnings. And the arid American desert. What else do you need to have one helluva damn good time? Nothing. And that's exactly the territory of The Car, a horror film that owes its inception to the success of Jaws. Directed by ...
When you get to a B-movie as aptly titled as The Brain that Wouldn't Die, you – of course – have to embrace disbelief with open arms. If you do, you won't exactly be disappointed with the results as one doctor refuses to give up on his girlfriend and decides to attach her ...
Read more: The Brain That Wouldn't Die (1962) - Blu-ray Review
It was only a matter of time. Poe couldn't be the sole horror author to get ALL the attention from the cinema. And so, when it came to a new round of anthology items to consider, Vincent Price found himself caught inside the pages of Nathaniel Hawthorne's Gothicism ...
Bela Lugosi. George Zucco. John Carradine. Why wouldn't a Horror Hound NOT want to check out director William Beaudine's Voodoo Man? Of course, there are plenty of things wrong with this unintentionally campy horror flick BUT it's all so perfectly harmless that ...
...because little kids really can be this terrible! The horror/comedy hybrid is a really weird and tricky sub-genre to tackle as a writer. Everything has to hit in such a manner that it satisfies both genre devotees just right. Leave it then to one of Glee's creators, Ian Brennan, and ...
It's a Wonderful Life's Gloria Grahame and Len Lesser (ya know, Uncle Leo from Seinfeld), make a deadly duo in Philip Gilbert's Blood and Lace. Written and co-produced by Gil Lasky (The Night God Screamed), the slasher flick is a wannabe skin flick that teases its sleaze ...
…in which Canada makes its very first wide-release horror movie. Wait. What?! It's true. It wasn't until the early 1960s that our polite friends up north decided to tingle their spines with the psychological art-house 3D terror of director Julian Roffman's The Mask (AKA ...
Bruce Dern attaching two heads to a monkey. Hell, Dern attaching two heads to anything!!! If that image doesn't get you excited for a schlock film full of nastiness, then I doubt little else will. You should probably stop reading and click somewhere else. Still here? Okay ...
Read more: The Incredible 2-Headed Transplant (1971) - Blu-ray Review
Genre fans rejoice! The creature feature B-movie category just got a brand spankin' new addition to its roster of gore, charm, and cheese. Stung, directed by Benni Diez, is just the type of garden party turned story of survival you've been waiting for. Full of genetically-mutated ...