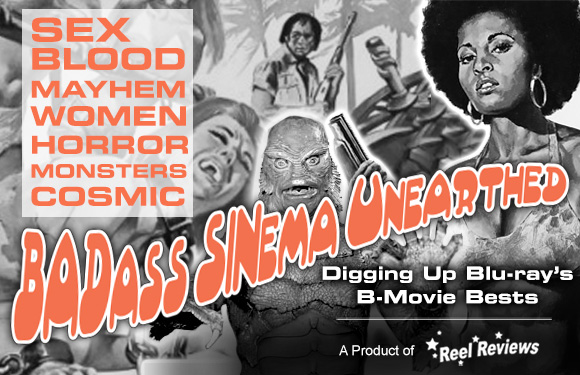 Sonny Boy is, thankfully, a relatively unknown movie. I say thankfully because if more people knew about director Robert Martin Carrol's screwed up flick, there would be hell to pay when it came to morality codes and such things as good, decent taste. Few people ...
Let's go ahead and give the British the coveted award for best werewolf movie in quite a long while. It is much deserved. Howl, directed by make-up effects wiz Paul Hyett (The Seasoning House), is quite an effective independent feature with a rollicking cast of hairy ...
Warner Bros – as part of their Archive Collection – simply do not realize or appreciate some of the lesser-known gems they have on their hands. With the bare-boned blu-ray release of The Ice Pirates, their misunderstanding of this science fiction comedy is as audible as it ...
When we get to the films of director Frederick R. Friedel let it be known that we are in very special B-movie territory. Inspired equally by the eye of Orson Welles and the taste of Roger Corman, Friedel and his gang of film conspirators combined their talents and put North ...
Read more: The Films of Frederick R. Friedel: Axe/Kidnapped Coed (1974 -1976) - Blu-ray Review
South Korea's first entry into the kaiju movie genre is probably the sole reason to ever pick up a copy of Kino-Lorber's 1080p treatment of Yongary, Monster from the Deep and that truly is ONLY if you are nut about the genre. Believe me when I tell you that this is a monster ...
Read more: Yongary, Monster from the Deep (1967) - Blu-ray Review
…in which the origins of American International Pictures are unearthed… B-movies, quite literally, do not get any worse than with the events depicted inside The Beast of 10,000 Leagues. Born from America's post WWII fears, the quick look at the nuclear-made ...
Read more: The Phantom from 10,000 Leagues (1955) - Blu-ray Review
James Brolin. A demonic car. Some Native American warnings. And the arid American desert. What else do you need to have one helluva damn good time? Nothing. And that's exactly the territory of The Car, a horror film that owes its inception to the success of Jaws. Directed by ...
When you get to a B-movie as aptly titled as The Brain that Wouldn't Die, you – of course – have to embrace disbelief with open arms. If you do, you won't exactly be disappointed with the results as one doctor refuses to give up on his girlfriend and decides to attach her ...
Read more: The Brain That Wouldn't Die (1962) - Blu-ray Review
It was only a matter of time. Poe couldn't be the sole horror author to get ALL the attention from the cinema. And so, when it came to a new round of anthology items to consider, Vincent Price found himself caught inside the pages of Nathaniel Hawthorne's Gothicism ...
Bela Lugosi. George Zucco. John Carradine. Why wouldn't a Horror Hound NOT want to check out director William Beaudine's Voodoo Man? Of course, there are plenty of things wrong with this unintentionally campy horror flick BUT it's all so perfectly harmless that ...