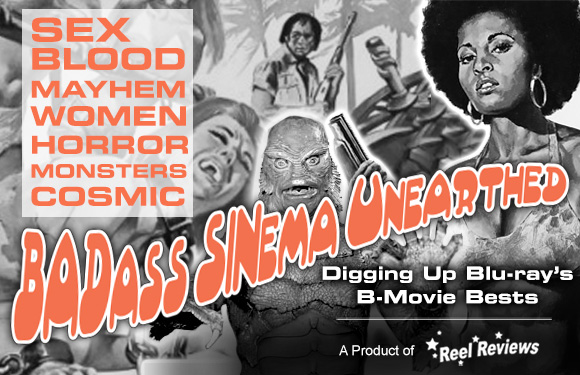 ...in which the whole Nature VS Nurture argument finally gets its hands bloody. Okay, so maybe Morgan isn't all that original. The story about an artificial intelligence being raised in a laboratory and the human assigned to evaluate her when she goes rogue and actually...
"Put your weight on it, put your weight on it, put your weight on it," shouts comedian Rudy Ray Moore as he spins the latest disco record on the dance floor for his patrons. His tight powder-blue leotard flairs out at the feet and spreads wide across the chest. Silver jewelry ...
As fond as I am for Anthony Perkins' acting talents, I have to say that Psycho IV: The Beginning is a film best suited for those looking to complete the Norman Bates experience only. It is interesting in that it operates as a prequel and as a third sequel to the horror series at ...
"Now are you ready to tell me the secrets of the death ray," snarls Bela Lugosi as the all-black wearing villain in Chandu the Magician. He plays Roxor, an evil mastermind hell-bent on ruling nations with the destructive power of a new invention. And only one man can ...
Details

Created:

27 August 2016

Published:

27 August 2016

Written by Loron Hays
Embracing a joyously retro-generated vibe of all things bursting with rainbows, unicorns, NES, comic books, and Michael Ironside, Turbo Kid laser blasts its way onto blu-ray with the single mission to – as the late Rowdy Roddy Piper once famously adlibbed – "kick ass and chew ...
Read more: Turbo Kid: 3-Disc Ultra Turbo-Charged Collector's Edition (2015) - Blu-ray Review
Shelley Winters unhinged is some scary-ass shit. And that's a fact. Whoever Slew Auntie Roo? presents the actress as a civilized AND extremely wicked woman who longs to be reunited with her dearly departed daughter. Now before you get all sentimental (because, you ...
Microwave Massacre is the type of low budget horror-comedy that few have patience for. It's slapped together from long first takes (because the producers had no money to waste) and, as the opening credits spell out (complete with chikka-wah-wah porn-styled tunes ...
To this day, The Adventures of Bukaroo Banzai remains one helluva wild ride. There is no other film that quite matches its new wave swagger. Nothing comes close to its style or its wit and, while a complete product of its time, the film has remained relatively ageless due ...
Read more: The Adventures of Buckaroo Banzai Across The 8th Dimension (1984) - Blu-ray Review
"Can you still do the things with your eyes? You're not crazy if you can still do the thing with your eyes." I will NEVER forget the first time I saw Philip Kaufman's Invasion of the Body Snatchers. I wouldn't go outside in the rain for weeks afterwards thanks to the opening ...
Read more: Invasion of the Body Snatchers: Collector's Edition (1978) - Blu-ray Review
Now, THIS shit is bananas. While I'm sure Gwen Stefani did not have Hardcore Henry – or anything like it – in mind when she penned the lyrics to her song, the chorus fits in describing almost EVERY element of the action flick. Produced by Wanted's Timur Bekmambetov ...