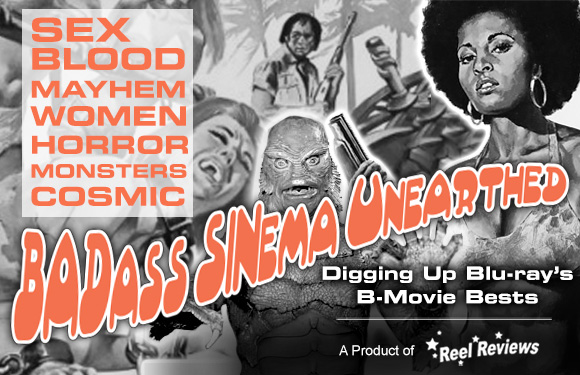 Blood Bath is one of Roger Corman's wildest endeavors. I dare suggest that the history of the movie is probably far more interesting and unpredictable than the movie itself. Well, to be exact, Blood Bath, having started its life in 1962 and finally released in 1966, is actually ...
When it comes to directing1970s fantasy/adventure films, Kevin Connor is definitely one of the genre's mad geniuses. After showing a very versatile set of skills in bringing dinosaurs back to life with aplomb in The Land that Time Forgot, he flexed hardcore alongside returning ...
Read more: The People That Time Forgot (1977) - Blu-ray Review
Oliver Reed. George Kennedy. Jose Ferre. And action movie regular Brian Thompson (otherwise known as the alien bounty hunter in The X-Files). What movie could possibly bring them together? And for what reason? Other than probably being unemployed at ...
Anyone's education in cinema involves stopping for a spell in New York City. While you are there, though, be sure to not skip out on the knowledge that can be gained by watching 1970's fascinating Cotton Comes to Harlem. ...
Barry Shear's Across 110th Street remains a hard-hitting look at racial violence in the streets of New York City. Loaded with hundreds of F-bombs, there's no denying its visceral power and, while the film gets lumped in with a lot of other Blaxploitation flicks from the era, the ...
Written and directed by Larry Cohen (The Stuff), Black Caesar is essentially a remake of 1931's Little Caesar with Edward G. Robinson. To its credit; however, Cohen's film has enough stylized action and Harlem locale in it to make it stand out and far, far apart from the ...
The odds were not in Easy Rider's favor. Coming off of Roger Corman's The Wild Angels and the Jack Nicholson-penned The Trip, Peter Fonda was digging his heels into the counterculture scene. He and wild man Dennis Hopper, driven to tell another tale of ...
Read more: Easy Rider: Criterion Collection (1969) - Blu-ray Review
Death Becomes Her is, ironically enough, getting a much longer shelf life than ever expected. After suffering from abysmally dismissive reviews at the time of its release, the black comedy is now celebrated as a cult flick. And why not? It's dark and twisted; definitely ...
Read more: Death Becomes Her: Collector's Edition (1992) - Blu-ray Review
Rudy Ray Moore is not an actor. He is not a master of Kung Fu either. He isn't even a pimp but his stand-up comedy took a legendary turn when he adopted the persona of Dolemite and started hilariously rapping and rhyming about sex and violence with a bravado that ...
The Zero Boys is a forgotten entry in the horror genre. While it has the abandoned cabin in the woods and a group of horny teenagers out looking for a good evening of fun, The Zero Boys throws together several different genres and winds up creating a blended atmosphere ...