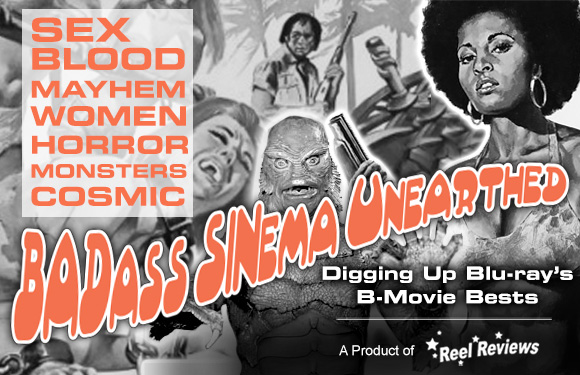 Jack Frost has been granted an extended life, Ghouls and Boils! With more schlock than shock, this earnest slasher is truly a gift to manunkind. Wait. Don't tell me you've never heard of this one, fellow freaks. No, it does NOT star Michael Keaton as a harmonica-blowing ...
Read more: Jack Frost: Limited Edition Lenticular Artwork (1997) - Blu-ray Review
It came from outer space to eat the living! With this tag, Fred Olen Ray's The Alien Dead arrived in theaters. This was his first theatrically released film and, while it underperformed, there's no denying that a legacy for schlock was born. While the B-movie disappeared ...
Read more: The Alien Dead: Limited Signed Edition (1978) - Blu-ray Review
While the results are far from perfect, The Neptune Factor probably began its life as an imagined undersea adventure with some unexpected moments of the bizarre. It's certainly creative with what it offers, but the results are beyond disappointing. The film cuts its characters ...
Windows up. Doors locked. Such is the paranoid view that David Cronenberg's Rabid presents in his commercial follow-up to his debut, Shivers. Quebec and Montréal, due to a highly suspect procedure received by Rose, the lead character actress Marilyn Chambers ...
Read more: Rabid: Collector's Edition (1977) - Blu-ray Review
It is the first film to receive an X rating solely for its violent content. I Drink Your Blood is also a masterpiece of the drive-in. Its debut on blu-ray, thanks to Grindhouse Releasing, is an important one. It is not to be missed. Writer/director David Durston (ABC's Tales of ...
Read more: I Drink Your Blood: Limited Horror Hypo Edition (1971) - Blu-ray Review
Melinda Clarke, who stars in Brian Yuzna's Return of the Living Dead 3, might just be the hottest zombie ever to grace the silver screen. She is, after all, the original living dead girl. She's a wild girl, complete with flaming red hair and ice-cold eyes. Her edgy personality and ...
Read more: Return of the Living Dead 3 (1992) - Blu-ray Review
"I'm a hungry man!" When Vestron Pictures originally released C.H.U.D. 2: Bud the C.H.U.D. back in 1988, they knew exactly the type of movie they had on their hands. And it wasn't a horror flick. The sheer lunacy of following up a horror film with a straight comedy might ...
Read more: C.H.U.D. 2: Bud the C.H.U.D. (1988) - Blu-ray Review
Nevermind the fact that the theme song – performed by Yes' Jon Anderson – plays something like four times throughout the movie. Please ignore the mess the film leaves as questions go unanswered. And, for the love of all that is holy, just appreciate what John ...
Read more: Biggles: Adventures in Time (1986) - Blu-ray Review
"But, Miss Hammond... Helga! No Hammond ever ventures into the rocky lane on a foggy night," is the warning. It's the siren song of an entire family line. You see, the Hammond family IS cursed. Some might say they are cursed by wealth. Others will suggest it is ...
God bless Samurai Cop. Seriously. Ranking alongside The Room and Troll 2, Samurai Cop rounds out a trio of films so fucking bad that they are unyieldingly hilarious. You want to set the tone of a party right? Rent this bitch. The result of stitching together an action movie ...