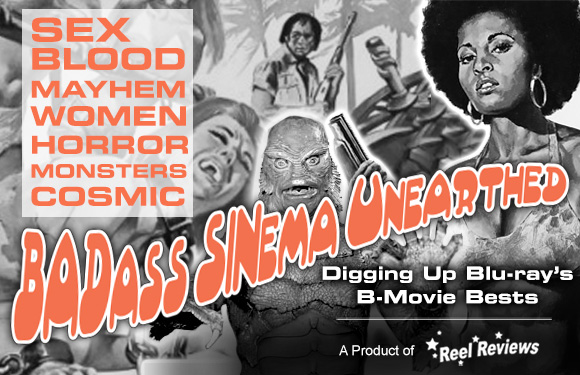 Mr. King, I think it is safe to say that Clive Barker is STILL the future of horror ...
Read more: Hellraiser: The Scarlet Box Limited Edition Trilogy - Bluray review
For those of you out there wanting to gain access into the celebrated madness that is the b-movie world, Dreamscape is a certified rite of passage. You. Must. Enter. Here. All paths lead through its twisting corridors. Scream Factory celebrates this fact with their updated 2K ...
Read more: Dreamscape: Collector's Edition (1984) - Blu-ray Review
Director Abel Ferrara (of Ms. 45 and Bad Lieutenant fame) and his long-time collaborator, screenwriter Nicholas St. John, are certified madmen of the NYC gutter scene. They are art punks through and through, tirelessly splattering their canvas with a bit of the old ultra-violence ...
Read more: The Driller Killer (1979) 2-Disc Special Edition - Blu-ray Review
Super tongue strikes again! Bob Clark's Black Christmas is a masterpiece of horror (and humor) that you truly can deck the halls with. There's no other way to put it. Oh, the print critics had a field day punting it around at the time of its release, but the joke is on them ...
Read more: Black Christmas: Collector's Edition (1974) - Blu-ray Review
I'm not sure if it is Tangerine Dream's electronic score or Tommy Lee Jones' performance as the veteran who takes over Central Park for about two days or the subject matter itself of pushing back against the system that makes The Park is Mine work so insanely well ...
The follow-up to the 1982 hit Creepshow probably arrived three years too late. While George A. Romero and Stephen King are involved with the project, it simply doesn't have the same deadly bite that the first one did. Directed by Michael Gornick and written by Romero, the ...
Thanks to J.J. Abrams and everyone's efforts at Bad Robot, I have – to date – watched Phantasm more times in the past 2 months than in the whole of my entire life. The reasons are clear. It is, warts and all, one of the most perfect B-movies of all time. It's re-release in ...
Laird Cregar. I'd like to spend a minute or two dwelling on just how awesome he is as an actor. Hilarious in the screwball comedies he was cast in, Cregar was a very tall man of many hats and he never failed to deliver a memorable performance. He was an imposing figure ...
Jack Frost has been granted an extended life, Ghouls and Boils! With more schlock than shock, this earnest slasher is truly a gift to manunkind. Wait. Don't tell me you've never heard of this one, fellow freaks. No, it does NOT star Michael Keaton as a harmonica-blowing ...
Read more: Jack Frost: Limited Edition Lenticular Artwork (1997) - Blu-ray Review
It came from outer space to eat the living! With this tag, Fred Olen Ray's The Alien Dead arrived in theaters. This was his first theatrically released film and, while it underperformed, there's no denying that a legacy for schlock was born. While the B-movie disappeared ...
Read more: The Alien Dead: Limited Signed Edition (1978) - Blu-ray Review