BADass SINema Unearthed - Blu-ray Review
Movie Review

Details

Blu-ray Review

Trailer

Art
"It's too dark! It's too daaaaaark," screams an eight-year-old boy. Bouncing on his bed, he is need of some bedtime stories to ease on into sleep. Unfortunately, his creeper of an uncle, Peter (Scott Valentine) is the only adult in the house and his idea of bedtime stories is, well, falls on the other side of tasteful. He's missing the Miss Nude USA contest on television and if he is going to be making-up stories to tell this boy, he's going to make sure that it has enough tits and ass and moments of bondage to keep himself interested in what happens.
This is the domestic set-up of the largely demented horror anthology Deadtime Stories. Must get the boy to bed. That is the mantra. Resurrecting the b-movie from the dead, Scream Factory has issued the film on blu-ray with a fine 1080p transfer minted from the original camera negative and slapped some NEW supplemental material on the release which ought to please all the Horror Hounds and Gore-Gore Gorillas out there.
Released in 1986 due to the unexpected success of Creepshow, writer/director Jeffrey Delman doesn't exactly care if he offends the casual viewer; this is tasteless territory and those with no soul (or taste) are often rewarded. Delman's there to entertain in a very cheeky way; one that embraces a bit trashier camp than you'd expect. Full of horrible acting, the film NEVER puts on a serious face (until the very end) and, essentially, issues the middle finger to almost everyone out there.
It's tasteless, trashy, and itching to claw its way into your memory. In this way, the flick succeeds. The three tales at the center of this horror yarn are all mindless versions of well-established children's tales. We get raunchier versions of Red Riding Hood and Goldilocks and the Three Bears, and another story – the one that kicks of the anthology, in fact – with a killer witch and a reanimated worm-like corpse, courtesy of effects artist Ed French.
Everything in Deadtime Stories is told by a man who would rather not be sitting in a child's bedroom. It shows. Whether this is a good thing or not depends on you. Personally, the anthology has been better served elsewhere, but usually on a better budget. For some b-movie enthusiasts, this one is an easy HELL NO, but the flick does have its loyal followers.
Toss in some dim-witted songs guided by some cheesy Casio synths and you have all the ingredients in this left-of-center horror flick. Of course, the film is uneven and the chuckles are few and far between, but there's always the gratuitous nudity and gore to keep some heads from completely rotating away from the screen for very long. And then there's the cast, which includes Melissa Leo, to consider. The "talent" goes for broke with the on-screen chaos and plays little of the shenanigans straight.
If hairy junkies, virginal maidens, and big-breasted teenagers fill your heads (and beds) at night, then Deadtime Stories might be the flick for you.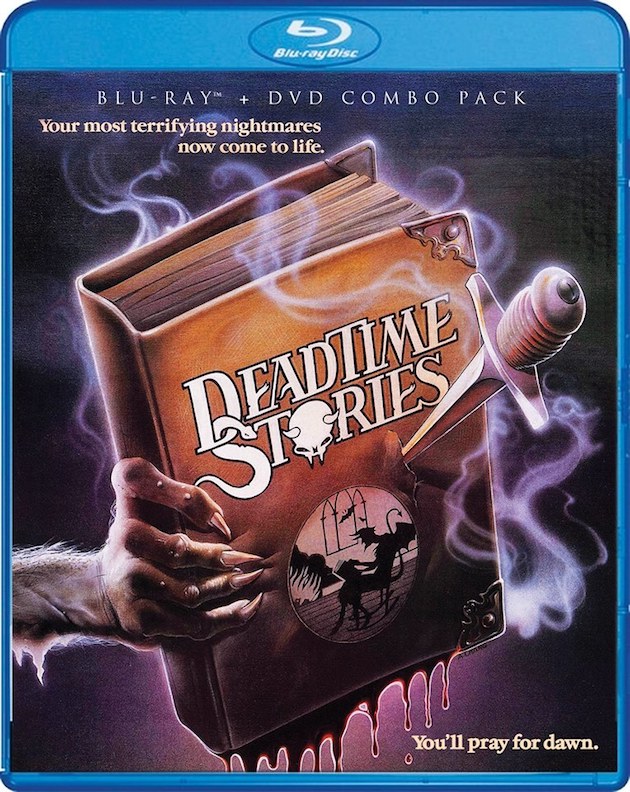 MPAA Rating: R.
Runtime: 93 mins
Director: Jeffrey Delman
Writer: Jeffrey Delman
Cast: Scott Valentine, Nicole Picard, Matt Mitler
Genre: Horror | Comedy
Tagline: Just when you thought it was safe to hide.
Memorable Movie Quote: "You go away! I got a meat cleaver here, and I know how to use it!"
Theatrical Distributor: Cinema Group
Official Site:
Release Date: November 28, 1986
DVD/Blu-ray Release Date: February 28, 2017
Synopsis: Your favorite nightmares come to life in a salute to the age-old bedtime story ritual. Travel on a mysterious journey to a medieval world populated by blood-crazed witches, evil experiments and captive maidens. Then from the catacombs and dark caverns of medieval Europe, you'll plunge into modern suburbia and the adventures of a female jogger stalked by a savage werewolf. Finally, sensuality will become macabre, black comedy as you follow the trail of three bank robbers who share their country house hideaway with a sweet murderess.

Blu-ray Details:
Home Video Distributor: Shout Factory
Available on Blu-ray - February 28, 2017
Screen Formats: 1.85:1
Subtitles: English
Audio: English: DTS-HD Master Audio Mono
Discs: Blu-ray Disc; Two-disc set; DVD copy
Region Encoding: Region A1
Scream Factory presents Deadtime Stories on blu-ray with a 1080p transfer (1.85:1 aspect ratio) that has been newly minted from the original camera negative. The results are noticeable. At once, the black levels have been punched up, complete with variations and thick lines in the boy's bedroom. There's a killer attention to detail and the gore – including the reanimated corpse – have a new sheen to the action. Colors are strong and, while they don't pop off the screen, they do appear much stronger. Daylight scenes are green with foliage and crisp, too. The sound – cheese and all – is rendered with an unforgiving Dolby Digital Mono track.
Supplements:
Commentary:
Jeffrey Delman – the film's producer, writer, and director – has the commentary duties for the film. It is a solid track that offers a lot of detail about the filming of the movie. It's a little dry, but also a little interesting.
Special Features:
The highlight of the release should be the new interviews (recorded separately) with Melissa Leo and Scott Valentine. They talk about their experience on the film and laugh at themselves along the way. There's also an on-camera interview with co-writer/director Jeffrey Delman for those who don't want to sit through the commentary. A DVD copy of the film is also included.
I Like The Grotesque – An Interview With Co-writer/Director Jeffrey Delman
Interviews With Actors Cathryn de Prume, Melissa Leo And Scott Valentine
The Black Forest – An Alternate Cut Of The First Story
Deleted Scenes
Theatrical Trailers
Still Gallery