on Monday, 11 March 2019 14:12
And another hi-def hello to our fellow blu-ray geeks. Welcome to the weekly look at our most wanted titles coming to blu-ray and/or 4K Ultra HD for the week of March 12, 2019.
This week in blu-ray and 4K sees three new releases getting home video debuts in blu-ray and 4K UHD formats, and one of those films is fresh off winning an Oscar for Best Picture while another is our Most Wanted this week. Let's run through our list of Most Wanted on blu-ray and 4K.
Our most wanted release this week is from Warner Bros. who are hitting this title hard with about a half-dozen editions of its Fantastic Beasts sequel. Fantastic Beasts: The Crimes of Grindelwald is getting an Amazon Exclusive Blu-ray 3D + Digital HD release as well as a Blu-ray + DVD + Digital HD + Extended Cut, a Blu-ray 3D + Blu-ray + Digital HD edition, a Best Buy Exclusive SteelBook / 4K Ultra HD + Blu-ray + UltraViolet, a Best Buy Exclusive / Blu-ray 3D + Blu-ray + DVD + Digital HD, a Target Exclusive DigiBook / 4K Ultra HD + Blu-ray + Digital HD, and a Target Exclusive DigiBook / Blu-ray + DVD + Digital HD release.
Universal Studios has two super big releases this week, both on blu and 4K. The post-apocalyptic adventure film Mortal Engines is getting both a Blu-ray + DVD + Digital HD release as well as a 4K Ultra HD + Blu-ray + Digital HD release. We didn't catch this one in theaters but judging from the trailers, this one seems ripe for a future 3D release as well.
The studio is also putting out a Blu-ray + DVD + Digital HD edition as well as a 4K Ultra HD + Blu-ray + Digital HD edition of its Best-Picture-winning biographical comedy-drama Green Book both of which contain a handful of nice looking features.
The king of catalog title releases, Shout Factory is releasing three super-cool blu-ray editions this week. The 1987 Ridley Scott-directed romance crime thriller Someone to Watch Over Me is getting a blu-ray release that will feature a couple of new interviews on the bonus materials.
Next, we get a blu-ray release of the 1993 horror comedy film Man's Best Friend that is sporting a new 2K remaster as well as a new audio commentary with writer/director John Lafia. And lastly, Shout Factory is putting out a collector's Edition of the 1996 supernatural horror film The Craft that comes with four brand new interviews with the film's makers.
Kino Lorber has a great week in store for us with a couple of releases will most assuredly get the signature Kino brand of tender loving care. First up is the 1980 William Holden, Ricky Shroder drama called The Earthling which gets new 2K remasters of both the U.S. and the alternate International cut. This will mark the first time this film has been on DVD or Blu-ray. Next, the company is releasing on blu-ray the Finnish war film The Unknown Soldier on blu-ray. Note: this will be the full 180-minute cut of the film and will come with a couple of making-of featurette as well as a few deleted scenes.
Criterion gets our attention this week with a significant release in the form of the 4K restoration of the 1927 Harold Lloyd classic comedy called The Kid Brother which is widely considered one of the actor's best films.
The 1981 Belushi, Aykroyd dark comedy Neighbors is getting a Retro VHS Collectible release from Mill Creek. The film is directed by John G. Avildsen who won a Best Director Oscar for the 1976 film Rocky and marks John Belushi's final film.
The indie-horror film Kolobos is ready to come out this week with its new 2K restoration from Arrow Films. It hist blu-ray this week with both the Stereo 2.0 and the 5.1 audio options as well as interviews, featurettes, galleries, and more.
And finally, Warner opens its Warner Archive Collection this week with a brand new remaster of season one of the 1977 television series Man From Atlantis which starred Patrick Duffy in the titular role as the web-fingered, web-footed Mark Harris who is believed to be the only surviving citizen of the lost civilization of Atlantis. The blu-ray comes with no bonus materials.
---
Here is what is coming out on blu-ray and 4K Ultra HD This week
Mortal Engines (4K Ultra HD + Blu-ray + Digital HD)
Universal Studios

Street Date: March 12, 2019
Thousands of years after civilization was destroyed by a cataclysmic event, humankind has adapted and a new way of living has evolved. Gigantic moving cities now roam the Earth, ruthlessly preying upon smaller traction towns. Tom Natsworthy (Robert Sheehan)—who hails from a Lower Tier of the great traction city of London—finds himself fighting for his own survival after he encounters the dangerous fugitive Hester Shaw (Hera Hilmar). Two opposites, whose paths should never have crossed, forge an unlikely alliance that is destined to change the course of the future.
Blu-ray Details:
Audio Commentary by Director Christian Rivers
Welcome to London - Featurette
End of the Ancients - Featurette
Character Series - Featurette
In the Air - Featurette
Film New Zealand - Featurette
---
Green Book (4K Ultra HD + Blu-ray + Digital HD)

Universal Studios

Street Date: March 12, 2019
When Tony Lip (Mortensen), an Italian-American bouncer with a seventh-grade education, is hired to drive Dr. Don Shirley (Ali), a world-class African-American pianist on a concert tour from Manhattan to the Deep South, they must rely on the "Negro Motorist Green Book" to guide them to the few establishments that were then safe for Blacks. Confronted with racism, danger—as well as unexpected humanity and humor—they are forced to set aside differences to survive and thrive on the journey of a lifetime.
Blu-ray Details:
Virtuoso Performances – Go behind the scenes with Viggo Mortensen and Mahershala Ali as they discuss their characters and the lengths they went to accurately portray them.
An Unforgettable Friendship – Cast and filmmakers discuss the friendship between Don Shirley and Tony Lip.
Going Beyond the Green Book – Filmmakers and cast discuss the significance of The Green Book
---
Neighbors (Blu-ray)
Mill Creek

Street Date: March 12, 2019
Earl Keese (John Belushi, Animal House) is a slightly overweight, fairly average guy who is approaching middle age. He leads a reasonably comfortable life with his family in their suburban home. . . until the house next door is bought by a truly odd couple, Vic (Dan Aykroyd, Ghostbusters) and Ramona (Cathy Moriarty, Raging Bull), who quickly proceed to drive Earl crazy. Vic's lunatic behavior has Earl running in circles while Ramona's coarse seductiveness leaves him panting. In short, Earl's tranquil life is suddenly turned upside down. If it's laughs you want, these are the neighbors to look in on. John G. Avildsen (The Karate Kid) directs a dream comedy cast (including SNL regular Tim Kazurinsky) from a screenplay by the one and only Larry Gelbart (Tootsie, The Wrong Box).
Special Features:
---
The Kid Brother (Blu-ray)
Criterion

Street Date: March 12, 2019
Silent-comedy legend Harold Lloyd goes west in this irresistible blend of action, romance, and slapstick invention. The bespectacled everyman is at his inimitable best as Harold Hickory, the gentle son of a prominent lawman who lives in the shadow of his rough-and-tumble brothers. When a traveling medicine show rolls into town, it brings with it excitement, the possibility of love, and a chance for Harold to prove his mettle. Deftly balancing Lloyd's brilliant sight gags and thrilling set pieces—including an epic, knock-down, drag-out fight aboard an abandoned ship—with one of the actor-filmmaker's most fully realized, root-for-the-underdog narratives, The Kid Brother is a hilarious and heartwarming high-water mark of early screen comedy.
Special Features:
New 4K Digital Restoration
Orchestral score by composer Carl Davis from 1989
Alternate archival organ score performed by Gaylord Carter
Audio commentary from 2005 featuring filmmaker and Harold Lloyd archivist Richard Correll, film historian Annette D'Agostino Lloyd, and Harold Lloyd's granddaughter Suzanne Lloyd Harold's Leading Ladies, a new conversation between author Cari Beauchamp and Suzanne Lloyd
Anatomy of a Gag: Monkeyshoes, a new video essay by critic and filmmaker David Cairns
Behind-the-scenes stills gallery curated by Harold Lloyd archivist Richard Simonton Jr.
Close to Home, a new video essay on the film's shooting locations by author John Bengtson Dutch television interview with Lloyd from 1962
Featurette from 2005 about Greenacres, Lloyd's estate, hosted by Suzanne LloydTwo restored rare early Lloyd shorts: Over the Fence (1917) and That's Him (1918), with new Wurlitzer theater pipe organ scores and a discussion of their early film formats by archivist Dino Everett
New tour of the Wurlitzer organ with composer Nathan Barr and organist Mark Herman
---
Someone to Watch Over Me (Blu-ray)
Shout Factory

Street Date: March 12, 2019
Newly appointed detective Mike Keegan (Tom Berenger) finds his life turned upside-down when he's assigned to protect Claire Gregory (Mimi Rogers), the beautiful eyewitness to a brutal murder. Lured into danger and the dizzying heights of Gregory's glamorous lifestyle, Keegan struggles to walk the line between protection and obsession — while trying to stay one step ahead of the psychotic killer. Acclaimed director Ridley Scott paints an erotically seductive portrait of high-stakes suspense in America's power playground in SOMEONE TO WATCH OVER ME.
Special Features:
NEW interviews with Writer Howard Franklin and Director of Photography Steven Poster.
---
Kolobos (Blu-ray)
Arrow Films

Street Date: March 12, 2019
The Real World meets Saw by way of Suspiria in this super-smart, super-gory - and, sadly, super-overlooked - late '90s slasher effort from filmmakers Daniel Liatowitsch and David Todd Ocvirk, released in the midst of the post-Scream slice-and-dice revival. A group of youngsters arrive at a snow-covered house under the guise of participating in a "ground-breaking" new experimental film. With the entire property fitted out with cameras, their every move will be recorded. But when the house locks down, trapping the youngsters within, it soon becomes clear that something sinister is afoot. Scream - you're on camera…
Special Features:
New 2K restoration from the original negative
Original Stereo and 5.1 audio options
Audio commentary with co-writers and co-directors Daniel Liatowitsch and David Todd Ocvirk
Real World Massacre: The Making of Kolobos - brand new featurette on the making-of Kolobos including interviews with Daniel Liatowitsch, David Todd Ocvirk and co-writer/producer Nne Ebong
Face to Faceless - a brand new Interview with "Faceless" actor Ilia Volok
Slice & Dice: The Music of Kolobos - a brand new interview with composer William Kidd
Behind-the-Scenes Image Gallery
Super 8 short film by Daniel Liatowitsch with commentary
Original Trailer
---
Man's Best Friend (Blu-ray)
Arrow Films

Street Date: March 12, 2019
When an ambitious news journalist (Sheedy) breaks into a genetic research facility, she uncovers the biggest story of her career and unleashes the lab's most dangerous experiment: Max – a genetically enhanced guard dog with a vicious killer instinct. Superior sight, hearing, strength, and intelligence make him faster, stronger, and smarter than almost any other animal alive – and deadlier. Without the neuropathic drugs needed to curb his aggressive nature, his predatory urge runs out of control … and once he tastes blood, nothing can stop him.
Special Features:
New 2K Remaster
Audio Commentary with writer/director John Lafia
Theatrical Trailer
Teaser Trailer
TV Spots
---
The Craft (Collector's Edition Blu-ray)
Shout Factory

Street Date: March 12, 2019
The Craft also stars Neve Campbell (Scream, Wild Things), Fairuza Balk (The Island Of Dr. Moreau, American History X), Rachel True (Half Baked, Embrace Of The Vampire) and Skeet Ulrich (Scream, Riverdale).
Special Features:
New Directing The Craft – an interview with co-writer and director Andrew Fleming
New Producing The Craft – an interview with producer Douglas Wick
New Writing The Craft – an interview with co-writer Peter Filardi
New Effecting The Craft – an interview with makeup effects supervisor
Audio Commentary with director Andrew Fleming
Vintage Featurette – Conjuring THE CRAFT
Vintage Featurette – The Making of THE CRAFT
Deleted Scenes with optional audio commentary
Theatrical Trailer
---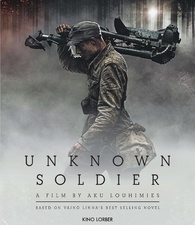 The Unknown Soldier (Blu-ray)
Kino Lorber

Street Date: March 12, 2019
The most expensive movie ever produced in Finland, the monumental war drama Unknown Soldier broke box office records in its homeland upon release. Based on the classic novel by Väinö Linna, it tells the story of an infantry unit's three-year tour of duty during the Finnish Continuation War. The film follows the story of Rokka, Kariluoto, Koskela, Hietanen, and their brothers-in-arms. It shows how friendship, humor, and the will to live unite these men on their way to the battlefront and back. The war changes the lives of each of the soldiers as well as the lives of those on the home front, and also leaves its mark on the entire nation.
Special Features:
180-MINUTE VERSION OF THE FILM
Into the Unknown: The Making of Unknown Solider
Deleted Scenes
Post-production Featurettes
Trailer
---
Man From Atlantis (Blu-ray)
Warner Archive Collection

Street Date: March 12, 2019
He's the lone survivor of a lost civilization...thrust into ours. A giant storm tosses ashore a being who is both human and a creature from the deep. Mark Harris is the name given to him by the astonished scientists who study and protect their remarkable find. Harris is equally astonished, a fish out of water eager to learn about us. Patrick Duffy (a year before beginning his legendary run on Dallas) plays the Atlantean in the origin movie that (along with three more films) preceded the cult classic Man from Atlantis TV series. In this adventure, Harris uses his amazing underwater abilities to save mankind from a madman's (Victor Buono) plot to launch missiles from all the world's nuclear submarines!
Special Features:
---
The Earthling (Blu-ray)
Kino Lorber

Street Date: March 12, 2019
Patrick Foley has been on the move all his life. Tired of drifting, he wants to spend his last days in an isolated Australian valley where he grew up. He meets Shawn whose parents were killed in an accident and who joins him on his journey. Starring starring William Holden, Ricky Schroder, Jack Thompson, Olivia Hamnett, and Redmond Phillips.
Special Features:
NEW 2K REMASTERS Includes both the 96-minute US cut and the 99-minute alternate International Cut
3 Deleted Scenes (no audio)
Theatrical Trailer
---
And now for our MOST WANTED ON BLU-RAY AND 4K for the week of March 12, 2019
Fantastic Beasts: The Crimes of Grindelwald (4K Ultra HD + Blu-ray)
Warner Bros.
Street Date: March 12, 2019
In an effort to thwart Grindelwald's plans of raising pure-blood wizards to rule over all non-magical beings, Albus Dumbledore enlists his former student Newt Scamander, who agrees to help, though he's unaware of the dangers that lie ahead. Lines are drawn as love and loyalty are tested, even among the truest friends and family, in an increasingly divided wizarding world.
Special Features:
Extended cut of the film (141 min).
Theatrical cut of the film (134 min).
J.K. Rowling: A World Revealed
Wizards on Screen, Fans in Real Life
Distinctly Dumbledore
Unlocking Scene Secrets: The Return to Hogwarts
Unlocking Scene Secrets: Newt's Menagerie
Unlocking Scene Secrets: Credence, Nagini and the Circus Arcanus
Unlocking Scene Secrets: Paris and Place Cachée
Unlocking Scene Secrets: Ministere des Affaires Magiques
Unlocking Scene Secrets: Grindelwald's Escape and the Ring of Fire
Deleted Scenes