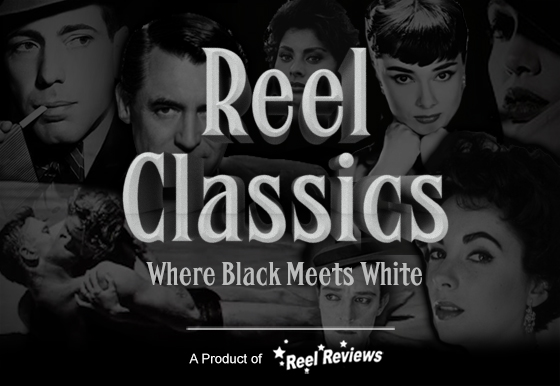 The Ghost Breakers (1940)
5 Reels
Video: 4 Reels
Sound: 3 Reels
Special Features: 3 Reels
It's the simplest twist of fates as Bob Hope and Paulette Goddard return to do battle with the supernatural in The Ghost Breakers! Voodoo, ghosts, and island-bound zombies! Add in a criminally underrated performance from Willie Best and you have the makings of another REEL CLASSIC!
Appearing only one year after the wildly successful The Cat and the Canary, this film - directed by George Marshall (who also helmed a number of Laurel and Hardy films and would go on to direct the remake of this film, Scared Stiff with Dean Martin and Jerry Lewis) - solidified the nuances of what became the horror/comedy genre offerings cemented by a famous series of Abbott and Costello films, Hold That Ghost and Abbott and Costello Meet Frankenstein.
Opening with power outage due to a heavy lightning storm, The Ghost Breakers establishes itself as a horror/comedy pretty quickly as crime reporter Lawrence Lawrence (Hope), who has his friends call him Larry, goes on the air from a Manhattan radio station with the latest information on crime boss, Frenchy Duval (Paul Fix). His one-liners zigzag this way and that, as he delivers the news and leaves us already clutching our sides on this dark and stormy night.
Hearing the broadcast (which continues even as the lights go out) from a Manhattan high-rise hotel, Frenchy calls Larry over to get the straight scoop. But Larry's no dummy. He and Alex (Willie Best), his valet, will be prepared for anything - which means going in fully loaded. Alex might be scared out of his mind in the dark, but his journey alongside Larry is only just beginning and Best, who was often criticized for his performances by the African-American community, brings a lot of great nuances to his character, even if his character is unfortunately stereotyped and made a bit uncomfortable by today's standards. Still, it is hard to fault Best.

The high-rise they are invited to just happens to be the same one that Mary Carter (Goddard), having just inherited a plantation and house in Cuba called Castillo Maldito, resides in and Larry, in a funny but freak accident involving a revolver and the pitch-black building, finds himself in her trunk as she is bound and determined - in spite of all the warnings she's received not to - to go to Cuba to inspect her property.
Dead bodies, mysterious phone calls from a Mr. Mederos (Anthony Quinn), and island zombies are not going to deter her plans at owning and operating a part of Cuba. Especially when she and Larry and Alex set foot in the abandoned mansion and begin to explore, opening up a mysterious plot to rob her of her inheritance. Throw in a sparkling necklace and the fact that she bares a stunning resemblance to one of the plantation's past owners and you have a frightfully fun time on your hands with The Ghost Breakers!
The Ghost Breakers, a pure comic jewel from 1940, is now on blu-ray with a sparkling new 2K transfer thanks to Kino Lorber Studio Classics.
Blu-Ray Specifications:
Screen greats Bob Hope (My Favorite Blonde, Road to Utopia) and Paulette Goddard (Nothing But the Truth, Reap the Wild Wind) co-star in another comedy-thriller, a year after their smash hit The Cat and the Canary. Ghosts and gags collide in this witches' brew of laughs, with Bob Hope as a Manhattan radio commentator who finds himself marooned on an island of the walking dead! Larry Lawrence (Hope), sought in connection with a murder he did not commit, eludes New York police by hiding in a steamer trunk. Soon the trunk (and Larry) are aboard a ship bound for Cuba, where the trunk's owner, pretty Mary Carter (Goddard), is sailing to take possession of a recent inheritance: a "haunted" castle. Sensing that Mary is in danger, Larry and his valet Alex (Willie Best, Whispering Ghosts) precede her to the island, which is inhabited by a ghost, a zombie and perhaps even a flesh-and-blood fiend. There's romance, comedy and chills as Hope and Goddard contend with earthly and un-earthly foes—and try to keep from ending up as ghosts themselves. Director George Marshall (Murder, He Says) also directed the 1953 remake, Scared Stiff, starring Dean Martin and Jerry Lewis. The stellar cast includes Paul Lukas (The Lady Vanishes), Anthony Quinn (Zorba the Greek) and Paul Fix (El Dorado).
Video:
With a crisp black-and-white 2K transfer, The Ghost Breakers lands on blu-ray thanks to the crackling efforts of Kino Lorber Studio Classics. Shadows, while not too terribly detailed, are thick and atmospheric throughout. Black levels - of which there are a lot thanks to all the tuxedos and suits - are powerful and thick. Presented with an aspect ratio of 1.37:1, the film looks marvelous and easily beats the poor appearance on television and on home video DVD that has previously dogged it thanks to its 1080p handling. The black-and-white photography here sizzles. The blacks and grays are handled expertly by the transfer.
Audio:
You'll be laughing through the scares thanks to the DTS-HD Master Audio 2.0 track which accompanies this film.
Commentary:
There is a NEW Audio Commentary by Author/Film Historian Lee Gambin that is everything you could ask for when it comes to diving into a film's history.
Special Features:
There's the Lee Gambin commentary, Trailers from Hell segment, and the film's original trailer included with the release.
TRAILERS FROM HELL with with Larry Karaszewski
Theatrical Trailer
Swamp gators (with their mouths taped shut as evidenced by this crisp 4K handling!), dead lawyers, and mighty sums of money! Such frightful delights await those that can stay sane in the Norman clan. ...