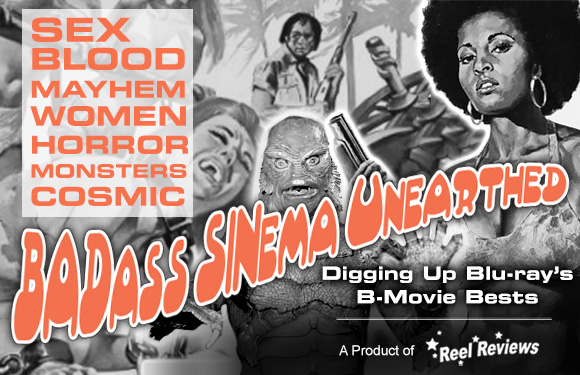 Details

Created:

25 July 2016

Published:

25 July 2016

Written by Loron Hays
When we get to any discussion on the films of William Castle, there are so many to consider that it becomes overwhelming. The famed director, producer, screenwriter, and actor never found a promotion he didn't like. He was, in fact, a sheer master of filling theaters with ...
Read more: William Castle Double Feature: Homicidal & Mr. Sardonicus (1961) - Blu-ray Review
Thank you, Scream Factory for this updated treat! Operating as neither a sequel to or a part of George A. Romero's Zombie series, The Return of the Living Dead doesn't really profess to be much of anything…except a hell of a lot of gory fun. That doesn't...
Read more: The Return of the Living Dead: The Collector's Edition (1985) - Blu-ray Review
With a ceremonial crashing of cymbals, Bernard Herrmann's thunderous score – completely without the use of strings - kicks off the drama and stop-motion wonder in Jason and the Argonauts. Directed by Don Chaffey (of Pete's Dragon and One Million Years B.C. fame) ...
Read more: The Fantastic Films of Ray Harryhausen (1958-1977) - Blu-ray Review
Centron Corporation. You're probably more familiar with their output then you are with their name. Housed in Lawrence, Kansas, this is the production company that supplied school districts across the United States with hundreds of educational films once viewed via film ...
Read more: Carnival of Souls: Criterion Collection (1962) - Blu-ray Review
Doctor Mordrid: Master of the Unknown is not a very good movie. Even on our pint scale of beer it earns the lowest ranking possible. It's just lazy, lazy filmmaking on a project that, had there been a bit more effort put into its script and, well, everyone involved, could ...
Read more: Doctor Mordrid: Master of the Unknown (1992) - Blu-ray Review
There is something incredibly haunting about Scott McGehee and David Siegel's feature-length debut. Shot in black-and-white and filmed in and around the Phoenix area, Suture is a neo-film noir examination into a person's identity. What makes a person know themselves? ...
For anyone who hates on exploitation film auteur Jack Hill's The Swinging Cheerleaders for its objectification of women – namely cheerleaders – there's a need for a brief lesson in film and cultural history. Made during the 1970s, Hill's movie was a very tough and very real examination of powerful ...
Read more: The Swinging Cheerleaders (1974) - Blu-ray Review
I freakin' love The Alien Factor. Filmed in Baltimore, Maryland by a bunch of freaks and geeks, the schlocky film is a throwback to the classic run of 1950's creature features and has just the right amount of humor and gore to make it worth revisiting time and time again ...
Read more: The Alien Factor: Limited Signed Edition (1978) - Blu-ray Review
Ray Harryhausen's stop-motion work in Mysterious Island is the stuff of legend AND nightmares. Featuring memorable attacks from a gigantic crab, an oversized bee, a large prehistoric bird, and an angry snail, the fantasy kept many a young person up at night. It also ...
Picture it. Two men are sitting across from each other at a table in a diner. Their conversation is quick and intense. One is a very panicked Anthony Starke (best known for his role as the third-person speaking Jimmy in the Seinfeld episode "The Jimmy") and the other is a ...
Read more: Return of the Killer Tomatoes (1988) - Blu-ray Review