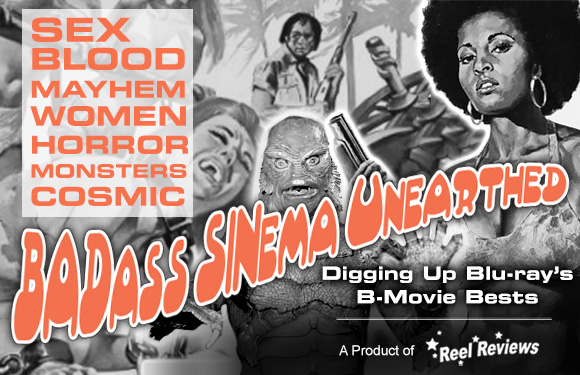 When you think of a New Year's Eve party, the last thing you would expect to attend are aliens. But that's exactly what happens in Alien Party Crashers, a new science fiction comedy from High Octane Pictures. Self-invited and definitely not afraid to double-dip the same ...
We are the weirdos, Mister. Honestly, in a modern day viewing, The Craft feels richer than it did when I originally saw the film. There is a lot to appreciate about the film and its tale of sisterhood among four high school friends. The situations feel real and, certainly, the black ...
...
Read more: The Craft: Collector's Edition (1996) - Blu-ray Review
It doesn't take long for Sister Street fighter to kick a lot of ass. From catching flies and throwing them down the mouths (and up the noses) of her enemies to all the strategically thrown forks, Tina (Sue Shiomi) is a martial artist badass that knows her way through a crowded ...
Read more: Sister Street Fighter Collection - Blu-ray Review
Never a great movie, this one is for Christopher Lee purists only. Curse III: Blood Sacrifice has nothing to do with the other movies in the series. That should be your first indication of exactly where this one is headed. It does have some interesting moments, though. Shadows ...
Read more: Curse III: Blood Sacrifice (1991) - Blu-ray Review
No more power ballads! No more power ballads! That's the chant that guitarist Pager (Rhys Coiro) of Sonic Grave keeps repeating. He's had enough of the panty-dropping cheese and wants to rock out at Coachella this year. Can anyone blame him? The 1980s are dead and ...
Carl Weathers doesn't take no lip. Watch him; however, take a baseball bat to the face of one crooked cop in Bucktown. It is a scene you won't likely forget anytime soon ...
She's a fugitive kind! Slashers probably should only drag bodies on the ground and not the actual pacing. I'm not saying Splatter University is a horrible horror film, but truly the only thing that can save this wacky mess from itself are the drinking games you are going to make ...
This is why you don't bring cats anywhere. Fuckin' cats, man. The hissing; the clawing; the weird mutant living inside of them. Uninvited, for those who can take your bad guys being George Kennedy, Alex Cord, and Clu Gulager, is a literal handbook in all the reasons why ...
Because making sense is so overrated! Director Norman J. Warren's Bloody New Year might not ever make a whole hell of a lot of sense, but it sure is fun. Time loops are like that, I suppose. But when six friends arrive on an island with an abandoned hotel on it, they have no ...
"Is this the camp by the lake?" "No. This is the house by the pond." Hilarious. Kids born to be murder victims. That's merely one of the great lines in the super-soaked B-movie classic from 1991, right before the decade started to drown itself in plaid and combat boots. Shot to be fun and ...
Read more: There's Nothing Out There! (1991) - Blu-ray Review