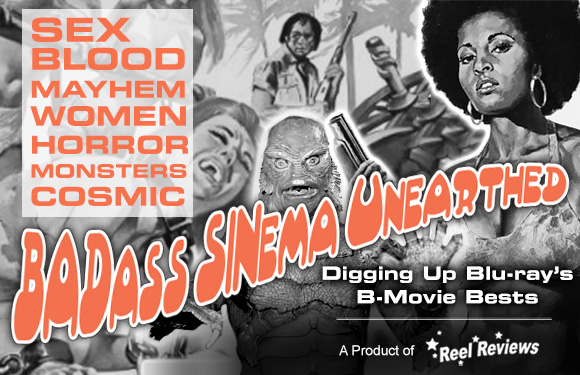 Karloff. Lugosi. What's not to love about this pairing? Absolutely nothing at all and the proof is Scream Factory's new 2K scanned release of the films that make up the Universal Horror Collection, Volume One. ...
Read more: Universal Horror Collection Volume One: The Black Cat (1934), The Raven (1935), The Invisible Ray...
It is an invasion that never ends! From Shout! and Scream Factory, The Monolith Monsters arrives to once again stomp out all those poor souls unfortunate enough to run into (or over) strange, black fragments of meteors that have fallen to earth. Once exposed to water ...
Big air! And even bigger coffee stains. Wait. What? Horror has hit the slopes as a low-grade B-flick finds its footing (again) on blu-ray ...
It just might be one of the scariest ghost movies I have ever seen. There are few words to describe the sheer terror that this film, a classic tale of the supernatural, stirs up within me. Time to keep one eye open in the night again, because The Entity is back in action, doing what it does best: terrifying audiences of all ages. ...
Read more: The Entity: Collector's Edition (1982) - Blu-ray eview
Die-hard Ghostbusters fans, rejoice! What's old NEVER goes out of style. Sony Pictures Home Entertainment has done us a solid with their handling of the classic two films in the Ghostbusters franchise. That's right, the original team ...
Read more: Ghostbusters 1 & 2 35th Anniversary Ultra HD Steelbook Limited Edition (1984,1989) - Blu-ray Review
Where's my gold?! And just like that the leprechaun that has headlined his own horror series across eight movies returns. Except this film, pulling a Halloween circa 2018, doesn't want you to remember that the Leprechaun went to Vegas, to outer space, and to the hood ...
"It's my duty to please the booty." And just like that Samuel Jackson steals the character of Shaft from Richard Roundtree, who played the character for three films. Or maybe he just continues to carry the ...
A mutant motherfucking cannibal in an abandoned mine shaft called Forever Mine? Oh, hell, yes. Mungo. Hot Rod. Face. These are three escaped felons that ...
Holy Astringent Plum-Like Fruit, Batman! What have we got here?! Warner Bros Home Entertainment delivers the goods with the June 4 release of 1989's Batman, 1992's Batman Returns (both directed by ...
Read more: Batman 4-film 4K Ultra HD (1989 – 1997) - Blu-ray Review
Twice the Jean-Claude Van Damme means twice the amount of nut-crushing splits AND twice the pairs of buttcheeks flapping about. Be mindful, though, because these two Van Dammes will kick your ass while they try to get along with each other. Double Impact, being one of the better ...
Read more: Double Impact: MVD Rewind Collection (1991) - Blu-ray Review