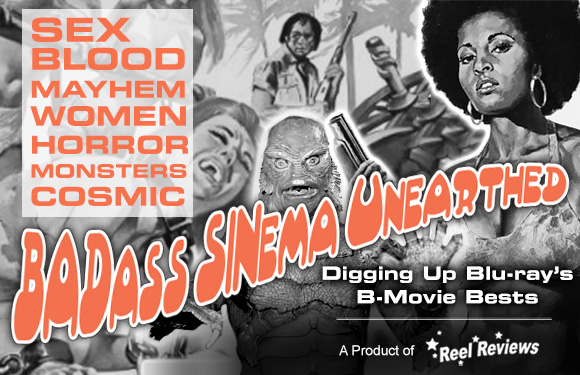 Giant hands and giant insects! Tarantula! has returned to prey upon us all! ...
The slums never appeared so expressive and atmospheric than they do in this flick. The 1940s absolutely come alive thanks to an eloquent expression of nightmarish entrapment that hugs the atmosphere and the crazy characters of this poverty row picture from Sylvester Stallone, who ...
Ca-Ca-Crazy lives here and, if you are anything like me and my warped sensibility, you are gonna love it ...
The horror of that fateful day in 1978's I Spit on Your Grave returns thanks to writer/director Meir Zarchi, He did the first film, remember? In fact, the one and only Camille Keaton as Jennifer Hills is also back doing what she does best: getting revenge. This time, though ...
Read more: I Spit on Your Grave: Déjà vu (2019) - Blu-ray Review
Deception! Trickery! And really bad wigs! There are two reasons why one steps foot through The Strange Door. They are two BIG reasons, mind you, being the over-the-top performances from Charles Laughton and Boris Karloff, who spends a lot of time ...
Fun with helicopter models and CinemaScope exploits! The Land Unknown arrives on blu-ray thanks to Kino Lorber Studio Classics and while it is definitely C-grade 1950s entertainment – happiest when knocking off King Kong and The Lost World – the adventure film ...
The blood! The guts! The wiggling limbs! I bet Artie (Bennett Liss) and Charlie (Johnny Doran), those poor souls, never expected to lose their heads and their legs when they decided to pull a prank on one of their friends one shadowy night. One gets microwaved and the ...
To this day, there remains something insanely special about director Brian De Palma's Carrie. It is based on the once-discarded novel by Stephen King, but was painstakingly adapted for the screen by Lawrence D. Cohen. Cohen got everything about King's first novel right ...
Completely mad. Absolutely bonkers. Those are some descriptions that are often used to describe this New Age-inspired flick of voodoo hoodoo transmissions. The Manitou is EXACTLY the pile of rock and schlock trash that you want it to be and now, thanks to Scream ...
"Isn't it gorgeous, babe?!" That's the pervading sentiment in Hard Ticket to Hawaii, a bleach-blonde action flick in which hot babes do their best thinking in Jacuzzis and, after insulting a bunch of horny men, start kicking lots of ass ...