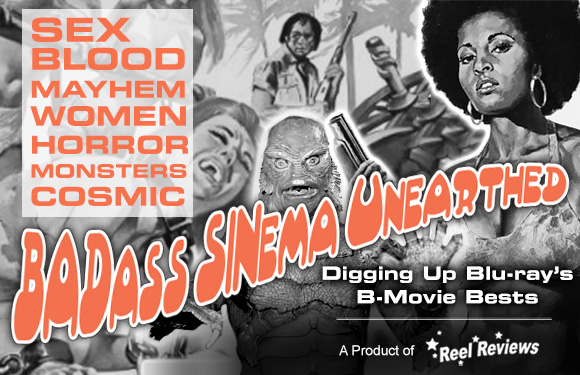 Lonely Are The Brave, starring Kirk Douglas, has a very poetic opening as a lone cowboy, sitting around a campfire, talks to his horse and then pushes his cowboy hat back on his head . . . to watch a passenger jet fly over his head. Forget about open country, Charlie, this is a movie where fences and ...
Gutterballs is Canuxploitation at its filthiest. And I mean that in a good way. I mean, not many horror films can advertise death by a maniac with a bowling bag for a mask as he smothers teengagers performing 69 on each other with their own private parts. Choke on this! But this film can and ...
Read more: Gutterballs: Two Disc Limited Unearthed Films Edition (2008) - Blu-ray Review
"So . . . you ran and hid in my bush?" Well, yeah. I mean, what would you do if your best friends become zombies thanks to what you did?! Don't let the typical 1990s introduction fool you. Idle Hands, directed by Rodman Flander (The Unborn, ...
Read more: Idle Hands: Collector's Edition (1999) - Blu-ray Review
I'm just going to cut to the chase with this review. Bloodshot is NOT a bad movie. It might look familiar to comic book enthusiasts, but it is cool enough in its cinematic glide to deliver plenty of steely-eyed action scenes and incredible visuals thanks to first-time director David S.F. Wilson's background in ...
The new comedy starring Anne Hathaway and Rebel Wilson called The Hustle is an almost identical remake of the 1988 classic comedy Dirty Rotten Scoundrels which starred Michael Caine and Steve Martin - itself a remake of Marlon Brando's Bedtime Story. I say "almost" because ...
The first horror icon of cinema has returned! Or is The Golem, thanks to its design and its use of white magic, the first cinematic superhero? I guess it comes down to your interpretation of the events in this legendary silent film. But there is NO arguing of its influence. From The Incredible Hulk ...
The power of Jessica (Juliet Mills) compels yyyyoooooouuuu!!! Get those eyes ready for those stylized freeze frames because Jessica is eating banana skins off the sidewalk again, but this time it is in 2K! That's right, the pea ...
Read more: Beyond the Door: Limited Edition 2K Uncut English Export Version (1974) - Blu-ray Review
"And you thought YOU were hot?!" Getting faced by pots of boiling water never looked so good! The Wind has arrived on blu-ray thanks to a NEW 4K transfer from the original 35mm print ...
They are here. They have always been here. The McPherson Tape (also known as UFO ABDUCTION) is proof. It doesn't take long for the skies to ignite over the night sky of Northwoods, Connecticut. The McPherson family ...
"Think about the stations of the cross! Think about the stations of the cross!" With a tip of the hat to the splatterific offerings of Herschell Gordon Lewis and Freaks director Tod Browning, Multiple Maniacs takes aim at the Manson Family and at Catholicism as the tents of ...
Read more: Muliple Maniacs: Criterion Collection (1970) - Blu-ray Review