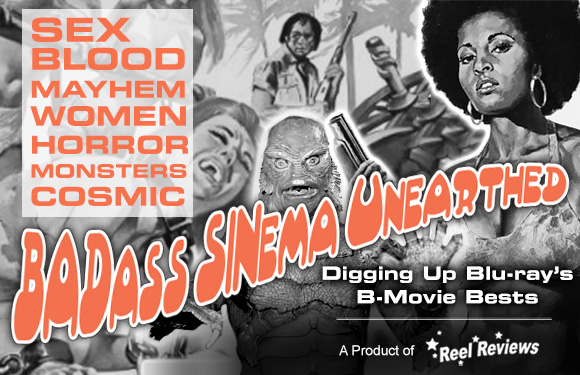 Still considered today to be one of Harold Lloyd's finest films, The Kid Brother makes its debut on blu-ray thanks to the the Criterion Collection. It is, of course, one of Lloyd's sweetest and funniest films, with more sight gags than his others, in which Lloyd plays Harold Hickory ...
Read more: The Kid Brother: The Criterion Collection (1927) - Blu-ray Review
To this day, there remains something insanely special about director Brian De Palma's Carrie. It is based on the once-discarded novel by Stephen King, but was painstakingly adapted for the screen by Lawrence D. Cohen. Cohen got everything about King's first novel right ...
"Why are there potatoes on the board every day? Who took my desk? Put that knife away!" If your high school was anything like the knife-wielding, gun-toting, slingshot-carrying school that is featured in Showdown then, man, you just might ...
Read more: Showdown: MVD Rewind Collection (1993) - Blu-ray Review
When in doubt, Big Mama knows! This is what happens when AWFUL becomes ART. I can hear the pro-lifers waxing poetic about this trashterpiece now. A woman's aborted fetus attacks her ...
He will EAT your soul! That's the threat that is received when The Witches, a supernatural horror film from Hammer Studios, opens as a school teacher at a mission school in Africa is quickly packing her things. There is trouble afoot and the tribal drums are an indicator ...
...
What if the Zombie Apocalypse failed? What if the miracle of science saved both the survivors and those that were turned? ...
With all its talk of radars and Pine Tree Radar Fences, it's a wonder that The Deadly Mantis, warning of a sneak attack across the polar ice (by anyone), manages to be so much fun. STILL! But, honestly, few things in the cinematic world beat the scene where the giant insect ...
With her decision made, there can be only one force that flings open the double doors that lead to one character's fate. And she will walk down the long haul with the balls of her feet digging into the ground with intention. Everyone thinks she's mad anyway. The taking of her own life will be no real shock ...
For my money, POV horror can still deliver when there is an engaged mind at the helm. This is exactly why Night, a new horror film from the sick mind of writer/director/actor Nicholas Michael Jacobs, works as well as it does ...
"Is this dog incredible or what?" That's the question Ally Sheedy asks her cameraman when, after being attacked by a stranger, a hulking dog she just rescued from a vivisection experimental lab runs off the would-be burglar and fetches her purse. ...