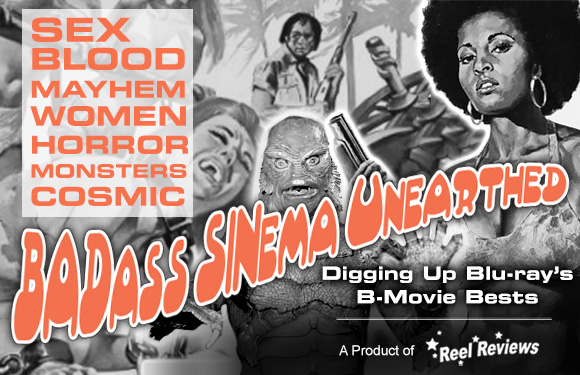 Big Guns. Even bigger boobs. Loaded with scenes so hysterically full of sexual innuendo that go on for far longer than they ought to, director Andy Sidaris returns to the scene of his B-movie crimes and goes guns blazing on Savage Beach, now available on blu-ray ...
Vampire plants! Gigantic eggs! And a really BIG moth! That's right, Mothra is happening all over again . . . except this time its satire and its science fiction can be viewed in sparkling blu-ray. ...
Read more: Mothra: SteelBook Edition (1961) - Blu-ray Review
What's that funny thing behind the barn? That's what Jenny (Natasha Ryan, in a performance that steals the picture away from the rest of the cast) wants to know. It's green; it glows; it makes noise and somehow, maybe due to this house's desert location, this triangle-shaped object is connected to ...
Read more: The Day Time Ended: 40th Anniversary Special Edition (1979)
There is a lot I remember from originally seeing The Believers in 1987 for the first time. That was years ago, but the thing that struck me – and continues to be striking (especially after watching this release from Olive Films) – is its opening sequence: Martin Sheen on a run with ...
We all know that college can change a young man. Most of us revert into sex-starved beasts on the prowl. Some of us conform to the peer pressure around us. Regardless of the good or the bad, life on a college campus is often times unplanned, unscripted, and full of primates. Which makes a film as loopy ...
Writer/Director Fred Dekker is a hero of mine when it comes to making memorable films. From Night of the Creeps to Monster Squad, Dekker has created some of my all-time favorites. It would be hard to imagine my upbringing without his wicked sense of humor and stylish wit. Thankfully, after waiting a bit longer than I would have preferred ...
Read more: Night of the Creeps: Collector's Edition (1986) - Blu-ray Review
That lone and long highway. The flickering camera as it cruises at high speeds on a dark night down it. The warbling, frenetic sounds as David Bowie softly croons, "I'm Deranged." Yes, Lynch's Lost Highway, and its videotaped while sleeping situation is back and this time it's challenging ...
Details

Created:

25 June 2019

Published:

25 June 2019

Written by Loron Hays
Writer/director Eli Roth (Cabin Fever, Hostel I & II, and Aftershock) might just need to be crowned the new King of Putrid. A self-confessed connoisseur of gore and Grindhouse alum, Roth's work in the genre is living proof that the exploitation flick is not forgotten and definitely ...
Read more: Eli Roth's The Green Inferno: Collector's Edition (2013) - Blu-ray Review
Emerging from deep space, an alien craft skims and skips across the night sky. The campers below see it burst into flames as it comes crashing into the woods nearby. Startled, they grab their shotguns and go out to see what the hell it was that crashed. Only the alien, armed with a deadly ...
Donald Lee Stroud. Actor. Surfer. Drummer. Is there anything this screen legend of B-grade motion pictures can't do? According to Angel Unchained, a biker flick directed by Lee Madden, a pro at making biker-themed action flicks, there really isn't anything or anyone Stroud as Angel ...