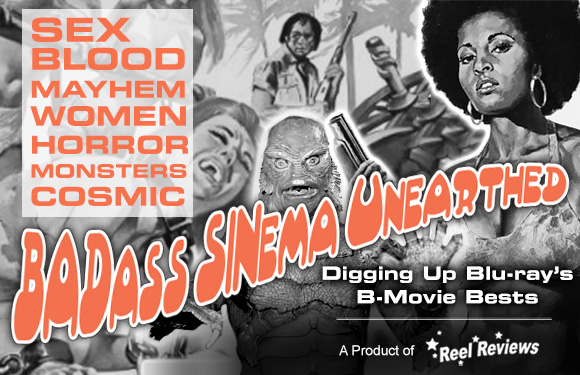 Details

Created:

22 February 2019

Published:

22 February 2019

Written by Loron Hays
Barb Wire (1996)
3 Beers
The opening moments of Barb Wire, a critically panned film that is based on the Dark Horse comic book series, is thankfully filled with a whole lot of Pamela Anderson. She is on stage, dancing, and being sprayed with champagne from a hose. The scene, especially Anderson in a rubber suit with her boobs hanging out, definitely gets our attention. We are all ready for what's next as she teases her viewers with fleshy twin peaks.
Who could guess that this siren of the stage and the screen is hurting for a man she believes to be lost to the battlefield in the second civil war?! As the catcalls begin to reach her, demanding that she take it all off, we get to see just what her assets are. The pointed shoe quickly slides off her foot and embeds itself in the loud man's fat face. The crowd quiets and she slips backstage, careful not to slip on the wet ground.
The year is 2017. It is the worse year of Barb Wire's life in Steel Harbor, the last free city in America. And she is about to explode into fire and fury and a whole lot of well-placed bubbles from her bubble bath. Starring Clint Howard, Temuera Morrison, Victoria Rowell, Xander Berkeley, Udo Kier, and Steve Railsback, Barb Wire is a FUN film that needs no introduction. It has a longstanding hatred by most and, outside of Anderson's starring role, is celebrated for its Golden Raspberry Awards as one of the worst films ever made by Hollywood.
Okay, okay, so yeah the movie sucks a whole lot, but there is something unique in its dystopian vision of 2017 and that is a fearlessness to show women in power, an energetic approach to its hammy material, and an unwillingness to offer anything but a FUN b-grade picture. Barb Wire, in spite of its reputation, definitely has its fans and, yeah, I am one of them.
Anderson, fully loaded with an arsenal of weapons she hides in her office at her nightclub called Hammerhead, kicks a whole lot of as Barb Wire. She's a mercenary and, because she needs some extra dough from time to time, she hustles Johns off the street to make it through her assignments. This adds an element of scuzzy danger to her normal routine. Thankfully, she can handle herself well with big paddle boards (for the naughty types), big explosions, and even bigger guns.
The gunfights in this action-packed retooling of Casablanca, as Barb Wire hopes to make her way to Canada by double-crossing, extortion, and secrets about bioweapons, are loud and incredibly well-staged. Characters are established and past love interest revealed. Anderson pulls it off, too, kicking legs out from tables and ducking and diving as she blasts her way through a barrage of men and sweat.
Boom, boom, boom. The film is a riot. Go in with the right attitude and you can appreciate it for what it is: a B-grade love story with guns, plastic surgery, and lots of boobs. From the dog biting the man's balls to the constant threat of Colonel Pryzer and his armies of goose-stepping storm troopers, Barb Wire is one constant wink to its audience. No one takes this shit seriously and yet, thanks to the energy involved in the shots, we can never dwell for very long on anything but Anderson's impressive assets.
And, yes, it is all by design. Barb Wire is back on the streets with its blu-ray debut from Mill Creek. Just don't call her babe. She WILL kill you.
Blu-ray Specifications:
Surprisingly, Barb Wire looks damn good on 1080p. The crisp image is fully resolved with the lightest, most beautiful layer of grain and no detection of digital noise reduction whatsoever. Blacks are deep and strong. The mastering here is impeccable. There is a fair amount of detail and not a speck of dirt to be found in the scans of the original movie, though. Simply put, this title has never looked better. The DTS-HD Master Audio 5.1 takes full advantage of the horror atmospherics and the score, carrying the viewer from one scene to the next, with ease.
Commentary:
None.
Special Features:
None.
Details

Created:

21 February 2019

Published:

21 February 2019

Written by Loron Hays
Using oversized Invasion of the Saucer Men Halloween masks and silver sweat suits for the look of its alien invaders, Revenge of the Spacemen is a cheaply-made homage to 1950s rock and schlock that plays for solely laughs. The film is cheesy, occasionally funny, and ...
Details

Created:

20 February 2019

Published:

20 February 2019

Written by Loron Hays
The Return of the Vampire, now on blu-ray thanks to Shout! Factory, is the film with which Columbia Pictures flies the B-movie, with director Lew Landers (The Raven) at the helm, to new heights courtesy of the German Luftwaffe aircraft in this unofficial (but, probably, yes) sequel ...
Read more: The Return of the Vampire (1943) - Blu-ray Review
Details

Created:

18 February 2019

Published:

18 February 2019

Written by Loron Hays
This is why, no matter how bad the traffic jam is, you STAY THE COURSE. You want to get to the boxing match? Keep your ass in line. One wrong turn later and your entire life could be rendered null and void thanks to a dangerous neighborhood and a stray bullet. ...
Read more: Judgement Night: The Warner Archive Collection (1993) - Blu-ray Review
Details

Created:

17 February 2019

Published:

17 February 2019

Written by Loron Hays
Poison Ivy. The itch you shouldn't scratch. But we did, didn't we?! And we got a collection of movies that helped former child stars strip out of their past image and into something new and racy and all kinds of shocking! That is what the 1990s brought those of us raised ...
Read more: The Poison Ivy Collection (1992 – 2008) - Blu-ray Review
Details

Created:

14 February 2019

Published:

14 February 2019

Written by Loron Hays
Does this mean that you WON'T be my valentine? With those words, one scorned nerd has his revenge on a group of pretty little liars. Valentine, directed by Jamie Blanks, is immediately better than most of the teen slasher flicks of the late '90s and early 2000s. It just doesn't ...
Read more: Valentine: Collector's Edition (2001) - Blu-ray Review
Details

Created:

09 February 2019

Published:

09 February 2019

Written by Loron Hays
In the years before the slasher subgenre officially arrived thanks to Black Christmas and Halloween, there were a few horror films that definitely played around with the idea of a psycho killer taking out teenagers with nothing but sex on their minds. Tower of Evil, a 1972 ...
Details

Created:

08 February 2019

Published:

08 February 2019

Written by Loron Hays
Camp Clear Vista is now hiring! If you have a love for giving kids the time of their lives over summer vacation then this is the job for you. It also helps if you have a love for horror films and long, sharp knives that are just perfect for slicing and dicing . . .
Details

Created:

07 February 2019

Published:

07 February 2019

Written by Loron Hays
This is a movie for anyone who has ever sent a voice message to themselves. Whether a warning or a reminder, there's always an interesting collision of realities that occurs when the past offers insight into the Here and Now. William Faulkner suggested the past is never dead ...
Details

Created:

06 February 2019

Published:

06 February 2019

Written by Loron Hays
To this day, there remains something insanely special about director Brian De Palma's Carrie. It is based on the once-discarded novel by Stephen King, but was painstakingly adapted for the screen by Lawrence D. Cohen. Cohen got everything about King's first novel right ...
Read more: Double Dragon: MVD Rewind Collection (1994) - Blu-ray Review