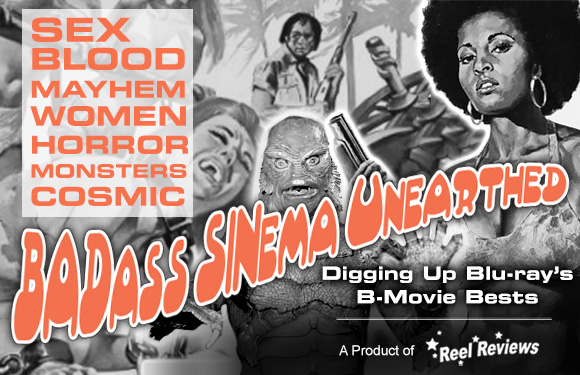 "No one would have believed, in the middle of the 20th century, that human affairs were being watched keenly and closely by Intelligences greater than man's. Yet, across the gulf of space on the planet Mars, intellects vast and cool and unsympathetic regarded our Earth with envious eyes ...
Read more: The War of the Worlds: Criterion Collection (1953) - Blu-ray Review
Never mess with another man's melons! Once that sick theme song from composer Charles Bernstein kicks in, you know that this film is going to be an epic showdown. It doesn't disappoint either. No clean window - be it in a car or a house - can stop him ...
The horror! The hilarity! The frauleins! Insanity follows in Horrors of Spider Island, a Z-grade schlockfest, from Germany! Released here in the United States as It's Hot in Paradise, with some cuts made so that all the girls keeping their clothes on, the horror film finally sees the light of day again ...
In the wake of composer Ennio Morricone's passing, there are few things as beautiful and as moving as his score set to the playful opening of prolific movie mogul Dino De Laurentiis' Orca: The Killer Whale! Sure, this is a JAWS rip-off, but watching those beautiful beasts hurl themselves out ...
The Dynamic Duo of silent AND sound comedy return! This release has been a long time coming, but finally - thanks to Jeff Joseph in conjunction with the UCLA Film & Television Archive and the Library of Congress - Stan Laurel and Oliver Hardy have arrived on ...
Read more: Laurel & Hardy - The Definitive Restorations: 4 Disc Special Edition Collector's Set (1927 - 1937)...
Calling all fans of 1970s cinema! Severin Films has got your ticket to ride with what has to be one of the strangest science fiction offerings, The Astrologer. Slow-moving and centered around a covert government agency which monitors astrological signs to see if a person is good or bad, this film will leave ...
You haven't seen anything until you witness a double amputee karate kick someone's ass straight into a pool. In slow motion, nonetheless. That's the exploitative territory we're headed into in tonight's viewing of Mr. No Legs. Get the beer ready! ...
The Cameraman is the film in which Buster Keaton's character (accidentally double exposing some pretty hilarious images over each other) discovers the avant-garde on accident. All joking aside, this comedic masterpiece from the silent era - with one scene hilariously depicting Keaton ...
Read more: The Cameraman: Criterion Collection (1929) - Blu-ray Review
Independently made in glorious black-and-white cinematography by producer, writer, special effects supervisor Bert I. Gordon (King Dinosaur, Attack of the Puppet People, The Amazing Colossal Man, Village of the Giants, and Empire of the Ants), The Spider is quick to the kill, opening ...
Read more: The Spider (aka Earth Vs. The Spider) (1958) - Blu-ray Review
This place gives me nightmares! Ever felt buried by all your work? The Dead Pit takes that saying literally and concerns itself with a mad doctor who, 20 years ago, was killed and buried alongside his human experiments . . . in the basement of an asylum. The hope was that he'd never ...
Read more: The Dead Pit Collector's Edition (1989) - Blu-ray Review