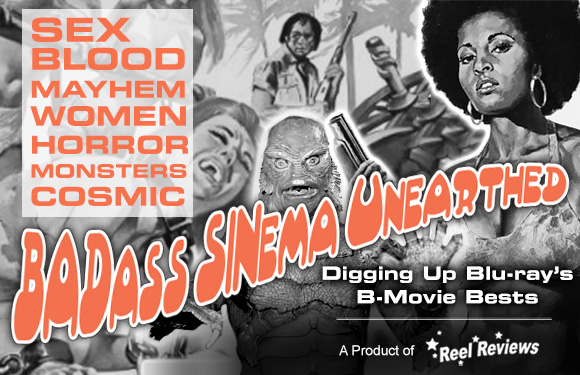 Because maybe the Easter Bunny DOES crap colored eggs! Radioland Murders, directed by Mel Smith (The Tall Guy, Bean) and co-written by George Lucas, is a throwback to another era of comedy. Unfortunately, none of that was recognized when the film was ...
Bloody rabbits do not belong in the shower! That's one lessen to learn here with this flick. The other is that you simply do not mess with a bleach-blonde James Spader. You are simply asking for a whole hell of a lot of trouble ...
Read more: The New Kids: Retro VHS Look (1985) - Blu-ray Review
You're dead meat, Pilgrim. Highly quotable and completely off its rocker in all the best ways possible, Weird Science is back in circulation thanks to the lovable charm of two high school losers as they go from zeroes to heroes for one fantastical weekend in a ...
The Vinegar Syndrome Archive line, celebrating forgotten cinematic oddities from the video store era, has officially started thanks to the HD release of Evil Town! ...
If chopping the heads off of little tiny baby rabbits is your idea of a good time, then I suggest you stay the fucking night at Mountaintop Motel Massacre. Mommy is sick again, Horror Hounds, and Vinegar Syndrome has her cure! ...
Read more: Mountaintop Motel Massacre (1983) - Blu-ray Review
Because skulls and bombs do not mix! Quatermass and the Pit finally sees the light of day on HD thanks to Shout! Factory. Directed by Roy Ward Baker (The October Man) and starring character actor Andrew Keir (The Dalek Invasion of Earth) as Professor ...
These are the secrets of the night! For one high school senior, being the new kid in town just might get his ass tangled in all those secrets. Hell, his first night in town has him biking through the streets of Los Angeles and, in a rather amusing ...
Something is amiss in Cornwall. When the dark settles in, so too does a dangerous epidemic that has its victims foaming at the mouths and left with strange markings on their necks. Is it a bite? Or something worse? Whatever it is, the ...
Based on the popular television serial, Hammer Studios produced a trilogy of science fiction gems featuring the talents of Professor Bernard Quatermass in the 1950s and 60s. Their first film, The Quatermass Xperiment brought them a box office ...
Large cats, dusty towns, and castanets definitely do not mix! Once upon a time in Hollywood, producer Val Lewton ruled RKO. In fact, under his supervision, the studio was churning out B-grade horror flicks that were ...