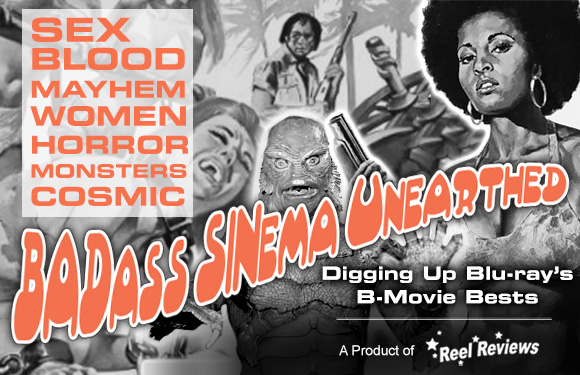 Details

Created:

18 April 2019

Published:

18 April 2019

Written by Loron Hays
The Manitou (1978)
5 Beers
Completely mad. Absolutely bonkers. Those are some descriptions that are often used to describe this New Age-inspired flick of voodoo hoodoo transmissions. The Manitou is EXACTLY the pile of rock and schlock trash that you want it to be and now, thanks to Scream Factory, it arrives on blu-ray.
Tony Curtis as a fake psychic dressed in a wizard's gown might not be everybody's cup of herbal tea, but he is a goddamn standout in this supernatural horror flick that is absolutely b-a-n-a-n-a-s. The Manitou, directed by William Girdler (Sheba, Baby and Grizzly), is not a good film in the traditional sense. It is a damn riot, though, when it comes to its B-grade spacy shenanigans as the film completely takes off from the realms of reality and jettisons its audience into a universe where Burgess Meredith plays the only logical doctor around.
In The Manitou, Curtis' ex-girlfriend (or is she his current one?), played by Susan Strasberg, winds up shooting asteroids out of her hands at the monstrous lump of flesh that she has just given birth to . . . from the side of her neck. They are supposedly in her hospital room but, thanks to the power of the medicine man she's birthed, this hospital room appears to be floating in space and only her love for her creation can kill him.
Or something like that. Trust me, you aren't going to care. The Manitou is completely off its rocker and, thanks to the science fiction cinematic highs at the time, audiences get a horror film that is (a) full of one good fright in which an elderly woman is lifted off the ground, floats down the hallway, and tossed down the stairs, (b) gives men another reason to love Strasberg more, and (c) a laser-brained plot involving unplanned pregnancies.
Yep, based on a novel by Graham Masterton and developed by Girdle, The Manitou is every baby mama's worst nightmare come true . . . and then it has everybody floating in space as Strasberg, while topless, becomes a superhero and starts launching rocks out of her palms at her scary-ass midget monster who loves to be naked and mad.
I mean, come on, Curtis hiring a native witch doctor named John Singing Rock (Michael Ansara) (and paying him in Red Man tobacco) to get an evil 400-year-old Indian medicine man off Wonder Woman's neck sounds pretty damn silly. Thankfully, the film delivers that goofiness in spades. Time and time again, this ultra-serious mess – involving collapsing séance rooms, ice cold hospital rooms, and a birth from the neck – goes for the jugular and challenges audiences to turn it off and walk away.
But we can't stop. We won't stop. The Manitou, famously smashed into pieces by Roger Ebert, is way too much fun to ever turn off.
Blu-ray Specifications:
The brand new 1080p 4K transfer is crisp and crackling with fine details. It looks so much better than it previously did thanks to the insistence on getting a brand-new HD scrub. Originally shot on 35mm film, this release from Scream Factory supports a High-Definition encode and a 2.35:1 ratio. With solid colors and an atmospheric charm, the cleaned-up image is detailed with nice burnt oranges and strong blacks hitting strong levels for something originally filmed in the early 70s. The grain is natural and consistent. Colors are strong and vibrant even. The overall contrast is deep even if there are noticeable defects in the crush of shadows. The DTS Master Audio track has been restored and it is a strong stereo soundtrack. Dialogue is clean, clear, and balanced with the music.
Commentary:
Film Historian Troy Howarth gives an excellent commentary that will give you a bit more perspective on this chiller.
Special Features:
This puppy is loaded with lots of groovy stuff that The Manitou's fans will definitely eat up.
NEW 4K Scan Of The Original Film Elements
NEW Restored Stereo Soundtrack
NEW Interview With Author Graham Masterson
NEW Producing Girdler – An Interview With Executive Producer David Sheldon
NEW Audio Commentary With Film Historian Troy Howarth
Original Theatrical Trailer
Original TV Spots
Still Gallery
Details

Created:

16 April 2019

Published:

16 April 2019

Written by Loron Hays
"Isn't it gorgeous, babe?!" That's the pervading sentiment in Hard Ticket to Hawaii, a bleach-blonde action flick in which hot babes do their best thinking in Jacuzzis and, after insulting a bunch of horny men, start kicking lots of ass ...
Details

Created:

16 April 2019

Published:

16 April 2019

Written by Loron Hays
Clash, Killer Fist! A legend has returned. If you are not yet one with the madness that is the martial arts film, then let this release be your starting point. Why? Because from the years of 1973 to 1976, at the height of the martial arts movie and its influence of sheer insanity and nastiness ...
Read more: The Street Fighter Collection (1974) - Blu-ray Review
Details

Created:

10 April 2019

Published:

10 April 2019

Written by Loron Hays
Being the ninth and final film in Hammer's Dracula series, The Legend of the 7 Golden Vampires definitely holds a special place in horror history. That's not the limit of its legacy, though. Not by a longshot ...
Read more: The Legend of the 7 Golden Vampires (1974) - Blu-ray Review
Details

Created:

10 April 2019

Published:

10 April 2019

Written by Loron Hays
"I got my beer, I got my sex partner, what else do I need?" Blood Lake continues to exist because we all want to be like Little Tony. Fight me if you disagree. Having a camcorder doesn't necessarily make you a horror film director. The same can be said ...
Details

Created:

09 April 2019

Published:

09 April 2019

Written by Loron Hays
Before Resident Evil, there was Warning Sign. Complete with an impressive synth score from Craig Safan, this thriller absolutely rocks and serves as the precursor to what would come in a lot of biohazard-themed flicks a decade AFTER its initial release ...
Details

Created:

08 April 2019

Published:

08 April 2019

Written by Loron Hays
"God, I love the desert!" This is what is loudly proclaimed by the Sunday school teacher who is sitting squarely at the center of Murderlust. Steve Belmont (Eli Rich) is a pathetic human being. As a Sunday school teacher, he uses his post to ensnare pretty young women ...
Details

Created:

05 April 2019

Published:

05 April 2019

Written by Loron Hays
When I was a young fool, my go-to movie was Forest Gump. I think I saw that damn film at least NINE times in the theater. I was graduating high school and leaving for college and that film just resonated with me. I was also lovesick and a complete idiot about it. This review ...
Read more: The Man Who Killed Hitler And Then The Bigfoot (2018) - Blu-ray Review
Details

Created:

03 April 2019

Published:

03 April 2019

Written by Loron Hays
You ever wish there was more of you to go around? Feel completely wiped out at the end of the day? Willing to only stuff your face with one slice of pizza too many when you get home? If so, Sony and Columbia Pictures have the comedy for you ...
Details

Created:

01 April 2019

Published:

01 April 2019

Written by Loron Hays
A baboon's heart, hockey, and one hell of a sweet story. That's what you STILL get with Untamed Heart, now making its blu-ray debut Caroline (Marisa Tomei) has too good of a heart. So say her friends. And, judging by how happy she is to ...