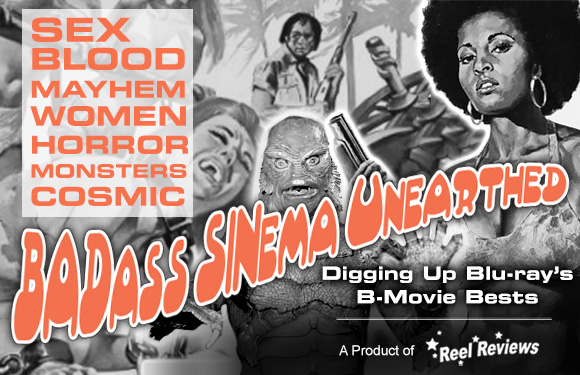 What movie? You didn't tell me about any movie! The meta is strong in the remake of The Blob. Too bad this remake often gets ignored because this version gets a lot of things about remakes damn right. There is a lot to love about this flick and, believe it ...
Read more: The Blob: Collector's Edition (1988) - Blu-ray Review
What do bathtub toy boats and plastic helicopters have in common with a dude in a monster suit? Hint: the action takes place in Japan. That's right. Godzilla, the mother of all mega-monster movies, is returning to run rampage through your home ...
Read more: Godzilla: The Showa-Era Films (1955 – 1975) - Blu-ray Review
It's the eyes, man! It's all about the eyes. Béla Lugosi (and those expressive eyebrows of his) definitely created a lot of memorable characters for cinema. He was always chewing the scenery and making each scene his ow; however, in The Human Monster (also known as The Dark Eyes of London) he ...
Imagine if the original Alien had been shot for 3-D? That chest-busting scene would have really leaped right off of the screen. One has to think that producer and director Charles Band, in his pre-Full Moon days, had been thinking about that ...
It's time to go back. Clocking in at a breezy 109 minutes, The Wizard of Oz is one of the finest examples of fantasy escapism that we have in film history. Let that soak in for a minute. Perhaps things would have been different had WWII not been right around the corner, but fact is fact ...
Read more: The Wizard of Oz 4K Ultra HD (1939, 2019) - 4K Blu-ray Review
The Firefly Clan is back! That's right, they survived the shootout that marked the end of The Devil's Rejects and, for the past decade, they have been rotting behind bars. Except, as the movie begins, there seems to be a change of direction in the condemning wind circulating ...
Five movies and one devil to rule them all! The Omen Collection is finally available! Joke all you want to about how Hellish it is to raise a kid, but Producer Harvey Bernhard was clearly on to something rich when he decided to double-down on ...
...
Read more: The Omen Collection (1976, 1978, 1981, 1991, 2006) - Blu-ray Review
In the middle of the 1960s, Toho's special effects maestro, Eiji Tsuburaya, was on quite a roll. As Ultra Q finished, the Tokyo Broadcasting System wanted a new television series with him at the helm. But this time they wanted something in color; something ...
Read more: Ultraman: The Complete Series (1966) - Blu-ray Review
28 episodes. 30 minutes. That's all it took to change the world . . . or should that change be limited to just the airwaves? Because special effects director Eiji Tsuburaya definitely did that with Ultra Q, the black-and-white television series that gave us the first attempt ...
Read more: Ultra Q: The Complete Series (1966) - Blu-ray Review
Dudes named Diablo don't ever die. And you probably shouldn't fuck around with them either – especially when they, upon the eve of their death sentence being carried out, vow to return . . . to kill everyone who chooses Florida as their ...