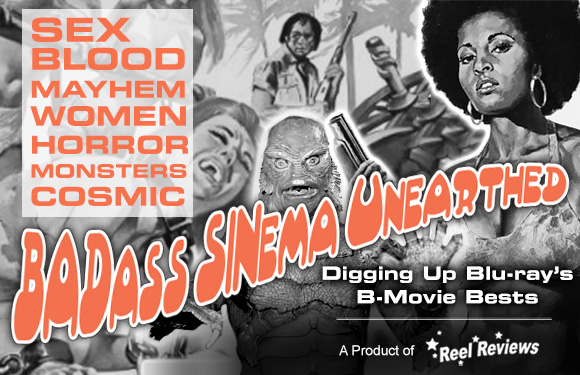 Shout Factory is back at it with their HUGE collection of Roger Corman titles and, while these limited releases are only available through their store (www.shoutfactory.com), the titles are definitely worth owning, making these releases a lot like crate-digging for jazz records. Fans obsess about them and for ...
Read more: Caged Heat/Jackson County Jail (1974, 1976) - Blu-ray Review
In what might be one of the most exploitative openings in Hammer's 1970 era, we see a grave robber (Doctor Who's Patrick Troughton) struggle mightily with a corpse in a grave and, after a police officer falls in the now-empty grave, we see a jar of gooey, squishy eyeballs (looking very ...
Read more: Frankenstein and the Monster from Hell (1974) - Blu-ray Review
Big gun! Number one! Maybe it's the heavy biker boots announcing his thunderous arrival to all lawbreakers in a post-global warming world. Maybe it's the dark, circle-framed sunglasses through which he sees all varieties of criminal behavior in ...
Read more: Split Second: MVD Rewind Collection (1992) - Blu-ray Review
Poor Ben (John-Paul Howard). No one believes him. No one. And he is seeing, as he has come in for the summer to work at his Dad's marina, a lot of strange shit that defies easy explanation. Unfortunately, no one believes in witches anymore ...
Eight discs, six stories, and 650 minutes of classic science fiction. That's what fans get with the BBC's latest Doctor Who release which features the fourteenth season of classic Doctor Who, constituting the third trip around the sun for Tom Baker in the titular role as everyone's favorite ...
Read more: Doctor Who: Tom Baker - The Complete Season Three (1976 - 1977) - Blu-ray Review
The drugs! The coppers! The crimes! And the Femme Fatales! It's all here in The Sleeping City! Sometimes, as is the case with 1950's The Sleeping City, Film Noir offerings are notable for one thing entirely: their use of their location. Okay, okay, so The Sleeping City - which has ...
Read more: Film Noir: The Dark Side of Cinema III: The Sleeping City (1950) - Blu-ray Review
"Mommy, can we come home?" With those words, Cookie (Melissa Leo) and her kid brother Tim (Randall Batinkoff) plead to return to their mother's house. They've been kicked out because her new man hates them both. Their request is denied, so the two wander the bus station as ...
Lady Luck has no heart at all in this morality tale! The Lady Gambles begins with a stunning beatdown as its star, Barbara Stanwyck, is repeatedly attacked, smacked, and punched by a couple of thugs who feel cheated by her use of loaded dice in a ...
Read more: Film Noir: The Dark Side of Cinema III: The Lady Gambles (1949) - Blu-ray Review
Arthur Kriticos' dream house - full of shatterproof glass cages and sliding steel panels - has arrived. . . but it's a damn nightmare! Critically hammered and only very loosely based on William Castle's original film, THIRT3EN Ghosts gets a second chance to make a lasting reflection in the glassy Halls of Horror thanks ...
Read more: THIRT3EN Ghosts Collector's Edition (2001) - Blu-ray Review
Because, sometimes, even babies need the support of the police! Pushing a hard-hitting social commentary, Abandoned - with a colorful set of character names - takes aim at selling unwanted babies as the City of Angels becomes ground zero for black ...
Read more: Film Noir: The Dark Side of Cinema III: Abandoned (1949) - Blu-ray Review