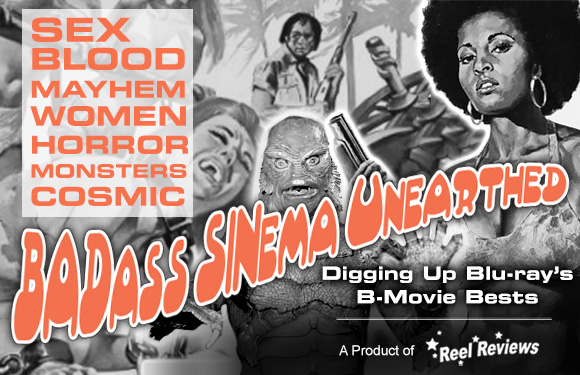 There couldn't possibly be a creepier basement in the history of Horror films! Lucio Fulci's House by the Cemetery is re-opened once again thanks to Blue Underground. ...
Read more: House by the Cemetery: Blue Underground 3 Disc Exclusive Limited Collector's Edition (1981) -...
The heat is BACK on! Long before Detectives Mike Lowery (Will Smith) and Marcus Burnett (Martin Lawrence) hit the streets in pursuit of crime and criminal activity there was plainclothes Detective Axel Foley (Eddie Murphy) bringing his rather chaotic (and hilarious) brand of law and order to the colorful streets of ...
Read more: Beverly Hills Cop Trilogy (1984, 1987, 1994) - Blu-ray Review
Watching wickie Ephraim Winslow, who is already having visions of mermaids and tentacled monsters, fly into a momentary fit of rage, grab a one-eyed seagull, and then beat it religiously against a cistern until it is beyond dead might be one of the most memorable scenes in The Lighthouse, a ...
The Golem's not headed your way, Willie. The Golem has arrived!A beloved animated project - with some fans still clamoring for a live action movie version - is back on store shelves! Batman Beyond, containing all three seasons of the cult classic and its movie finale, has landed on ...
Read more: Batman Beyond: The Complete Series (1999 - 2001) - Blu-ray Review
Finally. With this Collector's Edition from Scream Factory, a long-requested top 10 horror film arrives on blu-ray with a cleaned-up transfer and NEW supplemental items. ...
Read more: Silver Bullet: Collector's Edition (1985) - Blu-ray Review
A tiny horse. One mad scientist. And a really big wrench. These are only part of the gonzo territory of Ernest R. Schoedsack and Merrian C. Cooper's shrink ray-centered tale of B-grade science and terror. Dr. Cyclops and the obsession with shrinking things lives on! The heroes ...
Satanism and switchblade violins make quite the combination in this blast from the past! Luigi Cozzi's Paganini Horror probably shouldn't exist. Sure, sure, I mean, the film does have some merit thanks to its wicked premise, but its execution - amounting to a bunch of screaming (mostly) female rock and ...
Murders in the Rue Morgue was a gift to Bela Lugosi. After being axed from Frankenstein, Universal Pictures' President Carl Laemmle Jr. offered him the role of the lunatic scientist who abducts women and then injects them with the blood of his pet ape, Erik (performed by Charles Gemora). Lugosi, not willing ...
Read more: Murders in the Rue Morgue (1932) - Blu-ray Review
Teen Titans, GO! The pseudo-anime style. The jokes. And, man, the storylines. Teen Titans has it all! This cartoon series - with a cast of superhero characters that included Robin, Beast Boy, Starfire, Cyborg, and Raven - kicked all sorts of ass during its original three year run. Now, thanks to ...
Read more: Teen Titans: The Complete Series (2003 - 2006) - Blu-ray Review
More thrills and even more chills! Karloff. Lugosi. Rathbone. And Vincent Price in his film debut. What's not to love about these names or their film legacies? Absolutely nothing at all and the proof is Scream Factory's new 2K scanned release of the films that make up the ...
Read more: Universal Horror Collection Volume Three: Tower of London (1939), Man-Made Monster (1941), The...