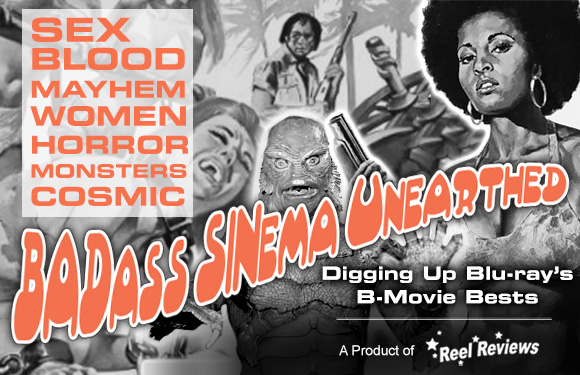 Details

Created:

18 March 2019

Published:

18 March 2019

Written by Loron Hays
Man's Best Friend (1993)
3 Beers
"Is this dog incredible or what?" That's the question Ally Sheedy asks her cameraman when, after being attacked by a stranger, a hulking dog she just rescued from a vivisection experimental lab runs off the would-be burglar and fetches her purse.
Truthfully, Max 3000 is quite impressive. He can open doors, peek in keyholes, and protect like no other canine. Hell, he even knows that Sheedy's boyfriend, Perry (Fredric Lehne), is a yuppie piece of shit. But, as this is a horror film, we know this bond is going to turn to shit relatively quickly, but it won't be without laughs.
Man's Best Friend, written and directed by John Lafia (Child's Play 2), is a horror comedy like few others. A minor hit when it was originally released, the science fiction shocker has slipped into relative obscurity, with few remembering the scene where Max chases a cat up a tree and then devours it whole. But, as these cult flicks often do, it has its fan base and it seems to be growing, which is why Scream Factory has issued it on blu-ray with new supplemental materials.
Things start out pretty serious, as Sheedy, playing an investigative journalist, is tipped off about a lab that is doing all sorts of harmful things to animals. Pissed and wanting more of the scoop, she agrees to meet a technician in the lab who promises her full access to the animals and the experiments . . . except the good soul is killed before the meeting can occur. Lori lets herself in and what she discovers is all sorts of unsettling.
This is where she meets Max, a Tibetan Mastiff with an appetite for cats, mating with Lassie, and acid as urine. It is a match made in Heaven. Unfortunately, Max is a killer – designed to be one by Dr. Jarret (Lance Henriksen). Jarret knows Max is unstable; it is only a matter of time before the dog's mood swings the wrong way.
The movie has fun with this idea as Max goes through the typical dog day – meeting the postal employee and running him down with a fury never before seen – playing fetch and so on, yet everything is just a bit more violet and extreme. Often, as is the case with the mailman that pepper sprays the dog, the results are damned hilarious.
But as the film goes on, the comedy lessens and the situation becomes dire. The neighborhood where Lori lives is now totally trashed, yet her dog remains loyal to her. She has no idea that her protection is a hybrid of other far dangerous animals. Max goes from loving to raging kill machine in less time than it takes most people to butter their toast. The poor animal knows no other way after all the gene splicing he's been victim to.
Both funny and terrifying, Man's Best Friend makes for a frightening cocktail of matinee madness. Scream Factory offers the film in HD with a brand new 2K scan of the original film's elements and a new commentary from the film's writer and director.
It's a dog eat dog world out there and Man's Best Friend shows why.
Blu-ray Specifications:
Presented in a crisp 1080p transfer, Man's Best Friend and its new 2K scan of the original negative is a thing of pristine beauty. The film is dominated with reds and greens that absolutely burst with color. The costumes are detailed and the simple backgrounds burst with new details and a nice level of clarity. Black levels are solid and skin tones are natural. Shadows are defined and the film has a new depth previously unseen. The practical effects and close-ups on the animals while they are attacking provide nice textures to teeth and gums and the blood is always thick. Audio wise, the DTS-HD MA 5.1 soundtrack is clear and the dialogue is never lost or hard to hear.
Commentary:
Writer/Director John Lafia provides a wicked commentary. Full of anecdotes and information about the behind the scenes goings on, the track is a fun listen.
Special Features:
Unfortunately, for this release, we are limited to just a theatrical trailer, a teaser trailer, and TV Spots.
Theatrical Trailer
Teaser Trailer
TV Spots
Details

Created:

12 March 2019

Published:

12 March 2019

Written by Loron Hays
When you think of a New Year's Eve party, the last thing you would expect to attend are aliens. But that's exactly what happens in Alien Party Crashers, a new science fiction comedy from High Octane Pictures. Self-invited and definitely not afraid to double-dip the same ...
Details

Created:

12 March 2019

Published:

12 March 2019

Written by Loron Hays
We are the weirdos, Mister. Honestly, in a modern day viewing, The Craft feels richer than it did when I originally saw the film. There is a lot to appreciate about the film and its tale of sisterhood among four high school friends. The situations feel real and, certainly, the black ...
...
Read more: The Craft: Collector's Edition (1996) - Blu-ray Review
Details

Created:

10 March 2019

Published:

10 March 2019

Written by Loron Hays
It doesn't take long for Sister Street fighter to kick a lot of ass. From catching flies and throwing them down the mouths (and up the noses) of her enemies to all the strategically thrown forks, Tina (Sue Shiomi) is a martial artist badass that knows her way through a crowded ...
Read more: Sister Street Fighter Collection - Blu-ray Review
Details

Created:

09 March 2019

Published:

09 March 2019

Written by Loron Hays
Never a great movie, this one is for Christopher Lee purists only. Curse III: Blood Sacrifice has nothing to do with the other movies in the series. That should be your first indication of exactly where this one is headed. It does have some interesting moments, though. Shadows ...
Read more: Curse III: Blood Sacrifice (1991) - Blu-ray Review
Details

Created:

08 March 2019

Published:

08 March 2019

Written by Loron Hays
No more power ballads! No more power ballads! That's the chant that guitarist Pager (Rhys Coiro) of Sonic Grave keeps repeating. He's had enough of the panty-dropping cheese and wants to rock out at Coachella this year. Can anyone blame him? The 1980s are dead and ...
Details

Created:

08 March 2019

Published:

08 March 2019

Written by Loron Hays
Carl Weathers doesn't take no lip. Watch him; however, take a baseball bat to the face of one crooked cop in Bucktown. It is a scene you won't likely forget anytime soon ...
She's a fugitive kind! Slashers probably should only drag bodies on the ground and not the actual pacing. I'm not saying Splatter University is a horrible horror film, but truly the only thing that can save this wacky mess from itself are the drinking games you are going to make ...
This is why you don't bring cats anywhere. Fuckin' cats, man. The hissing; the clawing; the weird mutant living inside of them. Uninvited, for those who can take your bad guys being George Kennedy, Alex Cord, and Clu Gulager, is a literal handbook in all the reasons why ...
Because making sense is so overrated! Director Norman J. Warren's Bloody New Year might not ever make a whole hell of a lot of sense, but it sure is fun. Time loops are like that, I suppose. But when six friends arrive on an island with an abandoned hotel on it, they have no ...