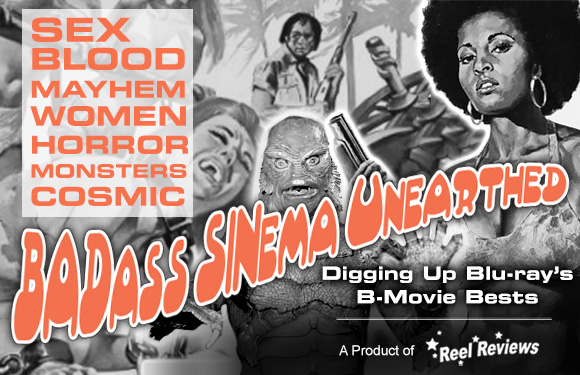 Link (1985)
Movie: 3 Beers
Transfer: 4 Beers
Sound: 3 Beers
Special Features: 4 Beers
When chimpanzees attack! Hide the knives! Hide the pets! Just don't hide the undressed Elisabeth Shue! Link likes! Link likes!
Maybe it's the synthesized circus-like music from composer Jerry Goldsmith (The Omen, The Satan Bug, 100 Rifles). Maybe it's the shot of Elisabeth Shue stepping from the shower. Or, hell, maybe it is the POV opening as one crazed chimp terrorizes a city neighborhood and raids a pigeon coop. Whatever it is, my adoration of producer/director Richard Franklin's Link, also starring Terence Stamp, will never be tempered.
Link is gloriously bananas and, thanks to Kino Lorber, the movie is now on blu-ray. Following in the footsteps of Project X and Stephen King's Monkey Shines, this is yet another attempt by creative types to cash-in on the whole Jane Goodall craze that infiltrated the 1980s. The fact that this movie was inspired by Goodall's research and by Franklin's desire to make a JAWS-like movie with chimps is proof enough. I mean, what other reason could there be to have a chimp dressed as a butler? Exactly.
Written by Everett De Roche (Long Weekend, Patrick, and Roadgames), this horror story concerns itself with Link, a 45-year-old chimpanzee, who hates his owners and he finds anyway he can to lash out against their enslavement. This includes the good Dr. Steven Phillip (Stamo), an anthropologist who studies the mental well-being of chimpanzees and, at the insistence of Shue as Jane Chase, a student eager to work with Phillip and assist him with his chimpanzee studies. It all goes to pot relatively soon after she moves in to his isolated estate.
And, like any good movies, there are rules to the care of the chimpanzees, especially as they pertain to Link, who has developed quite the crush on Jane. It's easily done by ANY male, especially when Link ogles her body any chance he can. Hell, he even smokes a cigar to impress her. Already we are being pushed forward on a clash between new and old worlds; between the civilized and the uncivilized, and it works to create some fairly interesting scenes that question morality, abuse, and all the other secrets hidden in the cellar of Phillip's estate.
Sometimes funny, sometimes frightening, Link – especially when it puts us through the slow-motion effect while Link lets the other chimps out of their cages to surround Phillip – is never long without a reason to laugh or cringe at all the monkeying around. I mean, the damn chimp tries to blow them all up at one point in the movie. It's pretty obvious he has it in for these humans, even if he is a bit too demanding for his own good.
While the screenplay might not have been much of a joke, the film itself – especially with Goldsmith's music and Shue's performance – has a mixed tone that makes us rather unsure of who exactly the villains are. That peaceful setting – actually Scotland – is very deceiving, but it works to create a sort of demented atmosphere that makes this film, in all its hairy glory, simply unforgettable.
Link is now available on blu-ray thanks to Kino Lorber Studio Classics and its solid 4K restoration.
Blu-ray Specifications:
Presented in a crisp 1080p transfer, Link and its new 4K scan of the original negative is a thing of pristine beauty. The film is dominated with reds and greens that absolutely burst with color. The clothing and the setting are both detailed and the simple backgrounds burst with new details and a nice level of clarity. Black levels are solid and skin tones are natural. Shadows are defined and the film has a new depth previously unseen. Audio wise, the DTS-HD MA 5.1 soundtrack is clear and the dialogue is never lost or hard to hear.
Commentary:
Fans of this feature get a new commentary with Film Historian Lee Gambin and critic Jarret Gahan.
Special Features:
If the 4K restoration is not enough to get you to buy this release, Kino Lorber Studio Classics has also armed it with new interviews, a new commentary, and deleted workprint scenes.
NEW Audio Commentary by Film Historian Lee Gambin and Film Critic Jarret Gahan
Deleted workprint scenes
Audio interview with director Richard Franklin
Jerry Goldsmith demo of the LINK theme
Theatrical Teaser
Theatrical Trailer
Fantastic! Shocking! Frightening! Operating as a sort of sequel to the wildly popular Blood Island Trilogy of films, Severin Entertainment reaches back and deep into the dusty vault of horror films and wipes away the cobwebs from these five crazy-ass flicks from the Philippines with ...
Read more: Hemisphere Box of Horrors: The Blood Drinkers, Curse of the Vampires, Brain of Blood, The Black...
"Ya got a light for an old leprechaun's pipe?" I fucking love the Leprechaun movies. The first movie, starring Jennifer Aniston and Warwick Davis, set the bar for camp, comedy, and cutthroat kills pretty damn high. It might have been slaughtered in its original release due to poor reviews, but the film survived the ...
Read more: Leprechaun: The Complete Movie Collection (1993, 1994, 1995, 1996, 2000, 2003, 2014) - Blu-ray...
It's the big BANG, baby! We all know this wonderful existence ends. But how? Will we blow ourselves up in a nuclear war or will we drain the earth of its resources and go out slowly? Will the end arrive with the zombie apocalypse or will it be a haunted affair? Somehow all of this ...
This film was supposed to be my big break and it turned out to be a big disaster." Yes, those are actual lines spoken in this flick. Jennifer Lopez says them to Jon Voight and the scene, which features Voight hilariously responding in his ridiculous accent "it's been a long time since I had a ...
Because we all need to take a lesson from the Ty (Mike Kellin) and Vachel (Charles Bartlett) playbook! ...
I am not a fan of kids crawling into beds for no good reason. Sure the snuggles are great . . . but, well, maybe my own son creeped me out by too many times just standing in the bedroom waiting for me to wake up. It puts me on edge, man. Give me a creepy kid film and, damn it, I just can't handle ...
Rituals, underrated and rarely seen, is a masterpiece of moody mud-caked horror, especially the unedited version. Never heard of it? Well, that might be because this Canadian backwoods thriller – filmed in a charred-out forest – got unfairly dismissed as a Deliverance wannabe at the ...
Chop-socky!? More like cop-socky! Police Story and its 1988 sequel are back in blu! ...
Read more: Police Story/Police Story 2: Criterion Collection (1985/1988) - Blu-ray Review
It might be the best Altor movie, yes indeed, but that is still not saying much at all. More artsy than what came before, Iron Warrior is a film which wants to do a lot of things . . but does not actually do a damn thing in its running time except leave audiences scratching their ...