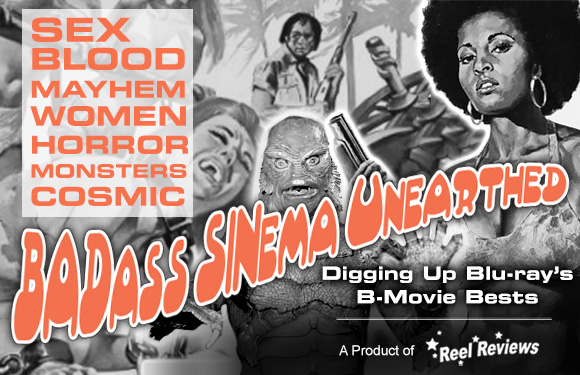 Fright (1971)
3 Beers
Transfer: 3 Beers
Sound: 2 Beers
Special Features: 2 Beers
It's all over, but the screaming. Even the British got in on the whole babysitter stalking trend. Wait. Back up. When was this film made? Oh hell, they helped bring it to the United States. The proof arrives in Scream Factory's latest HD offering, Fright, starring Honor Blackman (Bond's Pussy Galore), Susn George, Ian Bannen, and John Gregson, in which one naïve babysitter finds herself and the boy she is looking after caught in a house that a stalker is wanting to get into.
Poor Susan George. She's always victimized. Which, like her performance in Straw Dogs, is EXACTLY what happens in Fright, a thriller that sees her trapped in a house with a psycho. Except – hello, hello – the psycho turns out to be her friend's ex-husband who, as this character is played by, Ian Bannen, is damn frightening.
Directed by The Italian Job's Peter Collison, this thriller is a bit too stuffy for its own good. There are some memorable moments – thanks to Bannen's take on this jittery and very cold psycho – and some scenes that are striking, thanks to the cinematography of Ian Wilson, but this film feels very padded in what probably could have been a very tight 60-minutes. Instead, we have too many cutaways to dinner scenes while George wanders a house that has been invaded.
The stalker's target? Well, his kid of course. He wants what he feels is his alone. Damn what his wife wants. He's breaking in and taking what he feels is rightfully his. So, in this domestic thriller we have a rustic setting – it's deep in the woods on the edge of town – and lots of murderous moments with an epic shard of glass. In fact, it I this which delivers the final gasp from the delusional killer.
With nice shots from the crib of the child being watched and a solid tone when it comes to George's viewpoint of the odd happenings around her – stemming from her boyfriend (Dennis Waterman) visiting her and then later being suspected of playing a prank on her – Fright is not without its pluses; the house itself is a win as it is totally cluttered with stuff that fills EVERY room with possible hiding places. But, unfortunately, it doesn't maintain the suspense in the house when it ventures to the dining of Helen and Dr. Cordell. I mean, we don't really care about them now do we? We care about what is happening in the house, which is why I suggest that Fright feels padded in order to get a theatrical running time.
Fright is not a bad film; it just probably needed to stay at the running length as an episode of a British horror anthology series. That being said, it does seem that this film operates more as a proto-slasher film, seeing as we have the Final Girl and it was made almost 8 years before Halloween, so there is some respect that much be paid to it.
Fright is now on blu-ray thanks to Scream Factory.
Blu-ray Specifics:
Released on 1080p by Scream Factory, the HD presentation is indeed a step up from the any version we've seen previously of this film. Colors are saturated a bit more. Black levels are thickened. There's a nice new coat of paint to much of the house in this feature – even if the film suffers from filler. The rooms are expressively detailed. The grounds surrounding the school are solid green and, if you look hard enough, you will see texture through the grain in some of the scenes. The clothing is detailed and certainly interesting to look at; all those lines (yes, even back there) seem chiseled a bit deeper thanks to this expressive transfer. The sound is presented in a solid DTS-mono track and the picture is a bold 1.66:1.
Commentary:
None.
Special Features:
While the interview with Author/Film Historian Kim Newman is brand-new, nothing else is. Fans get a theatrical trailer and a still gallery.
Fright Nights – An Interview With Author/Film Historian Kim Newman
Theatrical Trailer
Still Gallery
Kill the head! Kill the head! Jim Jarmusch, the writer/director of Night on Earth, Dead Man, Ghost Dog, Broken Flowers, Only Lovers Left Alive, and Coffee and Cigarettes, has made a zombie movie. That sentence alone, if you are a fan of independent films just this side of quirk, should get your heart racing. No? ...
IT. HAS. ARRIVED. Fred Jones. Daphne Blake. Velma Dinkley. Shaggy Rogers. And a Great Dane named Scooby-Doo. That's right, kiddos, the Mystery Machine has pulled up in all-new (AND BOLD) colors! The details! The animation! And all the fun-loving, free-wheeling, sandwich-gobbling spirit ...
Read more: Scooby-Doo, Where Are You: The Complete Series - Blu-ray Review
Hell Comes to Frogtown and only "Rowdy" Roddy Piper as Sam Hell can save the day. I don't know whose idea it was – cinematographer/director Donald G. Jackson or writer/producer Randall Frakes or, hell, the B-film minded souls over at Roger Corman's New World Pictures – but strapping a bomb onto Piper's ...
Dark. Intense. Edgy. Consistently bold. Endlessly imaginative. And, of late, experiencing a bit of a renaissance in popularity, Star Trek: Deep Space Nine is now – on the eve of its 25th Anniversary – being celebrated with its own documentary. What We Leave Behind: Looking Back On Star Trek: Deep ...
Read more: What We Left Behind: Looking Back on Star Trek: Deep Space Nine (2019)
Grab the wolfsbane! Get the garlic! Cult filmmaker William Beaudine takes aim and squeezes the B-movie trigger again! From The Ape Man to Voodoo Man, the director constantly drums up a lot of B-movie mayhem. Here, he ...
Read more: Billy the Kid vs. Dracula (1966) - Blu-ray Review
In which Frankenstein gives us the two fingered salute! You'll laugh! You'll cry!! The Horror of Frankenstein and its bodybuilding monster will be why! Scientific twaddle has never been so supercilious than here in this Hammer flick from 1970 ...
Read more: The Horror of Frankenstein (1970) - Blu-ray Review
Atomic fusion gets jazzed up! Thanks to a righteously jazzy score from composer Ralph Carmichael and an off-kilter (but campy) vibe, an underappreciated science fiction gem gets the blu-ray treatment courtesy of Kino ...
I mean, it isn't every day you see a body being dragged on the ground by your grandparents. That's just one of the MANY shocks in this creepy gem from the video store. Newly scanned and remastered in 4K from its original 35mm camera negative, Vinegar Syndrome gives us another ...
Because maybe the Easter Bunny DOES crap colored eggs! Radioland Murders, directed by Mel Smith (The Tall Guy, Bean) and co-written by George Lucas, is a throwback to another era of comedy. Unfortunately, none of that was recognized when the film was ...