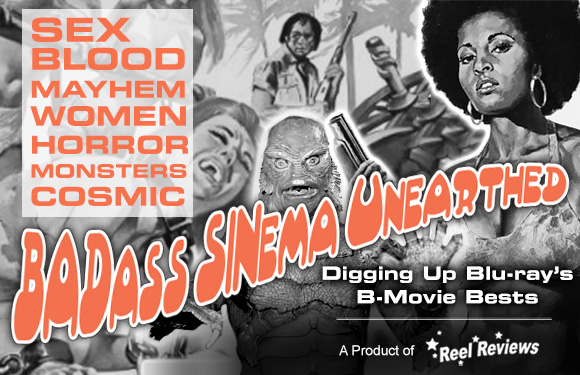 Mr. Majestyk (1974)
5 Beers
Video: 4 Beers
Audio: 3 Beers
Special Features: 1 Beer
Never mess with another man's melons!

Once that sick theme song from composer Charles Bernstein kicks in, you know that this film is going to be an epic showdown. It doesn't disappoint either. No clean window - be it in a car or a house - can stop him getting to his target. Doors don't keep him out. And, damn, should you fuck around with his melon crops then I feel sorry for your ass, son. Mr. Majestyk isn't taking any shit from anyone.
If Charles Bronson playing a watermelon farmer is wrong then I don't want to be right. Written by Elmore Leonard (Out of Sight), who would later adapt his screenplay as a novel, and directed by Richard Fleischer (Soylent Green, Mandingo), Mr. Majestyk hits a confident stride with cool action beats and never looks back as Vince Majestyk pushes a self-entitled prick (Paul Koslo) of his crops and out of his life, protecting his own farmhands from outsiders.
This simple action stemming from simple trespassing and major ass-kicking results in a domino effect that sees Majestyk getting arrested, then caught up with gangster Frank Renda (Al Lettieri), which ultimately attracts the attention of even more police, who constantly pick the wrong side, and leads to a showdown full of hot and heavy shotgun blasts and cool stunts.
The scene where Majestyk tangles with Bobby Kopas (Koslo), ramming a shotgun into his groin, follows one which sees Bronson having to force a gas station attendant to let some migrant workers use the bathrooms to relieve themselves and, yes, we are already on his side. He's allowing migrant workers to work HIS fields and it's pissing off the white locals as one Colorado town wakes up to some stone cold revenge.
Because Renda and his girlfriend, Wiley (Lee Purcell), won't let Majestyk go without paying a price for annoying, kidnapping, and attempting to trade him to the police for his own freedom. Why? As stated from the beginning of the movie, all Majestyk wants to do is get his crops ready for harvest. That's it. He doesn't want trouble; he just wants the income from his crops.
But the white world doesn't like his methods.
With Nancy Chavez (Linda Cristal), a union leader, on his side, he's got a bit of help out in the fields, but dealing with Renda's efforts to kill him is all Majestyk. Don't worry, as a former U. S. Army Ranger instructor and a Vietnam War veteran, these bad guys don't even know the level of shit they have stepped right into.
Explosive and crackling with great dialogue, Mr. Majestyk is now on blu-ray from Kino Lorber Studio Classics. Get to know Rambo's roots because it all started here in this Walter Mirisch production.
Blu-ray Specifications:
Charles Bronson stars as Majestyk, an ex-con and Vietnam vet whose efforts to run a farm are thwarted by narrow-minded locals and corrupt cops. But when a Mafia hitman (Al Lettieri) destroys Majestyk's crop, the farmer's fuse is finally blown. With his rifle in hand and his girlfriend (Linda Cristal) at the wheel, he goes after the syndicate assassin. And from high-speed back-road chases to an explosive backwoods confrontation between mobster and maverick as they stalk each other: two-of-a-kind antagonists to the death. Directed by legendary director Richard Fleischer (Compulsion) and written by the great Elmore Leonard (Out of Sight). The wonderful supporting cast includes Linda Cristal, Lee Purcell, Paul Koslo and Taylor Lacher. It is now on blu-ray here in the United States thanks to Kino Lorber.
Video:
With an aspect ratio of 1.85:1, Kino Lorber's 1080p transfer presents a solid contrast throughout the explosive action as Bronson roars into action. The sun-filled locales are hot and humid and you can tell thanks to this honey-dipped transfer. Lines have edges and black levels are STRONG as Bronson, wearing a cap and a denim jacket, wipes the floor with a bunch of lowlifes. Scars on the skin are clear and facial imperfections are sharp. The transfer looks to have had a blissfully sharper palette than previous DVD versions. Details are strong and the local town has strong edges throughout. Shadows are defined, too.
Audio:
The hard-hitting film has a solid sounding DTS-Master Audio soundtrack that highlights the cool score from Charles Bernstein. Turn it up and get ready to rumble as Mr. Majestyk gets ready to harvest his crops.
Special Features:
Fans get a trailer and that's it.
Theatrical Trailer
In the wake of composer Ennio Morricone's passing, there are few things as beautiful and as moving as his score set to the playful opening of prolific movie mogul Dino De Laurentiis' Orca: The Killer Whale! Sure, this is a JAWS rip-off, but watching those beautiful beasts hurl themselves out ...
The Dynamic Duo of silent AND sound comedy return! This release has been a long time coming, but finally - thanks to Jeff Joseph in conjunction with the UCLA Film & Television Archive and the Library of Congress - Stan Laurel and Oliver Hardy have arrived on ...
Read more: Laurel & Hardy - The Definitive Restorations: 4 Disc Special Edition Collector's Set (1927 - 1937)...
Calling all fans of 1970s cinema! Severin Films has got your ticket to ride with what has to be one of the strangest science fiction offerings, The Astrologer. Slow-moving and centered around a covert government agency which monitors astrological signs to see if a person is good or bad, this film will leave ...
You haven't seen anything until you witness a double amputee karate kick someone's ass straight into a pool. In slow motion, nonetheless. That's the exploitative territory we're headed into in tonight's viewing of Mr. No Legs. Get the beer ready! ...
The Cameraman is the film in which Buster Keaton's character (accidentally double exposing some pretty hilarious images over each other) discovers the avant-garde on accident. All joking aside, this comedic masterpiece from the silent era - with one scene hilariously depicting Keaton ...
Read more: The Cameraman: Criterion Collection (1929) - Blu-ray Review
Independently made in glorious black-and-white cinematography by producer, writer, special effects supervisor Bert I. Gordon (King Dinosaur, Attack of the Puppet People, The Amazing Colossal Man, Village of the Giants, and Empire of the Ants), The Spider is quick to the kill, opening ...
Read more: The Spider (aka Earth Vs. The Spider) (1958) - Blu-ray Review
This place gives me nightmares! Ever felt buried by all your work? The Dead Pit takes that saying literally and concerns itself with a mad doctor who, 20 years ago, was killed and buried alongside his human experiments . . . in the basement of an asylum. The hope was that he'd never ...
Read more: The Dead Pit Collector's Edition (1989) - Blu-ray Review
And just like that, a drive-in classic comes to blu-ray! Thanks to Dark Force Entertainment, Teenage Hitchhikers arrives with a brand new HD Master from the original camera negative with hours of scene by scene color corrections. Time to get those thumbs out and ready for the winding ...
Produced and expertly directed by Sean S. Cunningham and written by Victor Miller, Friday the 13th, being the first independent movie to get distributed by a major studio, never seems to get the credit it deserves. We take it for granted with much of the discussion revolving around which ...
Read more: Friday the 13th: 40th Anniversary Limited Edition SteelBook (1980) - Blu-ray Review