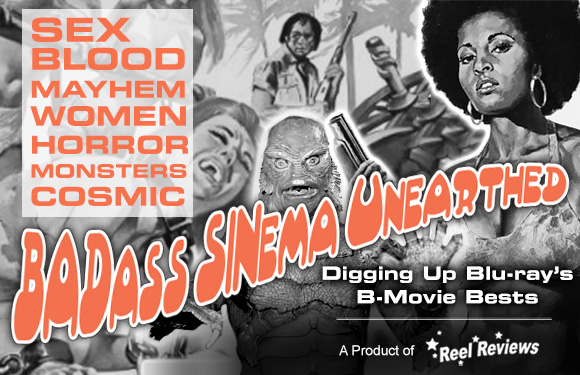 Details

Published:

22 March 2018

Written by Loron Hays
Offerings (1988)
3 Beers
And the Mother of the Year award goes to little Johnny Radley's gap-toothed beast of a Mom. In just about one minute of screen time, we get enough information about this grumpy bitch to know that she deserves a knife in a skull. I wish I was kidding. I'm not.
Scrambling Johnny's morning eggs with a cigarette dangling from her mouth (while letting the ashes drop in the frying pan), she soon ridicules him for being labeled a mute genius by his current school and then compares the little guy to his shitty father who abandoned the two of them years ago. She even brings up the animal mutilations.
And this woman isn't about to unhook Johnny from her abusive leash anytime soon. Hell, she barely lets him out of the house so that he can play with his good friend, Gretchen, and then – because he's not like the other kids in the neighborhood – he finds himself at the bottom of a well, left for dead. Poor Johnny Radley. He never stood a chance in this life.
And just wait until he comes back to town after his stint in a psyche ward.
With piano notes eerily similar to a more famous horror film that changed the rules in the genre at the tail end of the 1970s, Offerings gets started on the right foot. It doesn't stumble either in its rollout. Oh, it's a copycat alright, but there's enough wonky scenes – including canned dog food being served to Gretchen's BFF – that keeps it from being dismissed.
In spite of its weak acting, there is intelligence at place here as a fat unknown killer clears the grounds of teens and their parties; all without tipping his true location. He's there solely to get revenge upon the entire town that did him so very wrong all those years ago. Bodies are dragged under beds, nurses are stabbed in the forehead with a needle, and somehow, thanks to a very spooky scene involving a shotgun, people get bent out of shape.
And then they critique actors in other horror movies in a scene that predates Scream. Hello? Now, just who here is the copycat?! If it sounds like John Carpenter's Halloween and it walks like John Carpenter's Halloween, then it is probably is John Carpenter's Halloween. Except when it is Offerings.
Made on a shoestring budget, this film stars Jay Michael Ferguson, Richard A. Buswell, Tobe Sexton and G. Michael Smith and is downright spooky at times as our killer likes to leave bloody body parts in and around houses for people to discover.
Sometimes a blatant rip-off offers something a bit unexpected. That's always been the case with this late arrival onto the slasher scene. Offerings, a 1988 independent American slasher horror film written, produced and directed by Christopher Reynolds is now available on blu-ray thanks to a brand new 16x9 color corrected HD master from Dark Force Entertainment. It is to be remembered, lest he dismember you.
Blu-ray Specifications:
While fuzzy, the blu-ray restoration is handled nicely. The AVC-encoded 1080p transfer of Offerings is a relative goldmine of previously unseen details and colors. The details in the rooms and the clothing and some of the bedroom furniture items are a reason to appreciate the visual "pop" throughout the high definition transfer. The crisp image quality is the best you're going to get with a film like this and, admittedly, even a bit better than expected. Some stuff from the same era hasn't made the HD transition quite as well, but this one looks pretty solid. Colors are perfect. Blacks are solid. Skin tones are detailed and appropriate. The sound – offered here in a strong DTS-HD Master Audio Stereo track – presents the terror in an engaging manner.
Commentary:
None.
Special Features:
A theatrical trailer is attached.
Theatrical Trailer
Details

Published:

21 March 2018

Written by Loron Hays
The critics were wrong about this movie. DEAD WRONG. The 'Burbs, when it released in 1989, opened to hellfire and damnation via the printed word by most of the print critics. Director Joe Dante, in the NEW interviews with the cast and crew for this special Collector's Edition ...
Read more: The 'Burbs: Collector's Edition (1989) - Blu-ray Review
Details

Published:

20 March 2018

Written by Loron Hays
The Baby Mask Killer strikes again! Alexander Cassini's Star Time will fuck you up. There's no other way to put it because this dark commentary on television's impact upon our culture is truer now than it was when it was originally released in 1993. And we have Vinegar ...
Details

Published:

19 March 2018

Written by Loron Hays
Sometimes surreal horror involves a gnarly sex scene on a rotating bed. Other times it involves knifing someone in the face through a pillow while they sleep. You know what they say, though, if you die in your dreams then you die in real life. For the dude at the center of this ...
Details

Published:

19 March 2018

Written by Loron Hays
Mannequins. It had to be Mannequins. Even more fun at the local neighborhood chopping mall! This movie, full of gorgeous girls and their brain dead boyfriends, is what happens when four teenage couples do some after hours shopping in a furniture store. Well, sort of ...
Details

Published:

18 March 2018

Written by Loron Hays
Describe to me the most boring movie ever. Go ahead. I will wait. Is it 90-minutes of a man staring at paint drying on a wall? Do people pass in front of that wall trying to get him to look away? Does he? No? Okay. Whatever. Sounds pretty dull, but if there happens to be a panther ...
Decapitated chicken heads, neurotic brides, and a creepy killer who is handy at fixing cars, soaping up babes in the shower, and slitting throats. Sounds like a damn good Friday night film pairing to me. With this release from Code Red the 70's drive-in twofer continues! ...
Read more: House on the Edge of the Park/Last House on Massacre Street (1980, 1973) - Blu-ray Review
To this day, there remains something insanely special about director Brian De Palma's Carrie. It is based on the once-discarded novel by Stephen King, but was painstakingly adapted for the screen by Lawrence D. Cohen. Cohen got everything about King's first novel right ...
When a woman races through a jungle for no apparent reason and then knocks herself out via a low hanging branch, you have to know that you are in for a damn good time of general awfulness at the movies. This is confirmed later when giant crabs invade and start roaring ...
Details

Published:

16 March 2018

Written by Loron Hays
Stud alert! Stud alert! If you are hot, young, and hung then come on in! That's the party call in this sex comedy that stars Lisa Hartman, Russell Todd, Lorna Luft, Wendy Schaal and Lynn-Holly Johnson. Critics might have panned this Spring Break-themed comedy, as outrageous ...