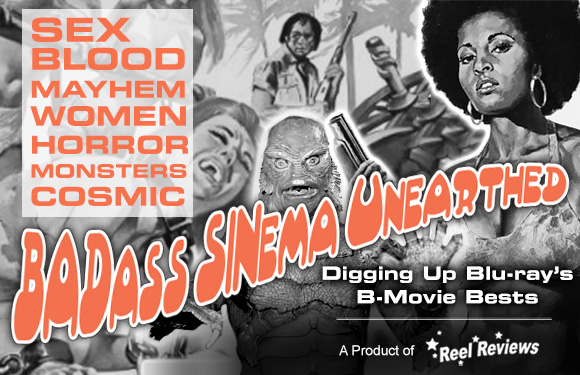 Melinda Clarke, who stars in Brian Yuzna's Return of the Living Dead 3, might just be the hottest zombie ever to grace the silver screen. She is, after all, the original living dead girl. She's a wild girl, complete with flaming red hair and ice-cold eyes. Her edgy personality and ...
Read more: Return of the Living Dead 3 (1992) - Blu-ray Review
"I'm a hungry man!" When Vestron Pictures originally released C.H.U.D. 2: Bud the C.H.U.D. back in 1988, they knew exactly the type of movie they had on their hands. And it wasn't a horror flick. The sheer lunacy of following up a horror film with a straight comedy might ...
Read more: C.H.U.D. 2: Bud the C.H.U.D. (1988) - Blu-ray Review
Nevermind the fact that the theme song – performed by Yes' Jon Anderson – plays something like four times throughout the movie. Please ignore the mess the film leaves as questions go unanswered. And, for the love of all that is holy, just appreciate what John ...
Read more: Biggles: Adventures in Time (1986) - Blu-ray Review
"But, Miss Hammond... Helga! No Hammond ever ventures into the rocky lane on a foggy night," is the warning. It's the siren song of an entire family line. You see, the Hammond family IS cursed. Some might say they are cursed by wealth. Others will suggest it is ...
God bless Samurai Cop. Seriously. Ranking alongside The Room and Troll 2, Samurai Cop rounds out a trio of films so fucking bad that they are unyieldingly hilarious. You want to set the tone of a party right? Rent this bitch. The result of stitching together an action movie ...
And now it is time to get weird; really weird. Jeremy Irons, man. What a commanding actor, right? Well, in David Cronenberg's Dead Ringers, he plays a set of talented twins that, after a simple misunderstanding over the same woman, turn their successful gynecology ...
Read more: Dead Ringers: Collector's Edition (1988) Blu-ray Review
I first saw Dario Argento's Phenomena when it was released here in the United States as Creepers. That version – heavily edited by 30-minutes (for no other reason than to save Americans from actually thinking) – was essentially one long music video. Goblin and Simon ...
Read more: Phenomena: Limited Edition Collector's SteelBook (1985) - Blu-ray Review
Ha, Criterion Collection. It seems that little April Fools Day joke (back in 2011) has come to bite you in the ass. C.H.U.D. has made it to blu-ray! There was a time in America when we surrendered to the idea of nuclear war. It was bound to happen. Why fight it? This attitude ...
Bubba Ho-Tep and I have finally made up. I get it. I finally get why the movie absolutely works and why my punk-ass comments when it was originally released were so naïve. To borrow a line from from Gatsby's Nick Carraway, "in my younger and more vulnerable years"I was a complete ...
Read more: Bubba Ho-Tep: Collector's Edition (2002) - Blu-ray Review
And so we come to the blatant rip-off. Perhaps that's too harsh. After all, there are some interesting things in the mechanics of Larry Stewart's slasher (the finale inside the multi-level Dallas Market Center being one), but not enough to keep audiences focused on its ...