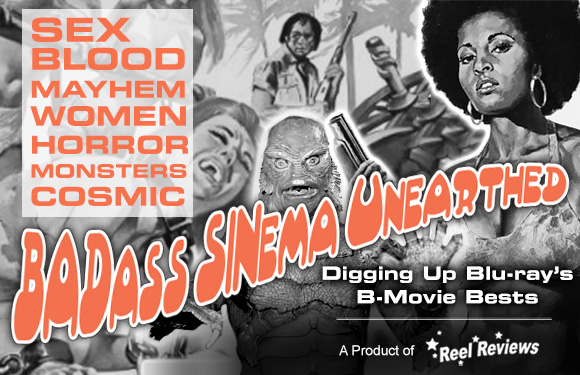 It begins in the snow. In a dramatic shot, a Stetson-wearing worker discovers a thick white substance bubbling up from the ground. Giant flanks of snow pepper his old face. He approaches it silently. Carefully. He can't resist, though, sampling this marshmallow-looking ...
Arrow Video has simply outdone themselves with the blu-ray release of the first sequel to Stuart Gordon's hit horror-comedy Re-Animator. Seriously, stop reading this RIGHT NOW and go grab a copy of Bride of Re-Animator before this limited edition release is all gone ...
Because, you know, it takes a village FULL of idiots to help make and then TAKE a movie away from John Carpenter WHILE he's editing it. John Carpenter's Village of the Damned is due for some appreciation. While no one can argue that Carpenter's best output ...
Read more: John Carpenter's Village of the Damned: Collector's Edition (1995) - Blu-ray Review
There have been many adaptations of Edgar Allan Poe's famous short story, but I have to admit that Lucio Fulci's film is probably the most uneven of the batch. That's not saying his take on The Black Cat isn't without merit but, for horror fiends who really want to see ...
Aligning its release with NASA's Project Mercury accomplishments but predating man's landing on the moon is Denmark's laughably silly Journey to the Seventh Planet. Directed by cult producer Sidney W. Pink (Reptilicus, The Angry Red Planet) and starring John Agar and ...
Read more: Journey to the Seventh Planet (1962) - Blu-ray Review
With a plump fleshy tongue planted firmly in its teeth, Frightmare is a fun and puzzling little flick hailing from 1983. This dusty horror gem is certainly not a waste of time and, as it achieves much more than it has any right to on its small budget, should be lapped up proper-like by any legitimate ...
Cherry Falls. It is an idyllic small town in Virginia. Tall trees and large pools of water surround it. Nothing much happens here, mind you, but its residents love the safety and security it provides. It is a place to raise a family; almost isolated from the rest of the state. And the ...
There is a reason that Quentin Tarantino and Neveldine/Taylor consistently make Black Mama, White Mama more than just a reference point in their filmography. The balance struck between humor and socio-political commentary is a steady one and continues to ...
Written by Jack Nicholson, The Trip is director Roger Corman's statement on the whole psychedelic scene of the 1960s. It is more of an experience; however, than it is a film. Much like Head, the trippy Monkees' movie (which is far more interesting than it is given credit ...
Fans of mad scientist flicks rejoice! The Back Sleep has arrived to cradle us in our darkest moments of fear and fury. Starring a very notable cast, this B-movie was coupled with a lot of better B-movies during its brief theatrical run but it matters not because this release – from Kino Lorber no less ...