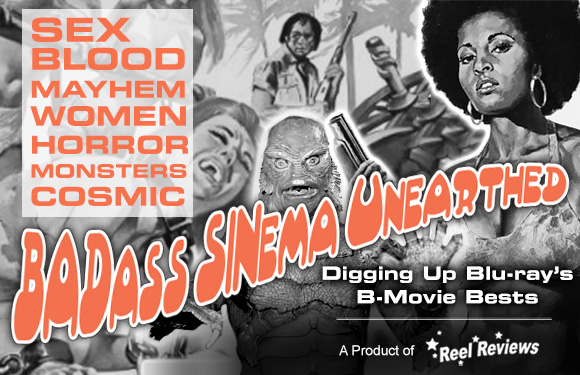 Director Arthur Penn's Dead of Winter is pretty much forgotten today, which makes its appearance on blu-ray – thanks to the efforts of Scream Factory – a real find for fans of old school chills and thrills ...
And THIS is why mothers should never breast feed their freaky-looking children recently turned zombie. Directed by Strip Nude for you Killer's Andrea Bianchi, Burial Ground is an Italian grindhouse romp through and through. Complete with a paper-thin plot about a professor ...
Bring on the rush of nostalgia! Crank up the cheesy synths and relax because BMX Bandits is back, baby! Return with me, won't you, to the era of Day-Glo colors and freestyle BMX styling. Give the middle finger to the humdrum reality of modern life and celebrate the ...
Who knew nuclear fallout could be so wild? Guns belch across a wasted continent. Wild women run around in torn leather hot pants, football shoulder pads, and not much else. Beat up Ford Mustangs with dented doors are the new chariots. And those who control the water ...
It is a movie best left for a super gloomy day. Only the mood created by the sound of falling raindrops and a sky of swollen clouds could satisfy the dark dwellings of The House That Screamed (aka La Residencia). There's no denying that this creaky old Spanish flick – even ...
Mr. King, I think it is safe to say that Clive Barker is STILL the future of horror ...
Read more: Hellraiser: The Scarlet Box Limited Edition Trilogy - Bluray review
For those of you out there wanting to gain access into the celebrated madness that is the b-movie world, Dreamscape is a certified rite of passage. You. Must. Enter. Here. All paths lead through its twisting corridors. Scream Factory celebrates this fact with their updated 2K ...
Read more: Dreamscape: Collector's Edition (1984) - Blu-ray Review
Director Abel Ferrara (of Ms. 45 and Bad Lieutenant fame) and his long-time collaborator, screenwriter Nicholas St. John, are certified madmen of the NYC gutter scene. They are art punks through and through, tirelessly splattering their canvas with a bit of the old ultra-violence ...
Read more: The Driller Killer (1979) 2-Disc Special Edition - Blu-ray Review
Super tongue strikes again! Bob Clark's Black Christmas is a masterpiece of horror (and humor) that you truly can deck the halls with. There's no other way to put it. Oh, the print critics had a field day punting it around at the time of its release, but the joke is on them ...
Read more: Black Christmas: Collector's Edition (1974) - Blu-ray Review
I'm not sure if it is Tangerine Dream's electronic score or Tommy Lee Jones' performance as the veteran who takes over Central Park for about two days or the subject matter itself of pushing back against the system that makes The Park is Mine work so insanely well ...