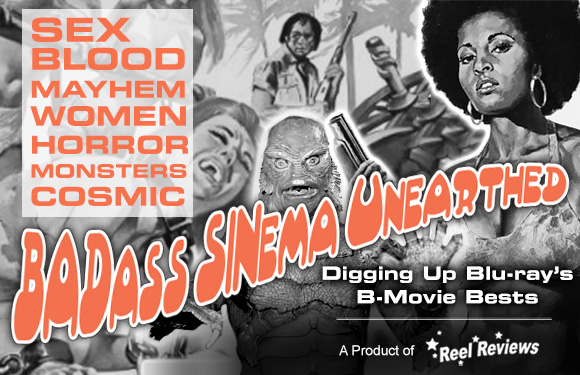 Chuck Norris, soaked in a profile of shadows, standing atop a red bluff in the Southwest might be one of the most striking images in Lone Wolf McQuade, an action flick which prides itself in showing the rugged manliness of one man's individualism against a crazy force of criminal activity ...
"Gappa. No God. Gappa. Fly." With those words of warning from a native boy, a crew of scientific explorers, specifically Hiroshi Kurosaki (Tamio Kawaji) and Itoko Koyanagi (Yoko Yamamoto), discover more than they expect on a remote island in the Pacific Ocean ...
Read more: Gappa: The Triphibian Monster (1967) - Blu-ray Review
It shouldn't be a shock to anyone that this horror classic begins with a scream. It's as if writer/director Lucio Fulci is already expecting the shrieking as Father William Thomas (Fabrizio Jovine) wanders aimlessly around a cemetery. The slow driving beat of the electronic score from ...
Stay loose! The original classic, The Mechanic, is back for your viewing pleasure and it's been carefully remastered in 2K thanks to Scorpion Releasing. Prepare for this assassin, a member of an unnamed top secret organization, to absolutely blow you away with its meticulous pacing and its ...
Danger, high voltage! They Came From Beyond Space, a low-key alien flick from the 1960s has arrived on blu-ray thanks to Kino Lorber with a brand-new 4K master. Don't get too excited by that cover art, though. It looks awesome, but has nothing to do with the film itself. ...
Read more: They Came From Beyond Space (1967) - Blu-ray Review
Want punishment or pleasure? I guess that depends on your take on Al Adamson's filmography because Severin Films has gone and done it again, making blu-ray history with the quickie king of kernel-sized trash filmmaking thanks to their MASSIVE release of Al Adamson: The Masterpiece Collection, the most comprehensive Blu-ray Box set ever dedicated to the works ...
Read more: Al Adamson: The Masterpiece Collection (1960 - 2019) - Blu-ray Review
A silk-suited jogging Adam West (Batman) in a bizarro biker flick? Where the hell do I sign up to see this example of gonzo-like gear-head shenanigans?! Turns out the new Vinegar Syndrome Archive line - complete with a hand numbered slipcase that opens from the ...
It's the sequel no one wanted. Go in knowing this. The opening few minutes of Brahms: The Boy II are this film's best. Shocking and thrilling, an unsuspected home invasion rocks the idyllic world of Liza (Katie Holmes, Dawson's Creek) and her son Jude (Christopher Convery, The Girl in the Spider's Web). It's a ...
Beware, thar be sea creatures here! Thanks to producer Nico Mastorakis (Island of Death, The Zero Boys, The Wind), Richard Jefferies, the screenwriter behind Scarecrows, The Vagrant, and Cold Creek Manor, steps behind the camera for the first time and takes viewers on yet another ...
Because you never know when you are going to need stick matches! While the earthquake that opens John Carpenter's Escape from L.A. and separates the county from the rest of California might be the stuff of fiction, it is NO stretch of the truth to admit that this post-apocalyptic sequel was ...
Read more: Escape from L.A.: Collector's Edition (1996) - Blu-ray Review