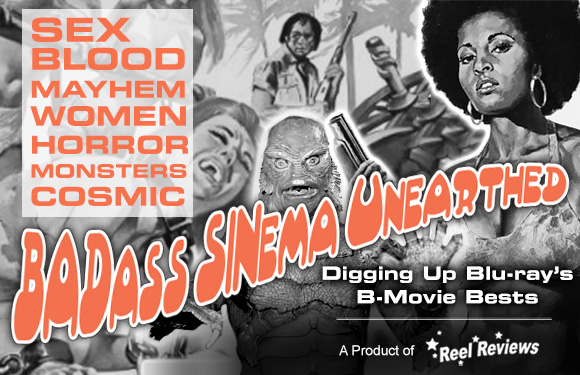 . . . in which the Greeks go giallo. . . Greek filmmaker Nico Mastorakis (The Zero Boys, Hired to Kill, Island of Death) is widely known for his affinity and his production of B-grade films. Blind Date, in which actor Joseph Bottoms, playing ex-pat ...
Sometimes a movie is so insanely cool that there can be no stopping its ascension through the gates of classic cinema. Let the Corpses Tan (Laissez bronzer les cadavres) is one of those movies. From the beautiful Mediterranean summer that hugs this modern day ...
Los Angeles. Sometime in the not too distant future. This is where we start in writer/director Albert Pyun's Nemesis, a film that – thanks to a heavy spray of bullets and swagger – puts the PUNK in cyberpunk. Alex Raine (Olivier Gruner) is an assassin for the LAPD. His job? ...
Read more: Nemesis: MVD Rewind Collection (1992) - Blu-ray Review
Produced for television by Aaron Spelling, The House That Would Not Die is a one-time ABC Movie of the Week atmospheric creeper that, thanks to some old-fashioned style melodrama, doesn't always work when it comes to its cast. The premise; however, is a solid ...
Read more: The House That Would Not Die (1970) - Blu-ray Review
Steve Martin's The Jerk remains a comedy classic. That is made clear thanks to Shout Select's brand-new 2K transfer of the 1979 hit film. Put this film in a time capsule already because, thanks to the vulgarity, the stupidity, and the damn sweet innocence of it all, there is ...
Read more: The Jerk: 40th Anniversary Edition (1979) - Blu-ray Review
Because Santa Claus only comes once a year, why not go back to the well? Silent Night, Deadly Night Part Two has to be one of the most fantastically awful sequels out there. Sure, sure, sure, it's a pile of shit, recapping the original movie for half of the film before spiraling ...
Read more: Silent Night Deadly Night Part Two: Collector's Edition (1987) - Blu-ray Review
And you think your neighbors are weird?! With an introductory title card that is damn legendary, Don Dohler's Fiend begins. Certain legends have mentioned the Fiend. They talk of its red phantasmagoric presence; its ability to enter the earth and bring forth the dead ...
Read more: FIEND: Limited Collector's Edition (1980) - Blu-ray Review
Making its blu-ray debut, Snowflake (originally released as Schneeflöckchen in 2017) proves that German cinema might just be on the rebound. Taking on the subject of revenge might not sound so grand and ambitious of an idea, but what directors Adolfo Kolmerer ...
Hells Bells, Liddell!!! Seriously, just promise me that if you are ever working around heavy machinery and you happen to drop some pills on a MOVING conveyer belt that you will just let the damn machine grind that shit up. Because, in The Mangler, one worker does ...
When it comes to concert films, there are few things better than the teaming of Jonathan Demme (Silence of the Lambs, Philadelphia) and David Byrne. Stop Making Sense, the title coming from a lyric inside the Talking Heads' song "Girlfriend is Better", is a concert ...
Read more: Stop Making Sense: 25th Anniversary Edition (1984) - Blu-ray Review