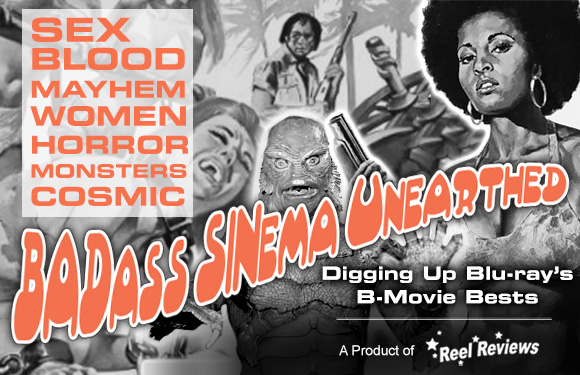 Black Belts in shotgun? Bombs on boomerangs? Hell, yes. So what if the lead character can't shoot straight?! When you are having this much fun, who really cares? ...
Die, Monster, Die! It seems to me that the Horror Anthology, once popular in the 1960s, is making a surprising and rather strong comeback in recent years. There have been a lot of good, independent features that make the most of the short narrative structure ...
Otherwise known as When Meteors Attack!!! Laugh all you want to, but there are moments – especially in deep space – when flying saucers drifting through clouds as meteors rip right behind them will have you doing more than just wanting to believe. This Island Earth (and its Mutants) is a vision on ...
Big Guns. Even bigger boobs. Loaded with scenes so hysterically full of sexual innuendo that go on for far longer than they ought to, director Andy Sidaris returns to the scene of his B-movie crimes and goes guns blazing on Savage Beach, now available on blu-ray ...
Vampire plants! Gigantic eggs! And a really BIG moth! That's right, Mothra is happening all over again . . . except this time its satire and its science fiction can be viewed in sparkling blu-ray. ...
Read more: Mothra: SteelBook Edition (1961) - Blu-ray Review
What's that funny thing behind the barn? That's what Jenny (Natasha Ryan, in a performance that steals the picture away from the rest of the cast) wants to know. It's green; it glows; it makes noise and somehow, maybe due to this house's desert location, this triangle-shaped object is connected to ...
Read more: The Day Time Ended: 40th Anniversary Special Edition (1979)
There is a lot I remember from originally seeing The Believers in 1987 for the first time. That was years ago, but the thing that struck me – and continues to be striking (especially after watching this release from Olive Films) – is its opening sequence: Martin Sheen on a run with ...
We all know that college can change a young man. Most of us revert into sex-starved beasts on the prowl. Some of us conform to the peer pressure around us. Regardless of the good or the bad, life on a college campus is often times unplanned, unscripted, and full of primates. Which makes a film as loopy ...
Writer/Director Fred Dekker is a hero of mine when it comes to making memorable films. From Night of the Creeps to Monster Squad, Dekker has created some of my all-time favorites. It would be hard to imagine my upbringing without his wicked sense of humor and stylish wit. Thankfully, after waiting a bit longer than I would have preferred ...
Read more: Night of the Creeps: Collector's Edition (1986) - Blu-ray Review
That lone and long highway. The flickering camera as it cruises at high speeds on a dark night down it. The warbling, frenetic sounds as David Bowie softly croons, "I'm Deranged." Yes, Lynch's Lost Highway, and its videotaped while sleeping situation is back and this time it's challenging ...