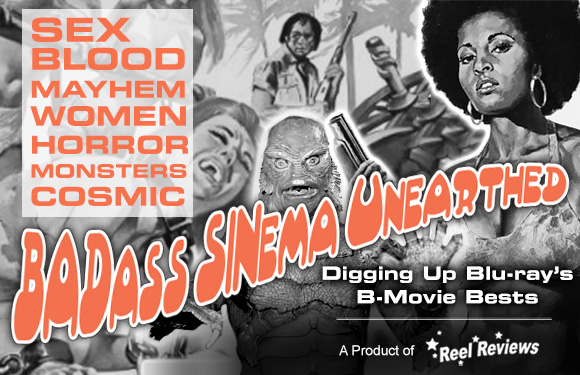 Shelley Winters unhinged is some scary-ass shit. And that's a fact. Whoever Slew Auntie Roo? presents the actress as a civilized AND extremely wicked woman who longs to be reunited with her dearly departed daughter. Now before you get all sentimental (because, you ...
Microwave Massacre is the type of low budget horror-comedy that few have patience for. It's slapped together from long first takes (because the producers had no money to waste) and, as the opening credits spell out (complete with chikka-wah-wah porn-styled tunes ...
To this day, The Adventures of Bukaroo Banzai remains one helluva wild ride. There is no other film that quite matches its new wave swagger. Nothing comes close to its style or its wit and, while a complete product of its time, the film has remained relatively ageless due ...
Read more: The Adventures of Buckaroo Banzai Across The 8th Dimension (1984) - Blu-ray Review
"Can you still do the things with your eyes? You're not crazy if you can still do the thing with your eyes." I will NEVER forget the first time I saw Philip Kaufman's Invasion of the Body Snatchers. I wouldn't go outside in the rain for weeks afterwards thanks to the opening ...
Read more: Invasion of the Body Snatchers: Collector's Edition (1978) - Blu-ray Review
Now, THIS shit is bananas. While I'm sure Gwen Stefani did not have Hardcore Henry – or anything like it – in mind when she penned the lyrics to her song, the chorus fits in describing almost EVERY element of the action flick. Produced by Wanted's Timur Bekmambetov ...
Comedian Rudy Ray Moore (Dolemite & The Human Tornado) came into this world as a 10-year-old boy ready for battle. Wearing diapers and beating the white doctor's ass who delivered him (and then his father for "keeping him up at night") is certainly a hell of a way to ...
Read more: Petey Wheatstraw: The Devil's Son-in-Law (1977) - Blu-ray Review
Released in 1973 as the bottom-half of a double feature, The Boy Who Cried Werewolf never could match wits with its running mate, Sssssss. Both were creature features. Both were low budget offerings. Both were weird enough, yet cult filmmaker Nathan Juran (Attack ...
Read more: The Boy Who Cried Werewolf (1973) - Blu-ray Review
I am sure there are some people involved in director Pierre De Moro's Hellhole that wish the film did not still exist. The truth is that the cinematic sleaze contained in this flick almost didn't survive the ravages of time. Culled together from the best sources available, Scream ...
Details

Created:

25 July 2016

Published:

25 July 2016

Written by Loron Hays
William Castle never met a gimmick he didn't like. Known for filling theaters with anxious audiences, his gimmicks, whether they be 13 Ghosts' special Dr. Zorba ghost viewer or the auditioning of girls from different countries to be in 13 Frightened Girls, he knew how to sell ...
Read more: William Castle Double Feature: 13 Ghosts & 13 Frightened Girls (1960, 1963) - Blu-ray Review
Details

Created:

25 July 2016

Published:

25 July 2016

Written by Loron Hays
When we get to any discussion on the films of William Castle, there are so many to consider that it becomes overwhelming. The famed director, producer, screenwriter, and actor never found a promotion he didn't like. He was, in fact, a sheer master of filling theaters with ...
Read more: William Castle Double Feature: Homicidal & Mr. Sardonicus (1961) - Blu-ray Review