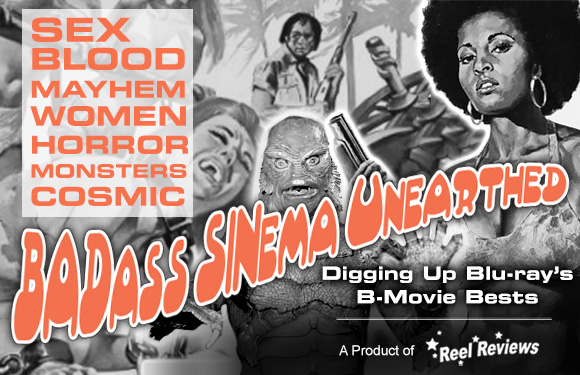 Roger Corman's Death Race 2050 is the film America needs right now. Loaded with comments about where we are headed as a nation, the b-movie – a new release from New Horizons and Universal Pictures Home Entertainment – races across a post-apocalyptic future ...
The odds of being remembered were never in Band of the Hand's favor. Most people only recall the explicit violence and the pop-minded title song that Dylan wrote and performed with The Heartbreakers. I guess the odds never really mattered anyway as they were ...
Shocking. Poignant. Tear inducing. Whatever word I could use to describe this 1981 exploitation documentary that STILL resonates with its intense look at the far-reaching impact of homicide in America would simply not do it justice. The Killing of America deserves more than its ...
Director Arthur Penn's Dead of Winter is pretty much forgotten today, which makes its appearance on blu-ray – thanks to the efforts of Scream Factory – a real find for fans of old school chills and thrills ...
And THIS is why mothers should never breast feed their freaky-looking children recently turned zombie. Directed by Strip Nude for you Killer's Andrea Bianchi, Burial Ground is an Italian grindhouse romp through and through. Complete with a paper-thin plot about a professor ...
Bring on the rush of nostalgia! Crank up the cheesy synths and relax because BMX Bandits is back, baby! Return with me, won't you, to the era of Day-Glo colors and freestyle BMX styling. Give the middle finger to the humdrum reality of modern life and celebrate the ...
Who knew nuclear fallout could be so wild? Guns belch across a wasted continent. Wild women run around in torn leather hot pants, football shoulder pads, and not much else. Beat up Ford Mustangs with dented doors are the new chariots. And those who control the water ...
It is a movie best left for a super gloomy day. Only the mood created by the sound of falling raindrops and a sky of swollen clouds could satisfy the dark dwellings of The House That Screamed (aka La Residencia). There's no denying that this creaky old Spanish flick – even ...
Mr. King, I think it is safe to say that Clive Barker is STILL the future of horror ...
Read more: Hellraiser: The Scarlet Box Limited Edition Trilogy - Bluray review
For those of you out there wanting to gain access into the celebrated madness that is the b-movie world, Dreamscape is a certified rite of passage. You. Must. Enter. Here. All paths lead through its twisting corridors. Scream Factory celebrates this fact with their updated 2K ...
Read more: Dreamscape: Collector's Edition (1984) - Blu-ray Review