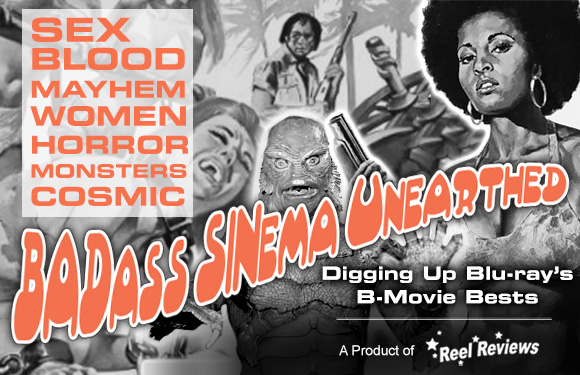 "God, I love the desert!" This is what is loudly proclaimed by the Sunday school teacher who is sitting squarely at the center of Murderlust. Steve Belmont (Eli Rich) is a pathetic human being. As a Sunday school teacher, he uses his post to ensnare pretty young women ...
When I was a young fool, my go-to movie was Forest Gump. I think I saw that damn film at least NINE times in the theater. I was graduating high school and leaving for college and that film just resonated with me. I was also lovesick and a complete idiot about it. This review ...
Read more: The Man Who Killed Hitler And Then The Bigfoot (2018) - Blu-ray Review
You ever wish there was more of you to go around? Feel completely wiped out at the end of the day? Willing to only stuff your face with one slice of pizza too many when you get home? If so, Sony and Columbia Pictures have the comedy for you ...
A baboon's heart, hockey, and one hell of a sweet story. That's what you STILL get with Untamed Heart, now making its blu-ray debut Caroline (Marisa Tomei) has too good of a heart. So say her friends. And, judging by how happy she is to ...
Mesmerizing pulp fiction. There simply is no other way to describe the powerful impact of Detour, a low budget gem from Poverty Row Pictures. Truthfully, the movie shouldn't work as well at it does ...
Read more: Detour: The Criterion Collection (1945) - Blu-ray Review
Val Lewton, making 1940s B-flicks look nothing like other horror films of the 1940s, is a certifiable genius of the cinema. His ability to plunge audiences straight into nightmares is uncanny. Madness and death, there's our recurring fear factor in ...
Still considered today to be one of Harold Lloyd's finest films, The Kid Brother makes its debut on blu-ray thanks to the the Criterion Collection. It is, of course, one of Lloyd's sweetest and funniest films, with more sight gags than his others, in which Lloyd plays Harold Hickory ...
Read more: The Kid Brother: The Criterion Collection (1927) - Blu-ray Review
To this day, there remains something insanely special about director Brian De Palma's Carrie. It is based on the once-discarded novel by Stephen King, but was painstakingly adapted for the screen by Lawrence D. Cohen. Cohen got everything about King's first novel right ...
"Why are there potatoes on the board every day? Who took my desk? Put that knife away!" If your high school was anything like the knife-wielding, gun-toting, slingshot-carrying school that is featured in Showdown then, man, you just might ...
Read more: Showdown: MVD Rewind Collection (1993) - Blu-ray Review
When in doubt, Big Mama knows! This is what happens when AWFUL becomes ART. I can hear the pro-lifers waxing poetic about this trashterpiece now. A woman's aborted fetus attacks her ...