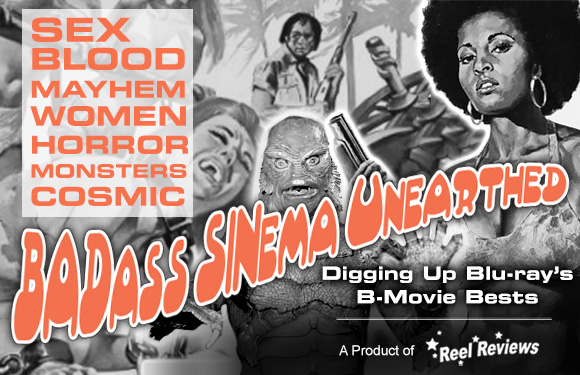 She's a fugitive kind! Slashers probably should only drag bodies on the ground and not the actual pacing. I'm not saying Splatter University is a horrible horror film, but truly the only thing that can save this wacky mess from itself are the drinking games you are going to make ...
This is why you don't bring cats anywhere. Fuckin' cats, man. The hissing; the clawing; the weird mutant living inside of them. Uninvited, for those who can take your bad guys being George Kennedy, Alex Cord, and Clu Gulager, is a literal handbook in all the reasons why ...
Because making sense is so overrated! Director Norman J. Warren's Bloody New Year might not ever make a whole hell of a lot of sense, but it sure is fun. Time loops are like that, I suppose. But when six friends arrive on an island with an abandoned hotel on it, they have no ...
"Is this the camp by the lake?" "No. This is the house by the pond." Hilarious. Kids born to be murder victims. That's merely one of the great lines in the super-soaked B-movie classic from 1991, right before the decade started to drown itself in plaid and combat boots. Shot to be fun and ...
Read more: There's Nothing Out There! (1991) - Blu-ray Review
The unnatural body contortions and bed thumpings happen early in The Possession of Hannah Grace. What we have come to expect from these movies of possession is shoved right in our faces before we are even ready for our popcorn ...
Read more: The Possession of Hannah Grace (2018) - Blu-ray Review
Harry Trent (Matt Mitler) is us all. Wisecracking, full of piss and vinegar, and one hell of a pilot, his roundabout with fate occurs happens on the day the Earth is destroyed. You see, Trent has just stolen a space shuttle and, high above the earth, he watches as hairy ...
Read more: Battle for the Lost Planet/Mutant War (1986, 1988) - Blu-ray Review
I hate buying cars. I hate the hassle and I hate dealing with the annoying sales people. But I know lots of other people love the art of the deal. And that's where Used Cars, a film executive produced by Steven Spielberg and John Milius, comes into play. It is sort of a bridge ...
He's the leader of the pack! Stop me if you have heard this one before: the critical reaction to the latest Nicolas Cage movie just leveled Hiroshima. Yup. Yup. Yup. All true, mofos. Well, here's another one that fits that description . . . except that, once again, the critics are ...
Ol' Jimmie needs a drink at the Huddle II. That's how Invasion of the Blood Farmers begins. The film, a true trashterpiece of schlock SINema is wildly absurd, sick-minded, and loopy as hell. It is also a ripe find thanks to Severin's blu-ray release of this grindhouse classic ...
Read more: Invasion of the Blood Farmers (1972) - Blu-ray Review
Beneath a full moon, one man walks alone. There is a pain in his side; something within him that is awakened whenever he is sexually aroused. He, after making a deal with the devil, knows exactly what it means and face it alone he must . . . or at least he needs to be ...
Read more: Beast of the Yellow Night (1971) - Blu-ray Review