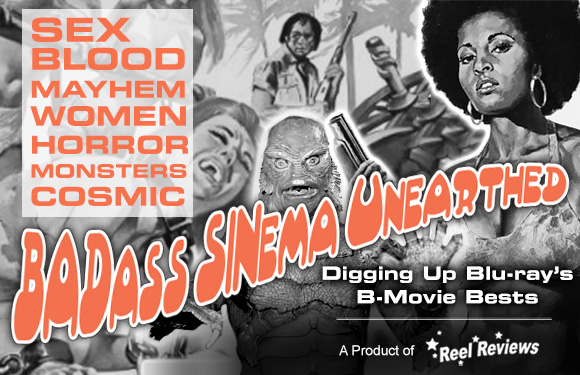 If the deliberate pace of Lurkers (and its photographic effects) doesn't get you, then the presence of a two-foot tall rubber Satan in Prime Evil certainly will. ...
Because everyone has a secret. The stand-up bass; the muted trumpet; and those ominous chords. It's all about the cool jazz of composer Angelo Badalamenti, folks. But the close-up on the static-filled television suggests...
Read more: Twin Peaks: Fire Walk with Me - Criterion Collection (1992) - Blu-ray Review
The cats are attacking! The goddamned cats are attacking! Everyone flee! ...
Exploding from the innards of a barn comes a roaring beast. It's not supernatural; it's all man-made and, just ask the driver, this machine is an extension of every ill thought he currently has trapped in his skull. The angst and hurt are real. And so is the rage that fuels ...
Wreck the halls with kinky jollies! Masturbation mixed with psychic-linked samurai kills are truly the gifts that keep on giving. Blood Beat has to be one of the oddest co-productions out there. It's horror on horseback as some French surrealists meddle with American slashers to ...
"Eat this!" Standing with their backs together and their guns loaded, two friends, Chuck and Stacy, find themselves unloading round after round at the growing undead population that has surrounded them. The gruesome twosome are ...
Details

Published:

20 October 2017

Written by Loron Hays
Out of this world! Remote Control finally found its HD batteries! ...
Details

Published:

19 October 2017

Written by Loron Hays
A balloon fetish. Why'd it have to be a balloon fetish?
Bathed in the now familiar green glow of night vision, a camcorder records ...
Details

Published:

18 October 2017

Written by Loron Hays
Laissez les bons temps rouler!
Low in budget and high in attitude, Mardis Gras Massacre is a film so deplorably badass ...
Details

Published:

17 October 2017

Written by Loron Hays
The Dynamic Duo return to sweep the filth from off the streets of Gotham City this week on Blu-ray and, thanks to Warner Bros Animation, their latest animated adventure is destined to become a Warner Bros-released classic. It certainly is one of the more exciting entertainment ...
Subcategories