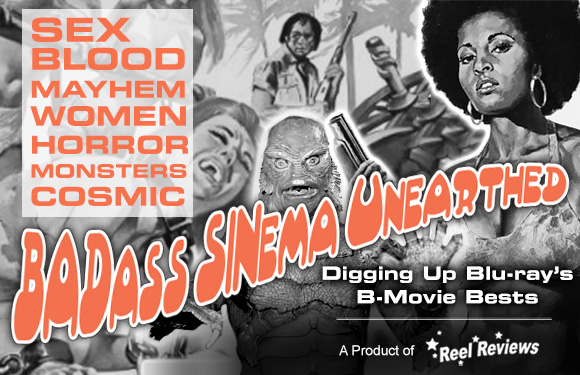 A Cure for Wellness is not recommended to be a movie you just absentmindedly waltz in and watch. Its lens is far too encompassing for that. First we have the spa-based elements to deal with. Then there is the nod to the fabulous run of Hammer films that went ...
With stunning landscapes and a healthy dose of gore, Stake Land 2 stands tall right next to its heavily praised first outing. Not much has changed in the landscape, but the delivery is a bit more charged. In my review of the first film, I described the Stake Land atmosphere ...
Nipple inpalements, even in a movie, are just too painful to watch. Bloody Moon is probably director Jesús Franco's most accessible movie. I'm not saying it is his best movie, mind you, but – considering the unique weirdness of his vast body of work – it is a relative straight shooter ...
"She's not crazy, she's being chased by a cheetah!" And in this way, Italian filmmaker Franco Prosperi brings animal attraction to a whole new level. Having broken free of the mondo documentaries he is partially responsible for, he went feral with his first horror film. Now ...
The Survivor has finally made its landing on blu-ray. Never heard of it, eh? Honestly, I'm not surprised as it is an interesting experiement in horror that doesn't always do what it needs to do in order to be successful. British author James Herbert's novel might have been ...
Ah, the 1970s! There are few things more terrifying than cinematic vanity projects – especially when the results are far from fantastic. Vinegar Syndrome – now diving into Crown International's backlog of obscure titles – presents two of actor Peter Carpenter's more ...
Read more: Blood Mania/Point of Terror: Limited Edition (1970, 1971) - Blu-ray Review
There's a solar eclipse this Friday. There's also a visible green comet streaking across the skies. It will, in addition, also be a full moon that night. If you are a teacher, get a substitute. If you are elsewhere in the public sphere, know that the only safe place will be under ...
We're baaaack!!!! Poltergeist III is a better idea than it is a movie. Maybe it should never have been connected to the franchise at all. But it was and – due to the sudden death of Heather O'Rourke – it became something everyone but the studio wanted to write off....
Read more: Poltergeist III: Collector's Edition (1988) - Blu-ray Review
Written, directed and produced by Ken Russell, The Lair of the White Worm remains a phallic-obsessed journey through an endless barrage of serpent double-entendres by way of Bram Stoker. Russell would have it no other way either. He was, after all, a self-confessed ...
Read more: The Lair of the White Worm: Vestron Video Collector's Series (1988) - Blu-ray Review
It is a dark night. The sky is pregnant with distant stars. A lone fire lights the desert canyon wall. Two Native Americans sit next to it. There is chanting. Soon, spirits are inhaled. If the opening to Poltergeist II: The Other Side throws you for a loop, know that you aren't ...
Read more: Poltergeist II: The Other Side (Collector's Edition) (1986) - Blu-ray Review