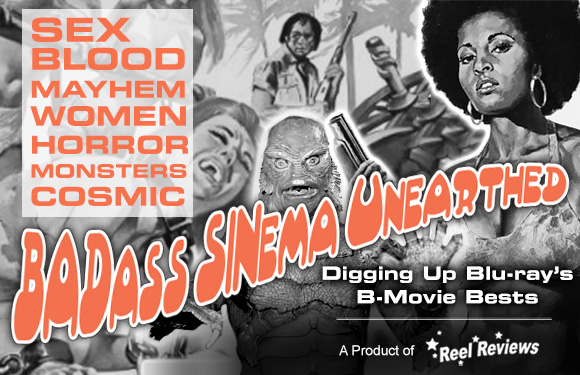 Details

Published:

21 March 2018

Written by Loron Hays
The critics were wrong about this movie. DEAD WRONG. The 'Burbs, when it released in 1989, opened to hellfire and damnation via the printed word by most of the print critics. Director Joe Dante, in the NEW interviews with the cast and crew for this special Collector's Edition ...
Read more: The 'Burbs: Collector's Edition (1989) - Blu-ray Review
Details

Published:

20 March 2018

Written by Loron Hays
The Baby Mask Killer strikes again! Alexander Cassini's Star Time will fuck you up. There's no other way to put it because this dark commentary on television's impact upon our culture is truer now than it was when it was originally released in 1993. And we have Vinegar ...
Details

Published:

19 March 2018

Written by Loron Hays
Sometimes surreal horror involves a gnarly sex scene on a rotating bed. Other times it involves knifing someone in the face through a pillow while they sleep. You know what they say, though, if you die in your dreams then you die in real life. For the dude at the center of this ...
Details

Published:

19 March 2018

Written by Loron Hays
Mannequins. It had to be Mannequins. Even more fun at the local neighborhood chopping mall! This movie, full of gorgeous girls and their brain dead boyfriends, is what happens when four teenage couples do some after hours shopping in a furniture store. Well, sort of ...
Details

Published:

18 March 2018

Written by Loron Hays
Describe to me the most boring movie ever. Go ahead. I will wait. Is it 90-minutes of a man staring at paint drying on a wall? Do people pass in front of that wall trying to get him to look away? Does he? No? Okay. Whatever. Sounds pretty dull, but if there happens to be a panther ...
Decapitated chicken heads, neurotic brides, and a creepy killer who is handy at fixing cars, soaping up babes in the shower, and slitting throats. Sounds like a damn good Friday night film pairing to me. With this release from Code Red the 70's drive-in twofer continues! ...
Read more: House on the Edge of the Park/Last House on Massacre Street (1980, 1973) - Blu-ray Review
To this day, there remains something insanely special about director Brian De Palma's Carrie. It is based on the once-discarded novel by Stephen King, but was painstakingly adapted for the screen by Lawrence D. Cohen. Cohen got everything about King's first novel right ...
When a woman races through a jungle for no apparent reason and then knocks herself out via a low hanging branch, you have to know that you are in for a damn good time of general awfulness at the movies. This is confirmed later when giant crabs invade and start roaring ...
Details

Published:

16 March 2018

Written by Loron Hays
Stud alert! Stud alert! If you are hot, young, and hung then come on in! That's the party call in this sex comedy that stars Lisa Hartman, Russell Todd, Lorna Luft, Wendy Schaal and Lynn-Holly Johnson. Critics might have panned this Spring Break-themed comedy, as outrageous ...
Details

Published:

15 March 2018

Written by Loron Hays
"She's down. Send in the ambulance." Writer/Director Larry Cohen, you know him as the dedicated B-Movie auteur of horror and such science fiction films like Q: The Winged Serpent and It's Alive, can always be counted on to deliver the b-movie madness. He's simply ...