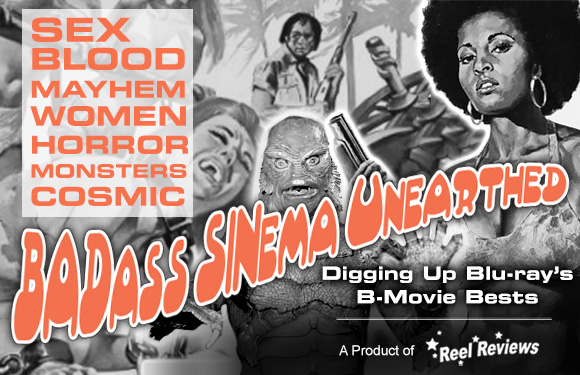 Corporations largely suck. On that point, we can probably all agree. Corporations smuggling killer bees into the United States; however, suck a little bit more than the rest. Insanely goofy with random bee attacks and superimposed bee swarms causing planes to crash ...
The words "show me wonders" should probably never be uttered in a horror movie concerning an evil genie. The bloodbath that follows such a command is a gnarly one. Thank the maker for 1997 and its use of insane PRACTICAL effects. Limbs are lost, throats are slashed, and ...
Read more: Wishmaster Collection: Vestron Video Collector's Series (1997 – 2002) - Blu-ray Review
During the 1970s, overpopulation and pollution was one the minds of many. From scientists to audiences, the world was all-abuzz with the idea that too many people bumping into each other might just kill us all. It wasn't due to a concern of disease and infection; it was over ...
The fate of director Norman Lee's Chamber of Horrors (aka The Door with the Seven Locks) is forever tied with Great Britain's lifting of the Board of Censors' ban on all things ghoulish and unsavory. To say that the British response to the lifting of the ban was tepid is an ...
"I can see death staring me in the face," says renowned doctor Ludwig Weiss midway through The Man Who Could Cheat Death. It's one of many clever lines in this forgotten gem from Hammer Studios. The horror film doesn't have the Technicolor swaths of other Hammer ...
Read more: The Man Who Could Cheat Death (1959) - Blu-ray Review
Cue the android ninjas! Ninjas make everything better, right?! Peter Weller wasn't ever going to do RoboCop 3. That's a fact. There was a twisted little movie called Naked Lunch that he was going to do instead. But that didn't ...
Read more: RoboCop 3: Collector's Edition (1993) - Blu-ray Review
Orion Pictures, the independent studio that got lucky from time to time at the box office, was in deep financial woes during the making of RoboCop 2. They needed Murphy's return to the streets to be a big hit. It wasn't. Scream Factory, providing the critically panned ...
Read more: RoboCop 2: Collector's Edition (1990) - Blu-ray Review
Monogram horror titles are interesting films to watch. Always cheaply made productions with shadows that plunge into the depths of the corners, these black-and-white films – spanning from 1940 to 1946 – feature known names in the genre, yet were nothing more ...
Ray Harryhausen's work doesn't age. That statement is best understood after viewing Warner Bros Archive's blu-ray release of The Valley of Gwangi. In the years since it's release, many have seen and appreciated it for the wild adventure that is. That was not; ...
When the dude recording the sound for your movie fucks up and every sound, squeak, dialogue, and fart has to be created in post-production, it's probably best to inject a healthy does of camp, camp, and more camp. Kevin Tenney, the writer and director of Night of the ...