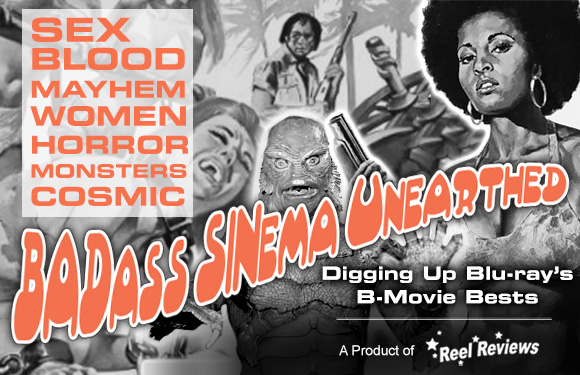 There's a solar eclipse this Friday. There's also a visible green comet streaking across the skies. It will, in addition, also be a full moon that night. If you are a teacher, get a substitute. If you are elsewhere in the public sphere, know that the only safe place will be under ...
We're baaaack!!!! Poltergeist III is a better idea than it is a movie. Maybe it should never have been connected to the franchise at all. But it was and – due to the sudden death of Heather O'Rourke – it became something everyone but the studio wanted to write off....
Read more: Poltergeist III: Collector's Edition (1988) - Blu-ray Review
Written, directed and produced by Ken Russell, The Lair of the White Worm remains a phallic-obsessed journey through an endless barrage of serpent double-entendres by way of Bram Stoker. Russell would have it no other way either. He was, after all, a self-confessed ...
Read more: The Lair of the White Worm: Vestron Video Collector's Series (1988) - Blu-ray Review
It is a dark night. The sky is pregnant with distant stars. A lone fire lights the desert canyon wall. Two Native Americans sit next to it. There is chanting. Soon, spirits are inhaled. If the opening to Poltergeist II: The Other Side throws you for a loop, know that you aren't ...
Read more: Poltergeist II: The Other Side (Collector's Edition) (1986) - Blu-ray Review
Exploitation filmmaking rarely gets ANY trashier than with 1980's Don't Answer the Phone. Shot in and around Los Angeles, it is definitely one of the scuzziest flicks produced during the beginning of that century, yet it somehow left its mark on people and, however surprisingly ...
From the brassy swing of the Perez Prado mambo to the hot pink splash of the movie's title against the front of an Oldsmobile, the opening to director Bob Balaban's Parents suggests this horror film is not like the others. Parents, with its witty dialogue, its critical lens, and ...
Read more: Parents: Vestron Video Collector's Series (1989) - Blu-ray Review
Japanese film director and screenwriter Kinji Fukasaku (Battle Royale) has certainly left his mark on filmmaking. Notable for his extensive use of shaky camera techniques in the 1970s, his influences on film spread worldwide over his lifetime with his final film being ...
King Tut, how'd you get so funky? Comedian Steve Martin certainly knew the reasons why. Famed B-movie producer Roger Corman thought he knew why and offered this slow-moving excavation of the 18th dynasty pharaoh's tomb to Dimitri Villard to oversee. The PG rated results ...
Dun Dun Duuuuun! Even the island of Maui is not immune Roger Corman's monster-making machine. Up from the Depths is a salvage film. Rescued from the Philippines by legendary B-movie producer Roger Corman, a lot of the film was already in the can before Corman ...
Alienation, thy name is David Bowie. The Man Who Fell to Earth is one of those movies so incredibly odd that it exists in a sacred sphere that is outside of time itself. It has, in fact, improved with age becoming more emotionally impactful as David Bowie, playing the part ...
Read more: The Man Who Fell to Earth: Limited Collector's Edition (1976) - Blu-ray Review