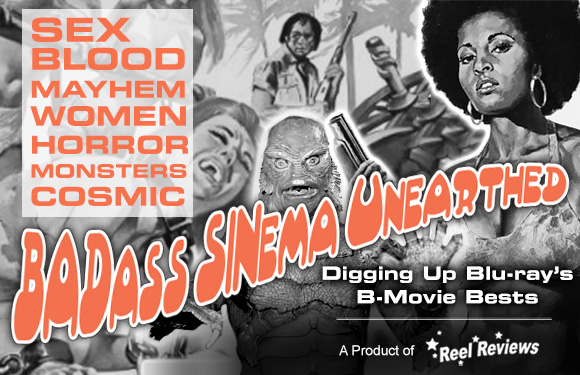 "Son of a bitch." Those are the words mouthed by the freshly decapitated head of a gore-gore dancing member of a punk band called The Killer Barbies. They aren't your average brand of punk but she, after being chased naked through a dense spot of trees for the night ...
To this day, there remains something insanely special about director Brian De Palma's Carrie. It is based on the once-discarded novel by Stephen King, but was painstakingly adapted for the screen by Lawrence D. Cohen. Cohen got everything about King's first novel right ...
The release of the fully restored 110-minute version of director Harry O. Hoyt's The Lost World on Blu-ray is a big fucking deal. For the longest time, the original version of this silent film had long been thought destroyed and missing. It was as if the film had simply been ...
A patient wakes up in a hospital room. It is cold and sterile. This is definitely not his mob-funded home. The confusion wears off when he realizes he should be dead. A vampire – his boss – devoured him last night. So how is this possible? His eyes begin to glow ...
This is the story of what happened when Joe met Kate ... and then rented the Debbie Reynolds workout tape. Psychos in Love is a fully realized version of Annie Hall by way of Psycho. It is, from beginning to end, a very funny film. Forget the horror aspects, man, this is an ...
It is suggested in Ed Wood's last fleshy fable that, "to love the cat is to be the cat." Criswell's own princess of the dark says that to him, peering up at his noodle-blonde hair. Bring out the pussycat for the whipping then is the command. They are born to be spanked. Come again ...
Sun-bleached and seedy as hell, Trip with the Teacher features a rather torturous teenage death as one student is slammed headfirst into desert sands and then held down to choke on every grain. Talk about choking on a sandwich, Mama Cass. ...
Inspired by 'The Case of Charles Dexter Ward' by H.P. Lovecraft, The Resurrected continues to be the Lovecraft film adaptation that is most Lovecraftian. It was a film that was pretty much yanked away from its perfectionist director and, sadly enough, completed by the ...
What's he building in there? What the hell is he building in there? Now, before I go too far down the Tom Waits rabbit hole, you should not be alarmed. It's only Tobor the Great being constructed! Esteemed among men and future space explorer, Tobor, even before the ...
Based on the true story John Hughes, who turned down the job of directing because he didn't want to he be anywhere near Hollywood, outlined in National Lampoon, Mr. Mom is a true comedy classic. It outgrossed Hughes' own Vacation when it was originally released in theaters ...
Read more: Mr. Mom: Collector's Edition (1983) - Blu-ray Review